Proudly brought to you by the Tasmanian Artists and Makers of the Huon Valley, the Art and Away Trail will be held from 10am to 4pm daily from 5-7 November 2021.
Featuring 20 artists and makers from throughout the Huon Valley, you can plan your visit around the studio trail by selecting information about the participants and their work on their website – HOME | ART AND AWAY (wixsite.com).
Visitors will have the rare opportunity to visit some of the secret studios hidden away in the Valley, and visit the artists in their creative environments. This is a chance to talk to them about what inspires their work, and perhaps buy some unique pieces direct from the artist.
Follow Tasmanian Artists and Makers of the Huon on Facebook and Instagram
Meet the Trail participants
Brian Looker
Contemporary wildlife artist Brian Looker creates work that is inspired by nature, committed to the environment and influenced by history.
His paintings present the subject as an encounter to evoke questions and thoughts rather than simple observation. He prefers painting in oils, using a limited palette that leaves space for emotion and contemplation.
You can learn more about Brian and what inspires his craft in the story 'Through the Looker-Glass' by Tasmanian Tuxedo.
Bronwyn Clarke
Bronwyn Clarke Ceramics is located in Deep Bay in the Cygnet area of the Huon Valley.
Visitors will discover a uniquely designed array of tableware and signature pieces often created from clay sourced from her property. You can learn more about Bronwyn in the story 'Sailing away with clay in Deep Bay' written by Alice Hansen or check out this lovely Huon Beings video
Bronwyn's work exhibits an 'East meets West' Asian aesthetic, rich in technique and character.
Address: 'Bronwyn Clarke Ceramics' – 9 Glovers Road, Deep Bay
Phone: 0410343077
Website: www.bronwynclarkepotter.com
Instagram: www.instagram.com/bronwynclarkeceramics
David and Michelle Rauenbusch
Self-taught carver, David Rauenbusch uses both recycled vintage timber and green wood to create uniquely beautiful wooden spoons.
Created with traditional carving tools and methods, each one is a functional work of art. The story of Phoenix Creations has been beautifully captured in this Huon Beings video.
Highly addictive, he loves to share his passion with others, by running spoon carving workshops with his wife Michelle, in their studio in Cygnet.
Address: 'Phoenix Creations' – 31 Golden Valley Road, Cygnet
Phone: 0427015558
Website: www.phoenixcreationstasmaniashop.bigcartel.com
Facebook: www.facebook.com/PhoenixCreationsTAS
Instagram: www.instagram.com/phoenixcreationstas/
Richard Stanley
Richard Stanley is a professional, award winning landscape and seascape artist working from Stanley's Studio/Gallery in Cygnet, where he is a resident artist.
Richard mainly works in oil paint on canvas. He also produces Fine Art Prints and greeting cards from his paintings which are all available for purchase both from his gallery and website.
Address: Stanley's Gallery – 7562 Channel Highway, Cygnet
Phone: 6295 0123 or 0481332979
Website: www.theartofrichardstanley.com.au
Facebook: www.facebook.com/theartofrichardstanley
Instagram: www.instagram.com/richardstanleyartist/
Ross Patston-Gill
Ross Patston-Gill is a renowned artist and teacher creating unique artistic pieces featuring breathtaking colours and textures of Tasmania's unique timbers. The hollow vessel is his signature work showcasing these rare forest jewels.
The artist continues his exploration through sculpture and mixed media to highlight the hidden beauty within the timbers.
Address: 'Mikkris House' (Geeveston Town Hall and Visitor Centre) – 15 Church Street, Geeveston
Phone: 0434642707
Website: www.mikkrishouse.com
Instagram: www.instagram.com/mikkrishouse/
Peter Graham
Peter Graham has been a multi-disciplinary sculptor since 2001 and works in steel, bronze, glass, ceramics, wood and concrete.
His main focus is on materiality and using the expressive characteristics of materials to interpret the natural world. He has produced public art and exhibited and sold sculptures in Australia, the United States and Germany.
Take a walk through the sculpture garden in Port Huon to visit Peter's studio.
Address: 4575 Huon Highway, Port Huon
Phone: 0414652650
Website: www.petergrahamart.com
Instagram: https://instagram.com/petergrahamsculpture
Jill Edwards
Jill has lived in the Huon Valley in the middle of a stunning river/mountain/sky-scape for the past ten years.
Everyday I see big and small shapes, colours and lines that I want to try and capture with pencil, pen or paint. It is compelling, but never easy, and it feeds my soul.

Jill Edwards
Address: 3871 Huon Highway, Franklin
Phone: 0409431016
Instagram: www.instagram.com/jmedwards53_art/?hl=en
Christine Richardson
Christine Richardson is an artist producing modern botanical watercolours and vibrant floral acrylic and mixed media art.
She is inspired by nature and her lifelong obsession with flowers, celebrating their beauty and intricacy as well as the emotions they evoke. Flowers have been used across cultures for centuries to mark events, and as expressions of love and friendship.
Address: 'Windflower Studio' – 17 Stella Court, Surges Bay
Phone: 0411035195
Website: www.windflowerstudio.com.au
Note: There is no wheelchair access
Vicki Taiwo
Vicki Taiwo is a textile artist and designer, working predominantly with locally sourced wool and natural dyes. Creating new woven fabrics in response to her environment has inspired the designing of the iconic Cygnet Tartan.
Vicki takes inspiration from traditional techniques in both weaving and dying from many cultures around the world, and has spent over 35 years learning from traditional cultural artists in many countries including Bali, Nigeria, Japan, Scotland and Australia's indigenous communities.
Address: 'Balfour House' – 22 Mary Street, Cygnet
Phone: 0439868011
Website: www.vickitaiwotextileartist.com.au
Instagram: www.instagram.com/vickitaiwo/
Ariel Korobacz
Ariel Korobacz is a multi-disciplinary artist, currently focusing on ceramics. Predominantly hand built, each piece is finished with a unique design painted and carved into the surface.
Her studio – The Aurora Fae Gallery, is a lively place, full of casts for sculptures, vases and pieces at various stages of being.
Address: 'The Aurora Fae Gallery' – 22 Church Street, Geeveston
Phone: 0458103741
Website: www.aurorafae.com
Instagram: www.instagram.com/the_aurora_fae/?hl=en
Judy Jackson
Judy Jackson states:
My art studio is about making historical stories/personal narratives come alive…
With an art practice that involves paintings, lino prints and photography, the artist is also known for her yacht paintings of Cygnet and Sydney.
Address: 6978 Channel HIghway, Gardners Bay
Phone: 0438854251
Instagram: www.instagram.com/judyjacksonart/
Kim and Paul Bale
In November, Kim and Paul Bale (aka Bale and Bale) will display new artworks in timbers veneer, whilst also showing work in progress.
Works include tables, chairs, doors, beds, lights, boxes, sculptures, cabinets, desks, bookcases, stools and vanities.
Bale and Bale are strong believers in working with timber sustainably, using timber veneers, plantation timbers and strong colours to make their designs distinctive.
Address: 'Bale and Bale' – 46a Lymington Road, Cygnet
Phone: 0466788604
Website: www.baleandbale.com
Instagram: www.instagram.com/bale_and_bale
Kat Scarlet
Kat Scarlet is an artist living in the Huon Valley, working from a space at 'Balfour House', Cygnet.
She works predominantly with water colours and gouache. Her subject matter is inspired by the Tasmanian landscape, local wildlife and flora.
Kat's work is a hyper-colour reality where the viewer can get lost in colour and pattern.
Address: 'Balfour House' – 22 Mary Street, Cygnet
Phone: 0435 924 602
Website: www.katscarlet.com
Instagram: www.instagram.com/katscarlettattoo
Natasa Milenovic
Natasa Milenovic is a German trained goldsmith, with work included in numerous group exhibitions statewide. A solo show 'Hidden' (2006) was funded by the Australian Council for the Arts for New Work.
Natasa is intrigued by repetition and conglomeration found in nature, patterns by fungi and flora. Her jewellery playfully combines organic and geometric forms, and the choice of materials are an intermix of silver, gold, copper and brass with contrasting patinas and Australian gemstones.
Address: 'Balfour House' – 22 Mary Street, Cygnet
Phone: 0408 500 749
Website: www.natasamilenovic.com.au
Instagram: www.instagram.com/natasamilenovic_studio
Karen Grady
Karen Grady's studio – 'Paddock to Garment' is an award winning artisan weaver who works predominantly with fine alpaca fleece from her small herd of alpacas.
Combining alpaca with other natural fibres and taking inspiration from the natural beauty of her surrounds, Karen uses colour, texture and shape to create luxurious pieces of wearable art.
Address: 'Paddock to Garment' – 23 Mary Street, Cygnet
Phone: 0427 013 805
Website: www.paddocktogarment.com.au
Instagram: www.instagram.com/paddocktogarment/
Ian Clare
Ian Clare has lived and worked in the Huon Valley for the past 26 years, producing a wide range of functional pottery.
Unique commissioned pieces have strong Japanese influence as a result of his training under the Japanese Master potter, Shigeo Shiga in Sydney, New South Wales.
You can learn more about Ian in this Huon Beings piece
Address: 'Ian Clare Studio' – 46a Lymington Road, Cygnet
Phone: 0428866976
Website: www.ianclarestudiopotter.com
Instagram: www.instagram.com/ian_clare_studio_potter/
Heather Mikkelsen
Heather Mikkelsen is a mixed media artist working in textiles, metal paint and dye, focusing on producing jewellery and wearable art.
Heather uses an experimental approach, pushing media to its limits and combining unusual elements not often seen together.
The work is inspired by that which is often overlooked: found objects, bones, and fragments from the past.
Address: 'Cooee-Tong Studio Designs' – 6978 Channel Highway, Gardners Bay
Phone: 0418 70 643
Instagram: www.instagram.com/cooeetong/
Zsolt Faludi
Zsolt Faludi has been a potter for more than 45 years.
Of course, I do other things as well. I cook, build, garden, look after family, read philosophy…but potting has been the ground of my life ever since I made the decision to go down that path.

My main interest is making functional work, cups, teapots, fermentation crocks, bowls, storage jars etc.

I'm definitely not an artist!

Zsolt Faludi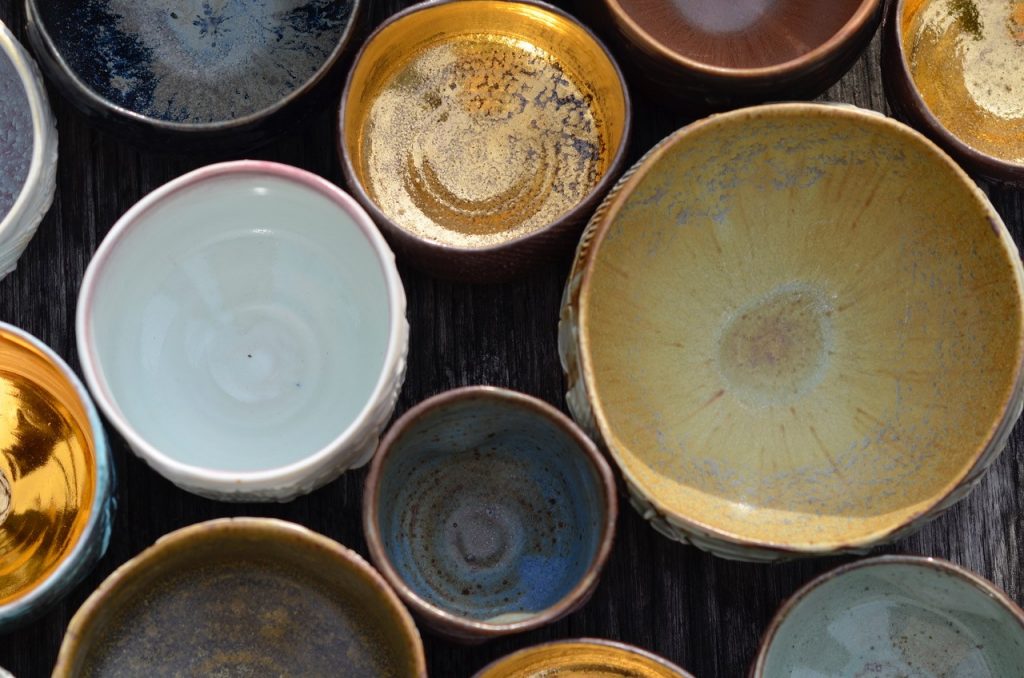 Address: 'Faludi Ceramics' – 785 Glen Huon Road, Glen Huon
Phone: 0418121955
Website: www.zsoltfaludi.com
Instagram: www.instagram.com/faludizsolt/
Craig Snell
Master glassblower Craig Snell (aka Dr Sawfish) began his glassblowing career 20 years ago in the remote Western Australian outback (Fitzroy Crossing).
Previously a screen printer, sculptor, potter and arts teacher, Craig now blows glass full time, with work sent overseas and supplying regional galleries around Australia.
Along with blowing scientific-glass, the artist also fuses, slumps and casts glass at his studio.
Address: 'Dr Sawfish Glass Studio' – 4694-4696 Huon Highway, Geeveston
Phone: 0407984312
Website: www.drsawfish.com/
Instagram: www.instagram.com/drsawfish/