Welcome to the Huon Valley. We are Tasmania's (and Australia's) southernmost region offering everything you would come to expect from Tasmania, plus so much more!
We welcome you to be part of our community, and here are our top 5 reasons why the Huon Valley is just the place you're looking for.
1. Accessible rural lifestyle
The Huon Valley offers you the best of both worlds with affordable house and land options whilst being only 30 minutes drive from Tasmania's capital city, Hobart. Whether you are working in the Huon, commute to Hobart or work remotely from elsewhere, the Huon Valley can cater to all.
Compared to prices throughout mainland capital cities, property in the Huon Valley can be notably cheaper, offering greater value in terms of acreage, waterviews and beachside locations. It is not uncommon for households to grow their own fruit and veggies, and have some animals – chooks, goats, horses, cows, sheep – even alpaca!
Ask a Question About the HUON VALLEY Lifestyle
For those keen for a lifestyle change, we offer the best natural 'office' you could ever dream of. The Valley inspires many in their undertakings whether they be primary producers, artists and artisans, or just simply looking to get out amongst nature for recreation and adventure.
For young families or for those just seeking to disconnect from the grind of everyday city living, the Huon Valley can offer that slower pace that you are longing for. With all the benefits of being literally on the outskirts of an urban setting, you can enjoy the best of both worlds. The Huon offers a place where your community know you, are there for you and look out for you – true connection in every sense and an opportunity to reflect on the more important things in life.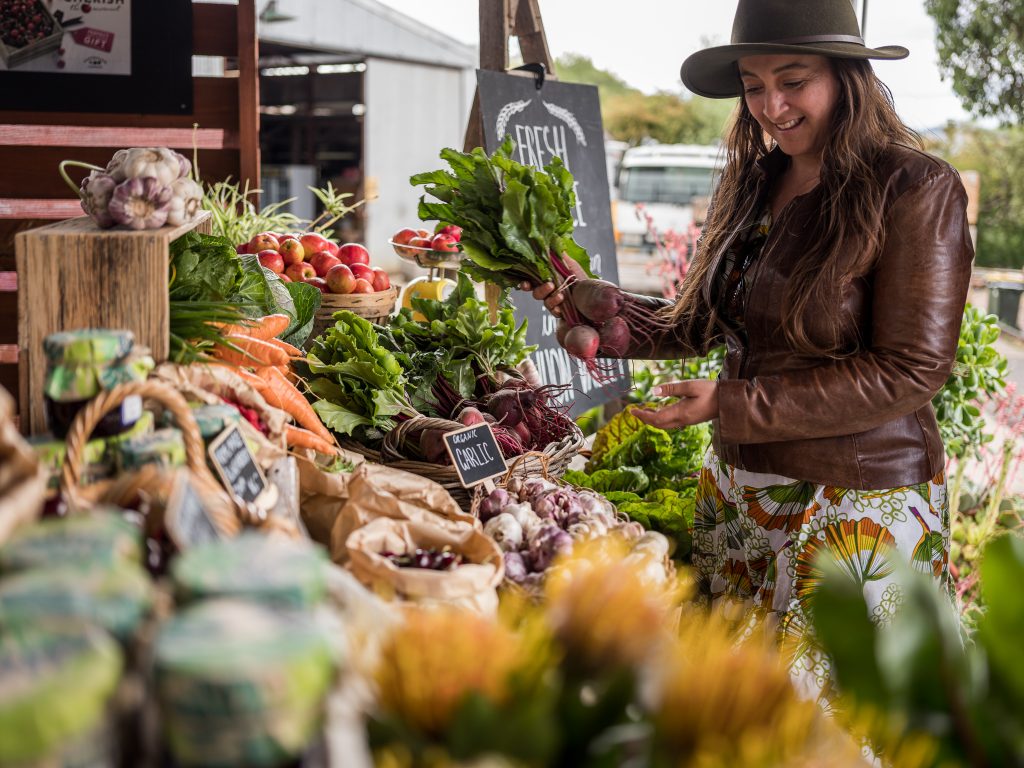 2. Wild and breathtaking landscapes
Around every corner and over every hill, there is a beautiful vista, landscape or mountain range striking a pose ready to take your breath away.
The Huon Valley is an adventure playground just waiting to be explored. Offering experiences to suit all needs and abilities, you won't need to travel far to see and experience something new and amazing. Bushwalks, kayaking, boating, fishing, cycling, swimming (even in the cooler months and not just to celebrate the winter solstice!) – you name it, you can experience it all here, within a stone's throw away from home. You may even be fortunate to have your very own piece of wilderness paradise on your own property!
Our beloved 'Sleeping Beauty' lies sleepily over the Huon's northern region, an ever present reminder with her graceful resting profile looking upward into the heavens above. Our southern and eastern communities enjoy the striking backdrops of Hartz Peak and Adamsons Peak – both marking the presence of the Tasmanian World Heritage Wilderness Area being right on our very own doorstep!
Ask a Question About the HUON VALLEY Outdoors
No matter the season, you will be in awe of our colourful sunrises and sunsets, reflections over our calm waterways, magical rainbows, blossoming orchards and of course, that chilly fluffy white stuff too! Regardless of the weather, there is beauty all around. Being the closest to the southern magnetic pole and having spectacularly dark skies at night, you may also be fortunate enough to experience the natural phenomena, the Aurora Australis or the southern lights as she dances her way across the horizon.
Wildlife encounters are almost guaranteed here in the Huon. Whether it be Tasmanian Pademelons or Bennett's Wallaby, echidnas, platypus, Eastern Quolls or Spotted-Tail Quolls, or the more elusive Tasmanian Devil. You may also encounter a soaring bird of prey – Wedge-Tailed Eagles are a frequent sight, as with owls, tawny frogmouths, and goshawks.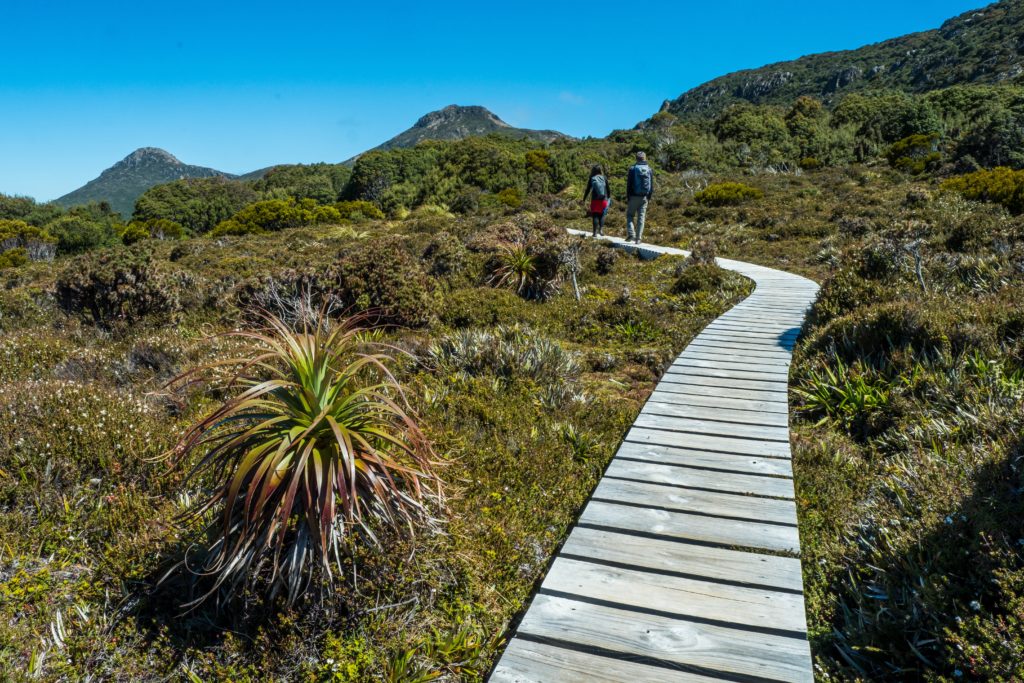 3. Food lover's paradise
We are often described as the food bowl of Tasmania and we are proud of it!
The Huon Valley is home to a significant number of makers and growers. They feed your spirit as well as your appetite.
The region has enjoyed a long and rich history of fruit growing – apples, cherries, berries and stone fruits to name but a few. At its peak, the region was one of the most prominent apple growing regions, exporting throughout the world particularly the United Kingdom, Scandanavia and Europe during the 1950-60s. Now the sector has diversified to quality cider and beverages, as well as high quality premium fresh fruit still being exported domestically, and internationally to key markets in Japan, China and Taiwan.
Ask a Question About HUON VALLEY Food and Produce
Over the years, the Huon Valley has become synonymous with Tasmania's aquaculture industry with two of the state's biggest producers having significant operations throughout the region. Employing a large proportion of locals, Huon Aquaculture and Tassal run hatcheries, waterbased operations and processing facilities in the region.
Beyond salmon, the region also enjoys access to fresh quality seafood such as abalone, oysters, mussels and Tasmanian crayfish. Deep ports such as Port Esperance Bay at Dover and Southport, are a hive of fishing activity as vessels frequent with their abundance of fresh catch ready for international export.
We also enjoy a variety of cool-climate award winning wines, with the likes of Home Hill, Kate Hill, Elsewhere Vineyard, and Chatto wines all producing quality white and red varieties, enjoying the ideal climatic conditions thanks to our southernmost latitudes.
The Huon Valley is a haven of food entrepreneurs and innovators, with namesakes like television personality and chef Matthew Evans (The Gourmet Farmer/Fat Pig Farm), renowned sushi master, Masaaki Koyama, and trailblazer chef Analiese Gregory (SBS's 'A Girls Guide to Hunting, Fishing and Wild Cooking') all residing here, finding inspiration from the abundance of quality fresh local produce. Many others are following in similar footsteps, and creatively embracing the opportunity to innovate and add to the food experience on offer.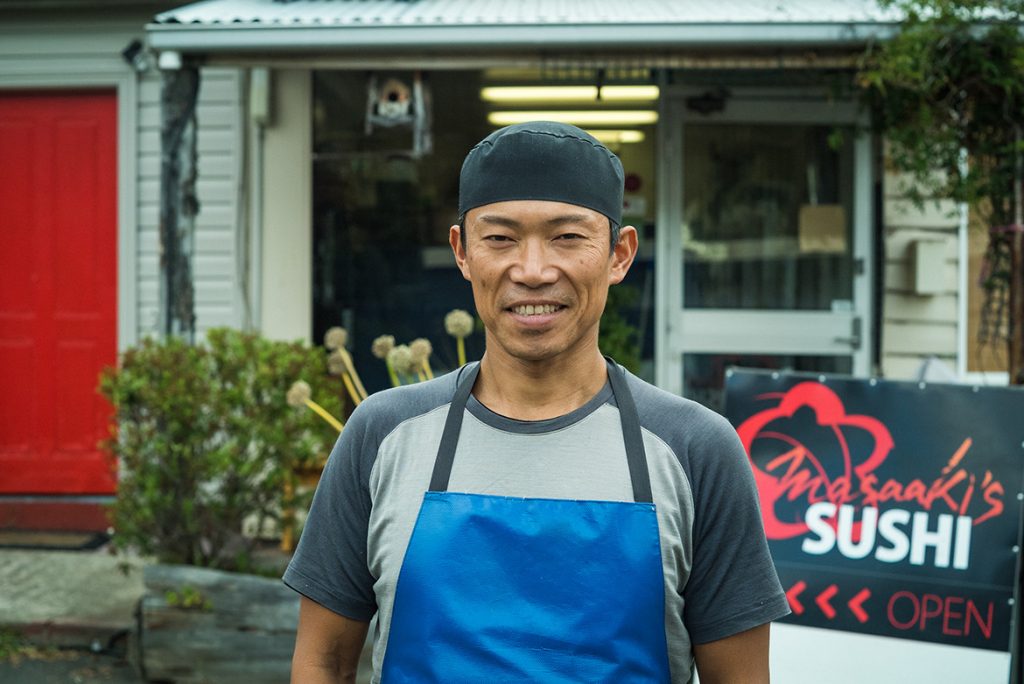 This is your invitation to get back to basics and choose a life that is both sustainable and rewarding. We are a community of growers. We celebrate and share widely through local crop swaps, roadside honesty boxes and farmgate stalls, and local country markets held almost weekly somewhere in the Huon. We provide the perfect opportunity for you to grow your own food, and reap the rewards of enjoying the freshness of life's bounty from your very own backyard!
4. Down to earth, friendly people
The Huon Valley community is full of friendly and enthusiastic locals all looking to achieve their own idyllic lifestyles, happy to help out a neighbour and friend.
We are quirky, compassionate, fiercely independent and decidedly offbeat at times. Our many townships are all distinct in their character, yet one thing is for certain – you will always see smiling friendly faces and someone willing to lend a hand.
Our locals love to tell a good yarn, and share their pride of this place. We refer to our locals as 'Huon Beings' and love to capture and retell their stories with the rest of the world. You can view some of these here.
Whether you are new to the area, or been part of the fabric of the Huon through generations past, we are a community that is engaged, connected and passionate about protecting the things that matter the most about this place. We all have one thing in common, our love for the Huon!
Ask a Question About the HUON VALLEY Locals
5. Thriving artistic community
With such stunning landscapes and pristine environment everywhere you go and everything you see here in the Huon, there's no surprise that it is fast becoming a refuge for a variety of talented artists and artisans. These creative individuals draw their inspiration from this environment, and love to share their remarkable talents often on the world stage.
We are big story tellers. We share local stories through community celebrations and value our rich heritage. We love to reminisce of times past, and have a deep appreciation and connection with our first nations people – the Melukerdee people of the Huon River and the Lyluequonny people of the Far South.
We know how to celebrate and have a good time. Both summer and winter are equally welcomed through world class events and local festivals such as A Taste of the Huon, Cygnet Folk Festival, Huon Valley Mid-Winter Festival and the Huon Agricultural Show. There are also local growers and farmers' markets all year round.
Ask a Question About Arts in the HUON VALLEY