Huonville is Huon Valleys' largest town, situated on the banks of the beautiful reflective Huon River approximately 35 kilometres (30-minute drive) south of Hobart.
Surrounded by farmland, apple orchards and stunning mountains such as "Sleeping Beauty". Take your time to explore the township and the river esplanade area. You will find plenty of cafes, gift shops, post office, petrol stations, a major supermarket, banks, library, doctors and other services in the town.
Huonville Esplanade
Just before you cross the bridge over the Huon River on the left-hand side you will find the Huonville Esplanade. This is a perfect place to stop for a walk, take a picnic or meal break by the water.
Easy parking
BBQ (electric) and picnic facilities – seating, sheltered areas, tables.
Childrens fenced playground
Public toilets with disabled access
Boat ramp
Access to Skinners Drive walking track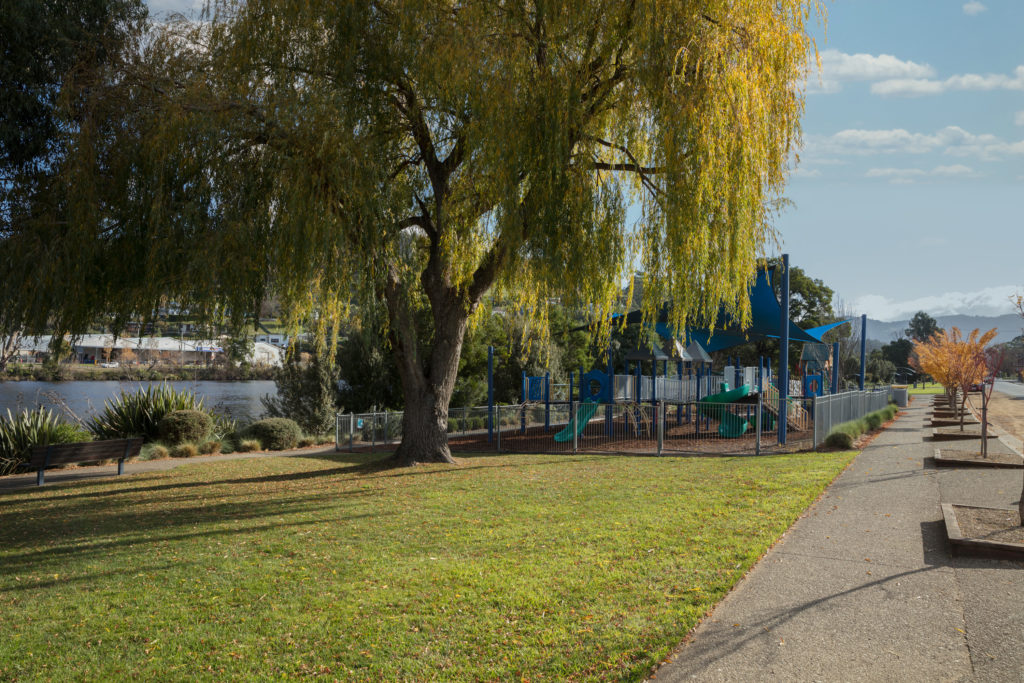 The best country town to live in Australia
We're obviously biased, but the locals truly believe that Huonville (or any of the other nearby towns in the Huon Valley) really are some of the best country towns to live in Australia. Here's some of the things you can see and do:
As you drive towards Huonville from Hobart through Grove you will see Willie Smiths Apple Shed. Here they have a cafe, cider bar, gift shop, apple history museum, the Charles Oates Distillery which offers a distillery experience.
Just after the Apple Shed on the left-hand side, drop in to see The Honey Pot for a free tasting of local honey, and view a working beehive.
Nearby Ranelagh offers a couple of cafes, popular with locals – Ranelagh General Store Cafe and Summer Kitchen Bakery.
Sample some Huon Valley wine at nearby wineries Kate Hill Wines or Home Hill Winery.
Visit the Huonville shop and cafes such as The Local, Huon Valley Bakery and Cafe and DS Cofee House Cafe.
Watch out for roadside produce stands featuring apples, berries, vegetables and other homemade and grown produce.
Accommodation near Huonville
Nearby Destinations