Topping the Australian Tourism Awards from the Bottom of the World
It's March, 2020. Gary and Lorraine Ashdown are sitting in a packed Canberra venue, surrounded by the finest of Australia's tourism industry. Neither can believe it when Ashdowns at Dover is named winner of the Hosted Accommodation category, toppling favourites nationwide. The elation of being awarded top gong on this sparkling evening, however, is short lived. Three weeks later, Covid-19 shuts down tourism the world over.
It could be said that Ashdowns is a story punctuated by ups and downs. The couple are no strangers to unlikely opportunities and serendipitous finds. Back in the 1990s when Lorraine excelled on TV quiz show Sale of the Century, she pocketed enough dollars to pursue her childhood dream of a trip to Africa. Lorraine got more than her dream, falling for her future husband, expedition leader of her African safari.
The couple spent years pursuing tourism roles and extended holidays through South America, Africa, the Middle East and Europe, ever refining their definition of what makes for a good stay. After years living in the countryside of Gary's native UK and living big city life in Lorraine's hometown of Sydney, it was time to hit the road once more. They spent nearly a year living out of a tent – ticking off Byron Bay in the east, the high reaches of Cape York and over to Western Australia.
"We just had to go to Cockle Creek, the southern-most settlement on Australia's map, to complete our four extreme points of the compass," smiles Gary. "We got to Dover in Tasmania's Far South and fell in love with the place."
It was mid-2010 when the Ashdown's bought their Dover farmhouse on five acres. The seaside town is a 70-minute drive south of Hobart through the Huon Valley, nestled between Adamsons Peak and Port Esperance. It would take a further four years of renovations before the first guests were welcomed in 2014. Walls were moved, hallways created, three new en-suite bathrooms installed and double-glazed windows fitted; the bulk of renovations completed by Gary.
Today, Ashdowns of Dover is a 4.5 star hosted country house with three guest rooms and a visitor book packed with stellar reviews. Seventeen languages cross its pages, testament to the wide appeal and the appreciation of those willing to venture well south of the capital. Here, dinner is dictated by the fisherman's catch and evenings round the fire pot are interrupted only by the thump of a resident wallaby.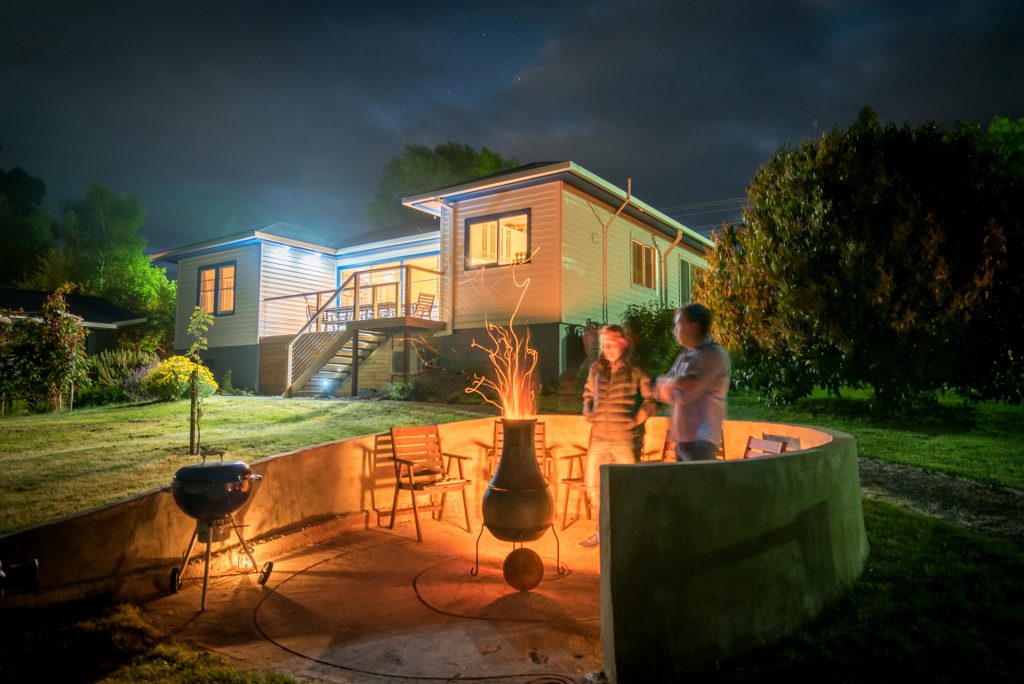 "The city guests in particular, really love the quiet. It's certainly what attracted us to the region. I love the space. There are not many people down here. It's such a change from growing up in the UK where backyards barely had room to run a lawnmower around it. I'd never owned land in my life. It's a lifestyle choice we couldn't be happier with," says Gary.
Tips when visiting the Far South
The Ashdowns are excited to welcome guests back to their property on Port Esperance Bay come June 15, 2020 as Covid-19 restrictions begin to ease. An ideal base for exploring attractions of the valley and beyond, the couple are never short of recommendations.
"There is so much down here that many Tasmanians aren't aware of or haven't revisited in years. We've got the Southern Hemisphere's largest dolomite cave system at Hastings Caves with its thermal springs and a brilliant 4-5 hour walk out to South Cape Bay. Then there's the Airwalk at Tahune Adventures and plentiful vineyards of the Huon Valley not far from our doorstep," adds Lorraine.
"When I worked in Sydney, I used to walk across the harbour bridge after work and never tired of the view," she adds. "The same applies for me here, when I drive between Hobart and Dover along the Huon River. It is an ever-changing landscape – the light and seasons always offering a new experience."
Those who give the Far South a little more time in their itinerary may find themselves exploring waterways on an Esperance kayak tour, taking a hike to the Hartz Mountain summit or an easy stroll at Cockle Creek out to the bronze whale sculpture. Ashdowns have a comprehensive list of local attractions on their website as well as suggested itineraries and bike trails already sorted for those planning their Far South days. No bikes? No worries. They have a couple of bikes on hand to borrow.
It's the little things that set a stay at Ashdowns apart. Whether it's the whiff of a freshly baked cake on arrival or that Gary has lit the fire pot ahead of your return from dinner on a summer eve. He might just cook up a three-course meal for those who'd prefer to eat in. And wait for it … he has been known to pick up a live crayfish and serve it up for breakfast if an international guest so desires.
Find out more about Ashdowns of Dover and the Far South. We can't wait to have you visit our special part of Tassie.