It's a delightful drive from Hobart to the riverside town of Franklin, through the farms and orchards of the Huon Valley and over the bridge across the broad Huon River.
As you crest Vince's Saddle and look out towards the peaks of the World Heritage Area, then cruise down the sweeping bends to the Grove straight, spare a thought for earlier travellers, who had to battle their way along the first rough cart track into the valley.
Here's what one settler wrote:
"Bullock-driving on such a road required not only courage, but patient endurance and a considerable amount of care and skill to avoid being upset over roots and stones, or bogged in the soft places."
Before the road was improved in the late 1860s, Franklin and other ports on the river and along the shores of the D'Entrecasteaux Channel depended on transport by water. The agricultural produce of the valley – apples and pears, vegetables and small fruits, timber and grain – was carried up to Hobart aboard sailing vessels and steamers.
In those days, the river was the lifeblood of the town. Today, those quietly-flowing tannin-colored waters, with their source on the quartzite peaks and buttongrass plains deep in the Southwest wilderness, still define the character of this river-town.
Wooden Boat Centre
Cruising yachts, rowing shells, fishing boats, kayaks and sailing dinghies carve their wakes on the river. On calm mornings, moored boats sit on their reflections. And in the workshops of the Wooden Boat Centre, the clean, sharp aroma of Huon pine rises from the chisels and planes of students as they learn the craft of wooden boat building.
Franklin in the Huon Valley, Tasmania is home to Australia's only wooden boat school.
Franklin's Wooden Boat Centre offers its own unique qualifications in this traditional art. The 1-Year Shipwright Course has continued with nil time out, but with a reduced number of seven students instead of nine. Short Dinghy Courses have been postponed due to COVID-19, but they will be starting again in coming months. Around the end of August this year, the school will again offer its dinghy-building course. Soon after that, an exciting innovation will be the introduction in November of short 1-7 day courses, giving participants with limited time the chance to learn some new skills and take away a piece of maritime craftwork that they have made themselves – it could be anything from a Shaker-style storage box or a ship's canvas bucket to a skin-on-frame kayak.
From the end of June, the Wooden Boat Centre will be taking bookings for $10 guided tours, for a maximum of 10 people. Access to the workshop itself is restricted because the 1-Year students are busy working to a deadline, to complete the new Franklin 29' launch in time for the Wooden Boat Festival in 2021 – but visitors can watch the construction work in progress on the launch and also on other dinghies through wide viewing windows.
When they are launched into the Huon River, these beautiful craft will have travelled only a few metres from the place where they were built. But there's a vessel not far away that has had a much longer – and an almost incredible – journey from its original home.
For more information on what is offered at their website or Facebook Page.
Sail Kerrawyn
Sail Kerrawyn is a private sailing charter business run by Anastasia Konstantinidis and David Golding.
Together, they have faithfully restored the beautiful Tasmanian fishing ketch Kerrawyn back into commercial survey with the intention of creating an adventure based sailing tourism business operating in southern Tasmania.
They offer an authentic experience on board Kerrawyn which was built of the finest Tasmanian timbers more than 70 years ago in the Wilson Brothers boatyard in Port Cygnet.
Calm Water Afternoon Cruise
Join Anastasia and Dave on board Kerrawyn for an afternoon calm water cruise with tasty treats and refreshments from the galley, while experiencing the wonderful sights of the Huon Valley.
Step back in time on board Kerrawyn, built in 1949 of beautiful Tasmanian timbers as she effortlessly takes you along the Huon River at Franklin.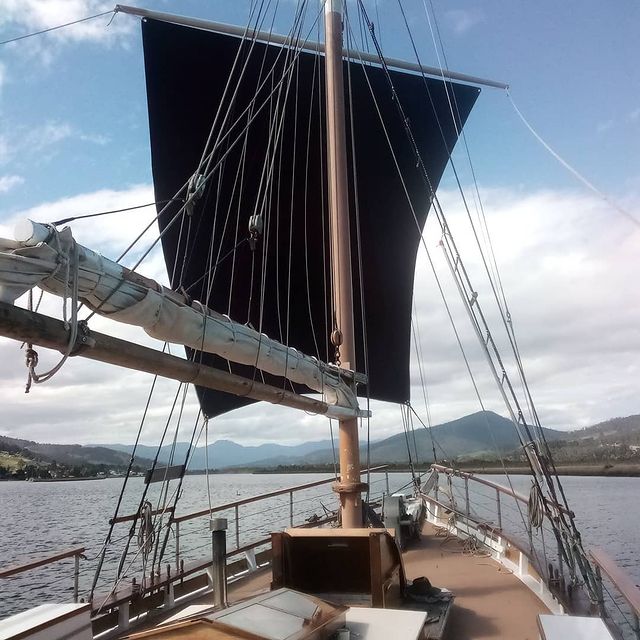 Franks Cider House and Cafe
Just opposite the Wooden Boat Centre you will find Frank's Cider House and Café, the cellar door of Frank's multi-award-winning ciders. The heritage weatherboard hall is now a cosy café, with wood fires and formal or relaxed seating.
The Clark family were pioneer white settlers in Franklin and the fifth generation still farms the original orchard. The sparkling ciders are crafted from heritage apples and pears, blended with 100% Tasmanian cherries and raspberries. Fresh Huon Valley produce is featured in dishes such as scallop and cider pie, pear cider scones, or Frank's Huon Tasting Platter, comprising local cheeses, seasonal fruits, and cider-cured salmon.
Visit Franks Cider's website
Osteria at Petty Sessions
Head another 100 metres into Franklin and you will find Osteria at Petty Sessions. The hosts Martino and Sofia Crippa came to Tasmania on a backpacking holiday in 2009 and have made the Huon Valley their home.
After developing and outgrowing Franklin's Aqua Grill, they moved to the nearby heritage building that was once the town's courthouse and established Osteria at Petty Sessions.
Martino and Sofia provide authentic farm-to-table dining featuring fresh local produce with an Italian accent. Their specialty is their many varieties of fresh home-made pasta – their signature dish is gnocchi, with a delicious range of variations, including Geeveston pork with Tasmanian mushrooms or Southport Jetty squid. Finish your meal with Sofia's fabulous tiramisu. Delizioso!
Visit Osteria's Facebook Page