In 2019 Carolyn and Graeme Holmes were looking for a lifestyle change so sold up their businesses in Newcastle and moved to the Huon Valley to start a new chapter of their lives.
They purchased Clifton Estate in Ranelagh, which once comprised 52 hectares of apple orchards and 52 hectares of hops. In the 1800s almost ten million apples were packed there every year.
During picking season, workers would stay in the quaint little pickers huts, some of which are still on site.
The founder of Clifton was Thomas Jabez Amesbury Frankcomb, a convict sentenced to transportation for 15 years. After receiving his ticket of leave he started an orchard on five acres of land at Ranelagh, where he built a small cottage.
Around 1865 he added a new sandstone cottage, which is the single storey sandstone section of the current house. The current boundaries of that property are still those of that original purchase.
Clifton Estate includes several extensions to that original cottage, which is now the kitchen, cellar and breakfast room areas of the house. The family house has been converted back into a guest house and includes six luxurious bedrooms. ­­­
There are also two lovely boutique cottages for self-contained guest accommodation on the property.
A Victorian extension includes timber panelling and leadlight in the entry hall, tall ceilings and generous rooms including a dining and formal drawing room. You can stay and enjoy a delicious breakfast.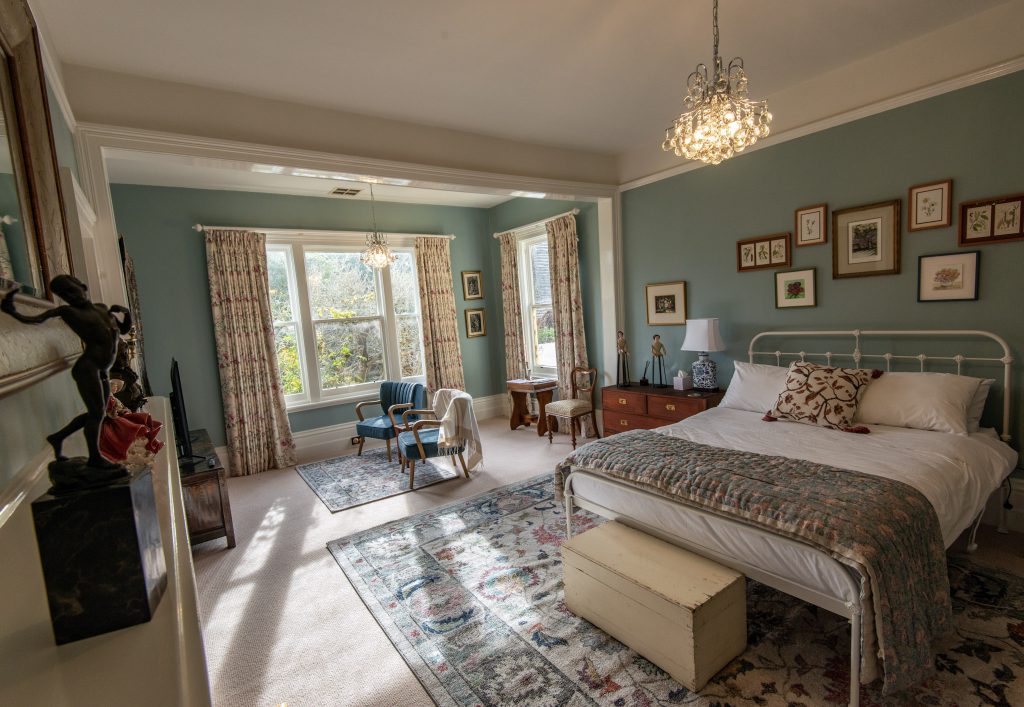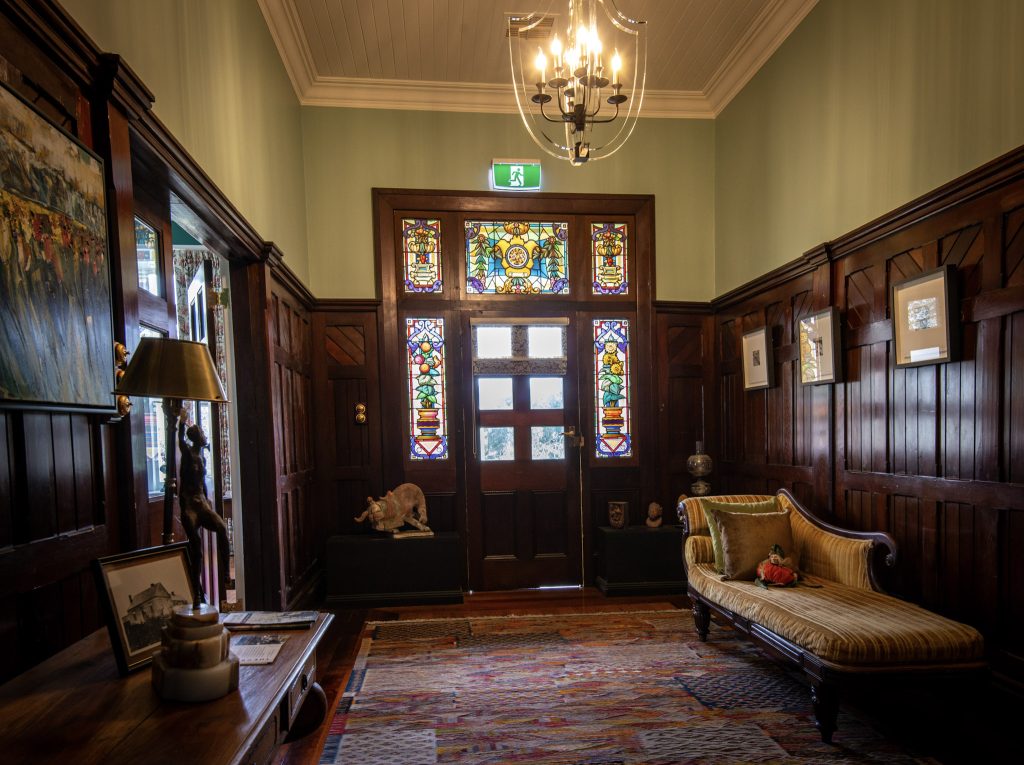 The Holmes have a fascinating eclectic collection of artefacts and collectables dating back to ancient Greece. Their de Quetteville Distillery garden gin label includes the miniature bust of Ceres, the goddess of the harvest, a beautiful antiquity in their collection from before the first century BC. De Quetteville honours Carolyn's great grandfather who migrated from the British Channel Islands to South Australia in the 1870s.
When Thomas Amesbury Frankcomb's son (also named Thomas Frankcomb), inherited the property in 1912, he planted 10 acres of hops along the banks of Mountain River, which runs through the property. Frankcomb converted a wooden barn into a kiln for drying the hops.
An octagonal kiln with a 70 foot flue and eight fireplaces was added.
By 1949 Clifton was the largest hop producer in Tasmania and the kiln remained in use until the 1960s, when there was a downturn in the Tasmanian hop industry.
The hop kiln is the attractive and predominant Ranelagh landmark that can be seen from Louisa Street today.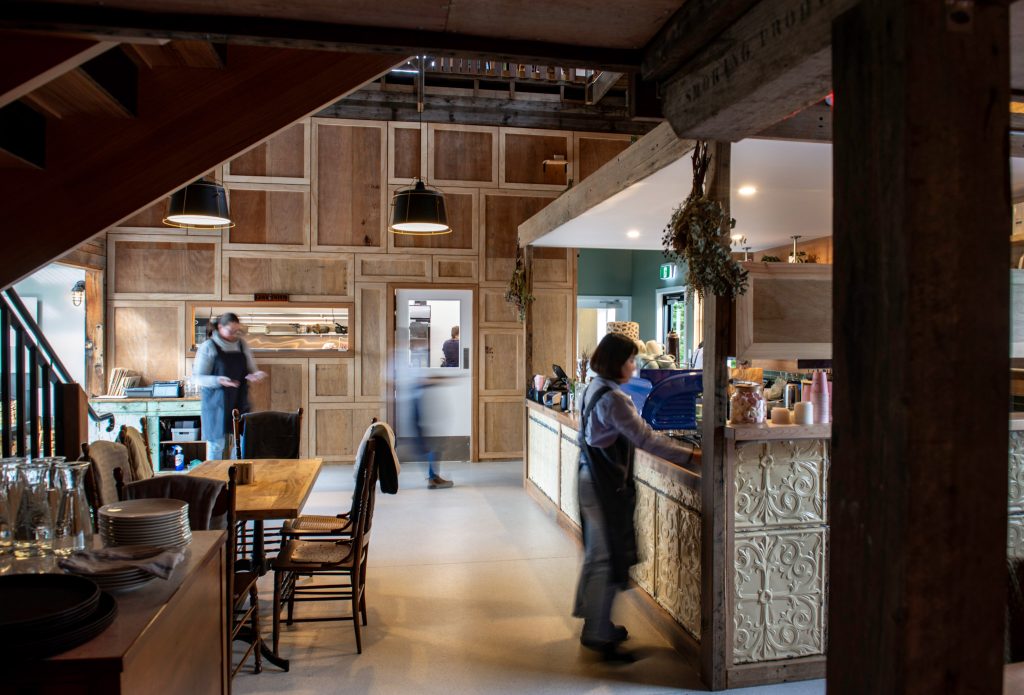 The Holmes have added a tasteful restaurant and bar on the side of the hop kiln. Much of the character of the kiln has been retained in the new build.
There are various dining areas, including a large light-filled café space, a new bar hidden away to the side of the octagonal hop room and tables around and actually inside the hop room. These table are accessed through a low doorway that reveals a magnificent and intimate space with muted light filtering down from the hop drying floor metres above.
Up the stairs on the first floor is a delightful function area with seating for 50 guests. The mechanics of the hop kiln are left on show and it is these charming and authentic features that make the space so unique.
In another space Carolyn has set up a small still and plans to make fruit liqueurs, whisky and gin using local garden botanicals.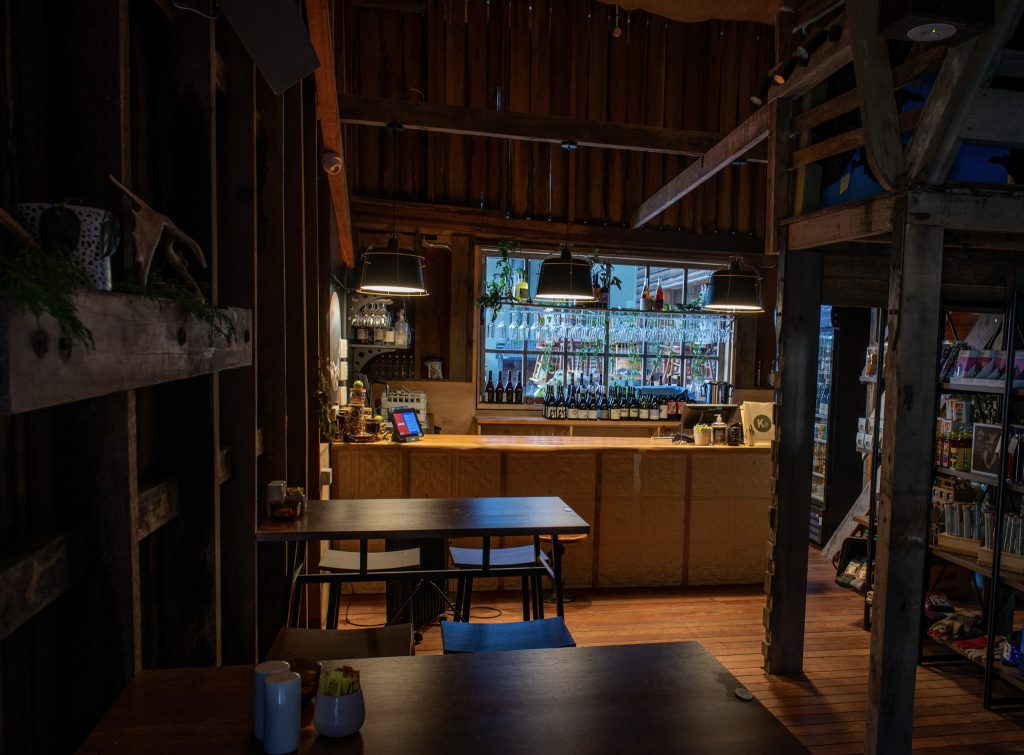 Head Chef Jo Amanatidis moved from Melbourne to manage the kitchen at the iconic boutique retreat Pumphouse Point at Lake St Clair in the Tasmanian wilderness. Jo decided to purchase a house in the Huon Valley and was attracted to the hop kiln development.
Jo thought the building was so unique and historic that it deserved something very special and she wanted to create a menu using local ingredients to give customers an authentic Huon Valley food journey and experience.
Jo uses Huski Greens produce, fruit from Our Mates Farm orchard, meats from Cygnet Coast butchers and Cygnet mushrooms along with many other local Huon producers. She also wants to develop a substantial herb garden on site.
On the weekends in summer Jo plans to set up a Peruvian-style outside barbeque with live music for families to enjoy.
Jo wants to build a warm and genuine style of service.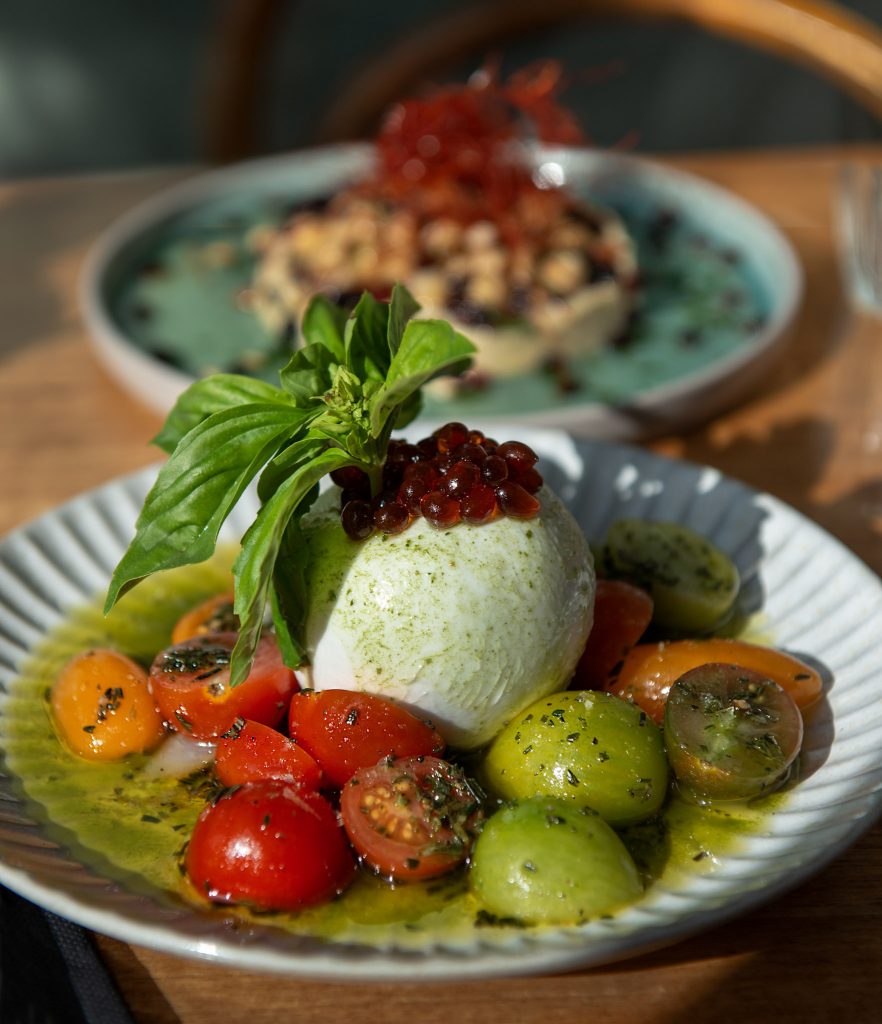 The menu includes a mamelaza board, which offers a dozen tasty options including Kim Chi (fermented spicy brussels sprouts, Korean red pepper garlic chives), Labneh Shanklish (zaatar spiced yoghurt curd balls), Kakra Ko Achar (spiced cucumber salad) and cured meats.
There are many interesting small plates and half a dozen larger options.
I really enjoyed the light and crunchy squid with the intensely flavoured black garlic and squid ink aioli and the creamy and luscious hummus with spices, chickpeas, barberries and pinenuts. The soft cow's milk burrata with colourful heirloom tomatoes in parmesan rosemary oil with balsamic pearls was my stand-out favourite.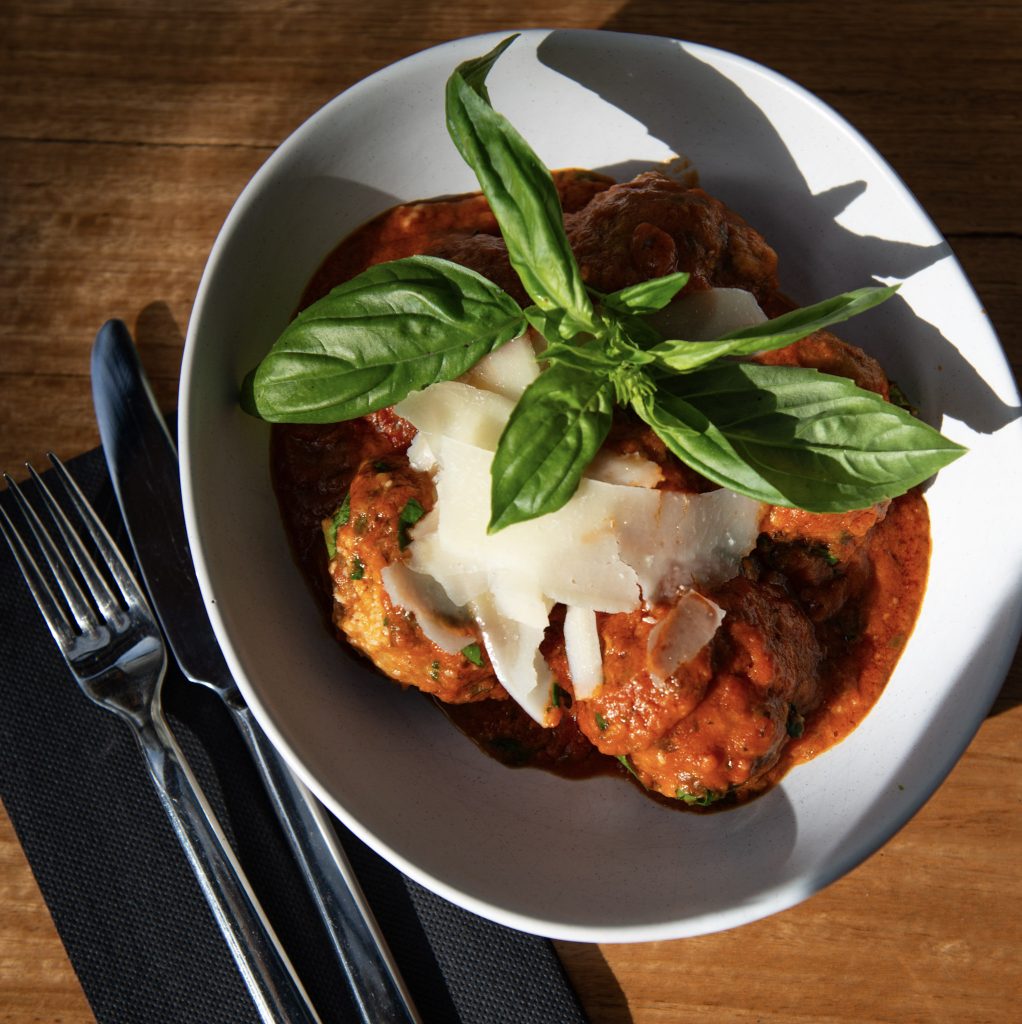 The pork, beef and ricotta meatballs were moist and flavoursome, the eight hour Cuban pork with a crunchy crackle crumb and pickled red onion was also delicious and memorable. The baked eggs omelette with sugo and pistou was light, flavoursome and perfectly seasoned.
It's nice to see so many local wines offered by the glass. There is a selection of very special cheeses and tempting desserts including a flourless saffron and orange cake, a Spanish crème brulee and an apple tarte tatin with crème fraiche and a bee sting, a velvet custard with leatherwood honey and candied almonds. Espresso coffees are expertly made.
Clifton Estate and The Kiln Eatery is a very special and quality experience in a unique location only 30 minutes from Hobart and within easy reach of the Huon Valley's major attractions.
The Kiln is open Wed-Monday 9am – 4pm. To reserve a table phone: 0499 511 798.
For booking accommodation at Clifton Homestead, phone: 0497 222 028 or online at booking@cliftonhomestead.com.au