The township of Honeywood, later called Geeveston, began in the 1840s. William Geeves and his family emigrated from England in 1842, met Lady Franklin, the wife of the Lt. Governor, and were persuaded by her to settle on a block of her land at Franklin in the Huon Valley. During Christmas week 1849, William Geeves took up 80 acres of land at Lightwood Bottom, a part of Honeywood. The settlement grew up on the hills and basins drained by the Kermandie River, a tributary of the Huon River.
In the wild Huon Valley forests grew a wealth of stringy bark, swamp gum, blue gum, blackwood and Huon pine. The first industry to support the early settlers was timber splitting, which provided both shelter and later a livelihood.
Richard Hill, the son of convict Barney Hill who was transported in 1818, operated the first privately-owned sawmill on the Kermandie River. Richard was one of a group of half a dozen buyers who took advantage of the high production of split palings, shingles, posts, rails and barrel staves.
The first splitting was carried out near the water's edge, where women and children shouldered their burdens over long distances along bush tracks. As timber became exhausted near the waterfront, other means of transport necessitated the need for roads and the construction of a tramway. On 1 April 1856, a meeting was held at the Kermandie Hotel to consider the erection of a tram-road. This resulted in the formation of the Liverpool and Honeywood Tramway Company, whose principal trustees were Richard Hill, Stephen Geeves and Dr Crooke. After taking over Dr Crooke's shares in August 1859, Richard Hill retained the largest number of shares in the company, valued at £940. He laid about three kilometres of track, creating the first tramway in the Huon.
Today, Geeveston is Australia's most southerly town. Sitting on the Huon River, this quaint hamlet is in the middle of the Huon Valley's apple and fruit growing areas and has been at the centre of the Huon Valley's timber industry since the late 1800s.
Huon locals find speciality timber through a friend of a friend or at garage sales, or through online marketplaces. The most reliable and convenient source is Island Specialty Timbers in Geeveston.
Island Specialty Timbers is a commercial business enterprise of Sustainable Timber Tasmania, which sources and retails raw materials of Tasmanian special-species timbers from harvest or salvage operations on Permanent Timber Production Zone land.
Special-species timbers are available for purchase by the community from Island Specialty Timbers at Geeveston as whole logs, stumps or burls, and as processed boards and slabs.
Chris Emmett is a multi-generation Huon resident who has been working at Island Speciality Timbers for 31 years.
'In the beginning I was in a small tin shed as an office and no lights or heater, a chainsaw and a loader that would barely lift a two-ton log!' Chris says. 'I did everything myself for the first ten years, no computers, all hand-written receipts.

We had a small selection of what was called minor species back then, 50% of the business was celery top pine poles for building. Customers would take their poles off to smaller Huon sawmills to get them cut to size,' Chris explains.
Purchasing quality timber can be a waiting game. Chris says there is more demand than supply for the top-grade timber, so IST put out about eight tenders every year, a description of what's available goes out to potential purchasers. The timber is milled to the purchaser's requirements, air-dried to around 20% for 12 months, kiln-dried for three weeks, then the timber is freighted around Australia. Customers can come and see their timber being cut, which they like.
Chris explains that Tasmanian high schools use myrtle in their woodwork classes so they need to order it a year in advance.
'What has been the most popular timber over the years,' I ask Chris.
'The two main features people want are colour and features,' he tells me. 'Black heart sassy (sassafras) is still the most popular.'
The dominant species available from Huon Valley forests are sassafras, musk (Olearia argophylla), wattle, blackwood and Huon and celery top pine.
'We built a new mill shed in 2006, then we built a showroom and added more employees,' Chris says.
Hamish Middleton received a wonderful surprise when on his 18th birthday he unwrapped his present and was greeted by one of Jack Binnie's special hand-made guitars. It was even more special when Hamish realised the beautiful instrument was crafted from the local Huon timbers that he admired so much as a resident of the valley.
Jack says he used aged old-growth timbers, so the guitar already has age. The sound board from Hamish's guitar came from a 2000 year old King Billy pine, milled 30 years ago from a tree growing near Lake St Clair. Jack explains that each timber gives a different sound.
'For example, the blackwood creates a deeper tone than celery top,' he says.
Based in Cygnet, Jack has been working with wood for nearly 50 years and made his first guitar for his daughter Asta, who is a singer and performer.
Jack's favourite timber is black-hearted sassafras for the guitar back.
'It looks amazing and sounds so good, like a piece of artwork,' he says.
Jack is now going to experiment with black wattle, which is in between a soft and hard wood.
"I'd also like to work with fiddle-back oak and tiger myrtle, which is probably the rarest timber, almost impossible to find,' he says.
Jack explains that no two guitars sound the same.
For Ross Patston-Gill the love of working with timber was handed down from his father and grandfather. Ross was a chef and moved from one organic material to another.
Working with Tasmanian timbers from ancient forests, Ross crafts unique pieces that capture the essence of the history the forest giants have witnessed. Recognised as a master craftsman, this award-winning artist has been sharing his skill through teaching for over 20 years.
Ross splits his time between teaching and turning one-of-a-kind art pieces. Teaching provides him with the opportunity to nurture the next generation of woodturners. He likes to play Puccini when he works at the lathe, then time vanishes in what he describes as 'lathian time'.
'Tasmania has some of the rarest and expensive timbers in the world,' Ross says.

'Huon pine can sell for over $20,000 per cubic metre, sassafras for $27,000 per cubic metre and tiger myrtle is difficult to price because it's so rare. Availability has decreased, forcing the prices up.'
Ross says the appreciation of Tasmanian timbers has matured in recent years, creating more demand for his unique pieces.
The classics species are Huon pine, blackwood, myrtle and sassafras. The myrtle Ross prefers has a deep, dark, oxblood burgundy colour. Ross has a profound understanding of a tree's character.
There are approximately 50 species of endemic species in Tasmania, including species like native olive, native cherry, dogwood and native pear among many others, all stunning because Tasmania was isolated from the rest of the world for so long that the trees have evolved with the environment.
Some types of fungus are unique to Tasmanian timber.
'Tiger myrtle is a result of a fungus that eventually kills the tree,' Ross tells me. 'Sassafras is usually a beautiful, pale crème brulé colour but if a fungus consumes the sugars in the wood, black-heart sassafras is formed. The extremely rare golden sassafras shimmers like mother of pearl. King billy pine is beautiful and has a unique aroma. Huon pipe is impervious to fungus but occasionally you do find a very mild blue blush from minerals.'
Ross's goal is to make pieces that become family heirlooms.
Another ex-chef is Paul Cullen. Paul has had many interesting lives, as an Executive Chef, a Chef de Mission at Mawson Station Antarctica and the festival director of the Tasmanian Wooden Boat Festival for nine years.
Paul fell in love with the art of wooden boat building, the tools and particularly Huon pine timber, so he enrolled in a 12-month course at the Wooden Boat School at Franklin a few years ago, where he still volunteers. In his course was a Qantas pilot, a surgeon, a paramedic, a theatre nurse, people from all over and all walks of life and all ages. Some of the younger ones wanted to follow a career in boat building because you can't do an apprenticeship in it.
'The Wooden Boat Centre was started about 30 years ago to maintain the skills in wooden boat building,' Paul says.
The centre invites skilled shipwrights to instruct the fee-paying students. The twelve-month course gives students experience in traditional clinker-built dinghies. These vessels are lighter as they have less internal framing, with the planks overlapping along their edges. They also displace less water, allowing them to move faster. The overlapping planks are carefully fastened with small brass rivets.
'Students also practise with modern laminates, fit-outs and interior cabinet work, giving a basic introduction on how boats are made,' Paul says. 'There are also sponsors who want to a pay for the boat and be a part of its build with the students.'
Geoff Turnbill is currently working on one of the centre's remarkable projects. Instructed by experienced boatbuilder Tony Goodwin, Geoff is building a clinker-built dinghy made entirely from Huon pine, which will cost about $35,000. Tim Blumfield is a volunteer joinery instructor making an intricately designed Huon pine water wheel to replace the one at the Japanese Gardens in the Hobart Botanical Gardens.
Paul Cullen says sadly the reality is that there are going to be fewer wooden boats made in the future as the wood is just too hard to find, remembering you'd be lucky to get 15% of the timber from a Huon pine tree that is suitable for boat building. It's very rare to find a dead straight log of Huon pine with no knots or kinks. Paul says we may have to look to other timbers like celery top pine.
'When we restore boats here and work down to the raw timber, a 100 year old boat made from Huon pine is still in good condition,' Paul explains. 'The timber is perfect for boat building. It is rot-proof – worms hate it!'
Paul loves the idea that when you're learning skills the old-fashioned way that goes back centuries, there are no quick shortcuts. He says that a lot of carpentry and cabinet-making today is designed and guided by computers, while a traditional wooden boat is made by hand and skill.
Jill Manning lives in a timber house along a secluded and winding country dirt road that climbs into the hills behind Franklin. The house is situated in a ferny gully surrounded by native forest and overlooking a large lake complete with ducks and platypus. The lake is fed by a stream that meanders down beside their property.
'When it rains for a few days, it can keep you awake!' Jill says.
They have planted hundreds of additional trees so it's a lush and secluded oasis. It's here Jill builds complete houses out of Tasmanian timber! She spent some time working at the Franklin Collective at the Palais Theatre in the riverside township, which sells gifts, books and local produce. She loved Tasmanian timber and after visiting Island Speciality Timbers in Geeveston she wondered what she could make that visitors would love to take home.
Timber cheese boards and platters seemed an obvious choice but then a better idea popped up, perhaps triggered by her own cosy two-storey bungalow, which is made from Tasmanian timbers. The idea for Jill's handmade tiny (really tiny) houses was born.
Husband and wife team Michelle and David Rauenbusch work together from their home studio in the gorgeous hamlet of Cygnet. Michelle says the wooden spoon idea came from a kitchen discussion when she told David that even though she had married a cabinet maker, she didn't have a decent wooden spoon in the house!
Michelle said they were always looking for something to do with the offcuts from cabinet making, so more spoons were crafted to sell at markets. They were quickly snapped up and the business grew. Soon they were making more spoons and less furniture.
'Now it's all spoons,' she laughs.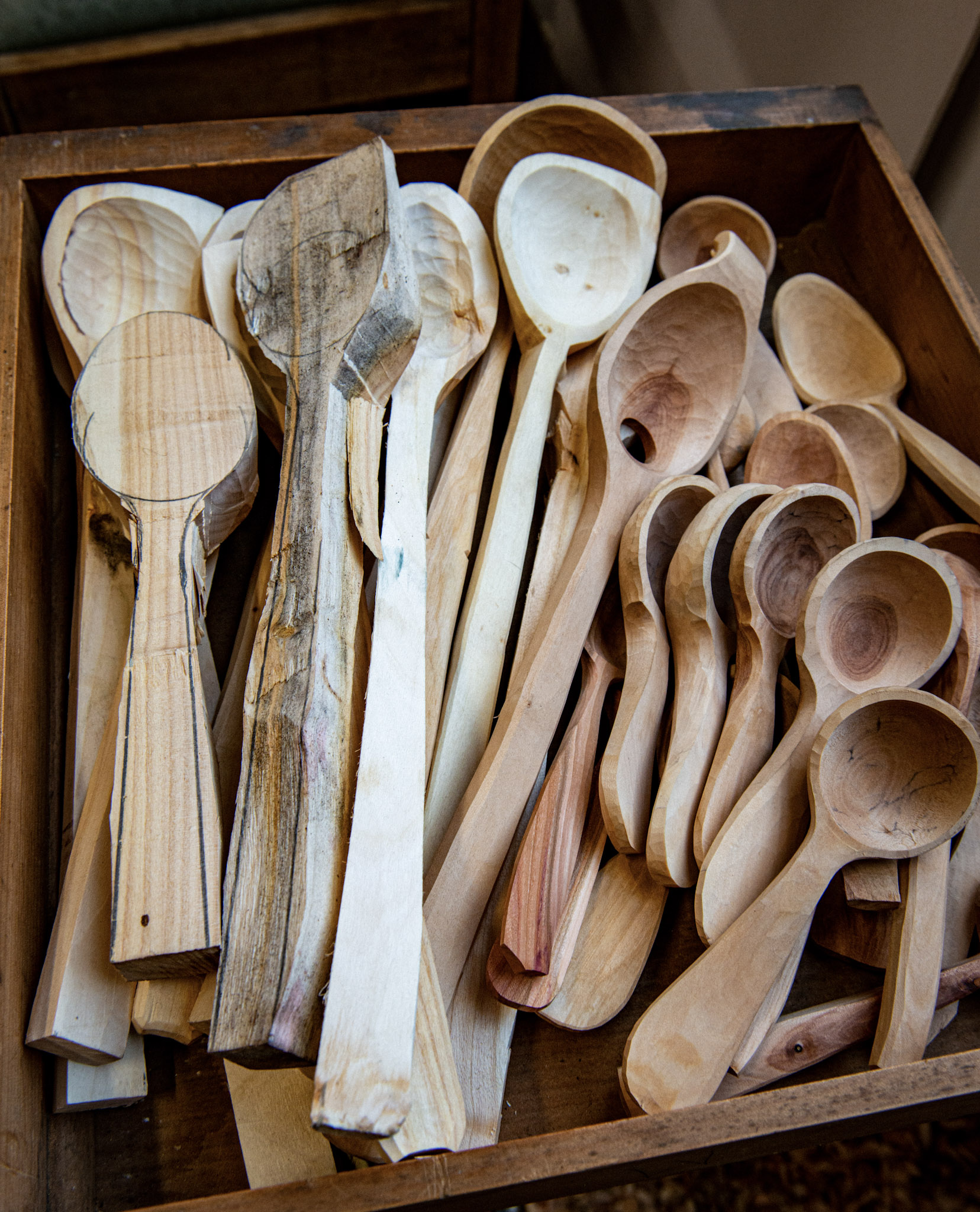 Each spoon is hand carved and has a label explaining the timber species and where it came from. Every spoon has a story. The timbers used are hand-chosen for their durability and beauty. Timbers are sourced from many different places, including vintage buildings and wooden boats. Most are endemic to Tasmania, including Huon pine, King Billy pine, celery-top pine, myrtle, sassafras and blackwood.
The Golden Valley road workshop has a wonderful, cosy country feel, full of fragrant timber, a crackling wood fire and boxes of wood offcuts ready to be turned into precious memories. I suggest to David that perhaps the process of making the spoons is as important as the final product?
David agrees that making something so simple and precious is meditative and therapeutic, and seeing an item appear from a roughly-cut piece of timber is quite magical.
They both love showing people how the spoons are made and Michelle has a background in arts education, so they began day-long group workshops for 1-6 people, which have been a big success. They once offered a workshop for a family group of nine. The participants are split 50% Tasmanian, 50% mainlanders.
Michelle explains that they have had a very busy year after appearing on Gardening Australia in 2022.
'Some people ordered 10 or 20 spoons for gifts,' she says. 'As well as pot spoons, people requested eating spoons, spurtle porridge stirring sticks and even baby spoons. We were flat out for nearly 12 months!'
I'm amazed when David and Michelle tell me they have 100,000 followers on Instagram from around the world and they post spoons to Russia, America, China, Turkey and even Antarctica!
Kim Bale is one half of Bale and Bale Design in Cygnet. Kim and husband Paul trained the UK as graphic designers before studying wood design. Kim says they also studied ergonomics and therefore try to use minimal timbers when constructing furniture.
They moved to the Huon Valley in 2015 after looking for a workshop with a beautiful outlook, which they found in Cygnet. They use a lot of Tasmanian oak and blackwood on interiors.
Bale and Bale make wonderfully ornate jewellery chests, lamps, furniture and kitchens using matched Tasmanian timber. The bowls made from Tasmanian timber veneers are very popular.
There can be four to five layers to make one of their bowls. The lamination process allows them to bend and manipulate the timbers into interesting shapes.
'The beauty of a veneer is that it doesn't change shape or shrink,' Kim explains. 'We particularly love using cheesewood, Huon pine and sassafras. But Huon pine prices have skyrocketed. A company recently quoted us Huon pine at $30,000 a cubic metre! Back in 2011 it was around $5000 a cubic metre.'
Kim and Paul are big believers in using laminates.
'I think that in Tasmania we don't appreciate just how rare speciality timber is and perhaps it's sometimes used wastefully,' Kim says. 'Using laminates saves this resource because you can create a laminated product and use only the most beautiful Tasmanian timber on the top layer that you see.'
Kim says it's very disappointing when speciality timber is wasted.
'We like to try to educate people that it's a very valuable and scarce resource that should be treasured,' she says.