With the Huon on your doorstep and Hobart only 25 minutes away, Laid Back Manor (including a private golf course) is the ideal base from which to explore the wonderful diversity southern Tasmania has to offer. Ideal for individuals or couples, the gorgeous self-contained cabin is the perfect place to relax after a day of sightseeing.
The property's well-maintained grounds are set against beautiful native bushland and a permanent creek. Pick up some delicious local produce on your travels and enjoy it in the comfort of your cabin or by the firepit under the stars. As the sun goes down, relax in the swinging couch in the warmth of the overhead heating, and watch the native animals come out to play under the lights.
The Huon Valley is known for its quality local produce, craft ciders, boutique wines, quality salmon and other tasty homegrown delicacies. Pelverata Falls, a spectacular 114-metre high waterfall, are only 3km away and can be enjoyed via a 90-minute walk. The property is a mere 25 minutes from Hobart, 15 minutes from Kingston and Huonville, and is the perfect base to explore Tasmania's southern-most attractions south of Hobart. Day tripes can be made to destinations across southern Tasmania, including Port Arthur, Bruny Island and historic Cockle Creek.
Self-contained cabin
Laid Back Manor offers a unique accommodation experience for two in Tasmania's beautiful Huon Valley.
You will be lodging in a modern self contained cabin with queen-sized bed, kitchenette and ensuite on a picturesque 2 acre property. The grounds boast a babbling creek that flows all year round, a waterfall and an abundance of native flora and fauna, including rare birds. Potatoes and raspberries were once farmed on the property.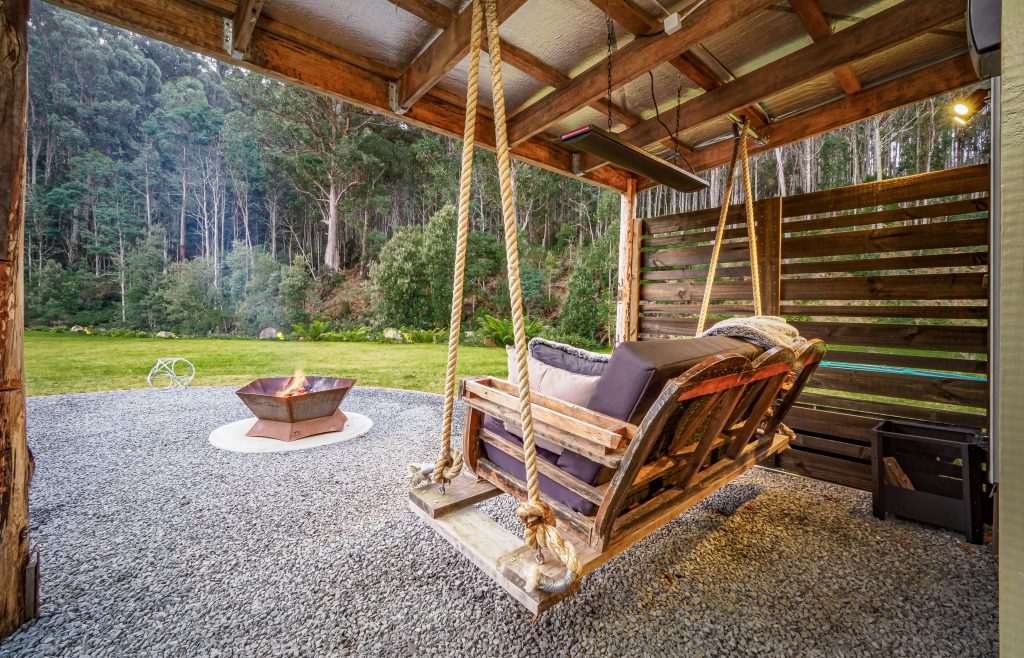 Take a leisurely stroll around the property, or enjoy the view from the comfort of your private living area with a local Pinot in hand. Your hosts, Kylie and Adam, live on site and will be happy to offer you complete privacy or to regale you with fascinating stories about the property and the local area.
Pitch and Putt
Originally built as a practice facility for Adam and his friends, this incredible facility is now available for guests staying at Laid Back Manor to experience and enjoy.
The course layout is essentially a very small golf course with no fairways, so every shot is either a pitch, chip or putt.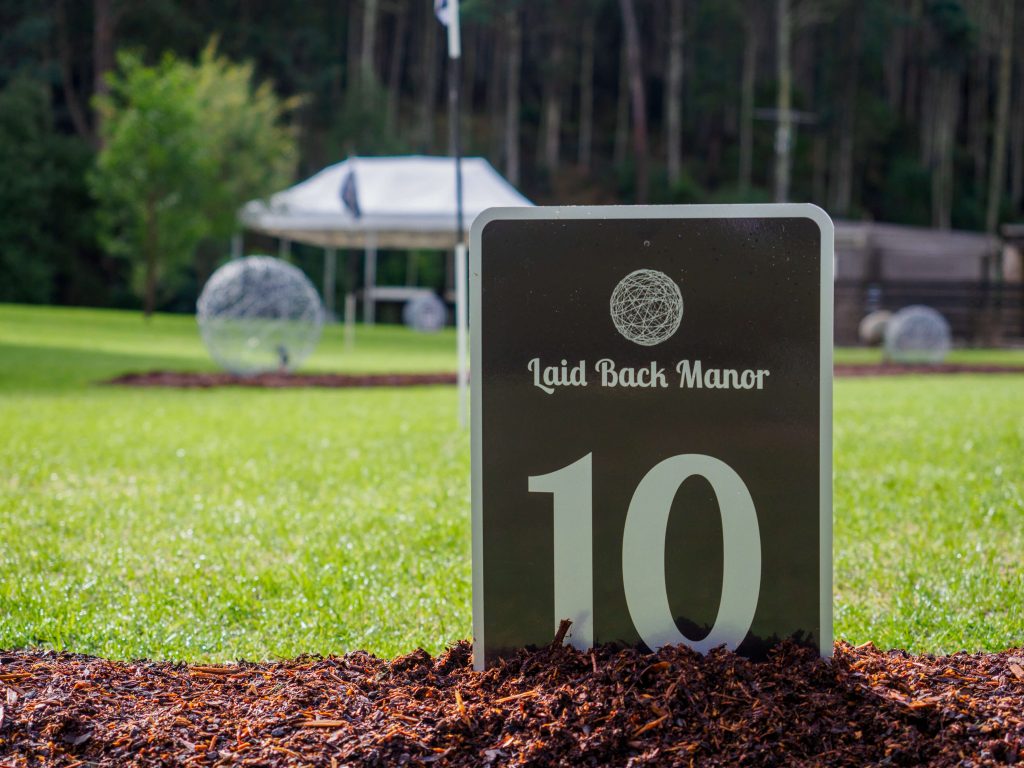 You will play an 18-hole circuit over 11 small, but challenging greens. The entire course criss-crosses an area around two acres in size, so it should take you around 40 minutes to an hour to complete.
Each hole is a Par 3, varying in distance from 29 to 86 metres and is entirely different to the next. There are four sand bunkers, two grass bunkers and various strategically placed trees and garden beds to negotiate, adding to the complexity of each hole, often forcing you to become creative with your shot making.
Kellaway's Creek passes through the course and is in play on ten of the 18 holes, so whilst there is a chance to make a birdie on every hole, there is always a bogey lurking!
You will have the course to yourself, or Adam may be available if you would like the guided experience. Feel free to play at your own pace, at any time of the day.