Join photographer, publisher and cook, Paul County as he takes you on a delectable journey of new tastes and delights found throughout the Huon Valley – reflecting on new experiences as well as some old favourites that have undergone some recent changes, all of which will truly tantilise your tastebuds.
River Run Lodge
247 Narrows Road, Strathblane
0492 461 293
Nathan Hodgkiss and Lachie Bedingfield met when they played footy together in Melbourne. Lachie fell in love with Tasmania when he came to visit Nathan, who spent two years managing a bar in Oslo, Norway. Nathan says there are similarities between Strathblane and Scandinavia – both have long winters where locals rug up and snuggle up by firelight and also celebrate the seasons. Strathblane is near Dover, Hastings Caves and Cockle Creek.
River Run Lodge at Strathblane was a school camp with a main mess hall and various cabins. The mess hall has been tastefully transformed into a very welcoming lodge with timber-clad walls, log fires, brass fixtures and eclectic fittings. A servery opens out from the well-stocked bar to large tables which offer stunning views over Esperance River to Esperance Bay. River Run Lodge offers unspoilt seclusion and locals love the live music every Saturday night.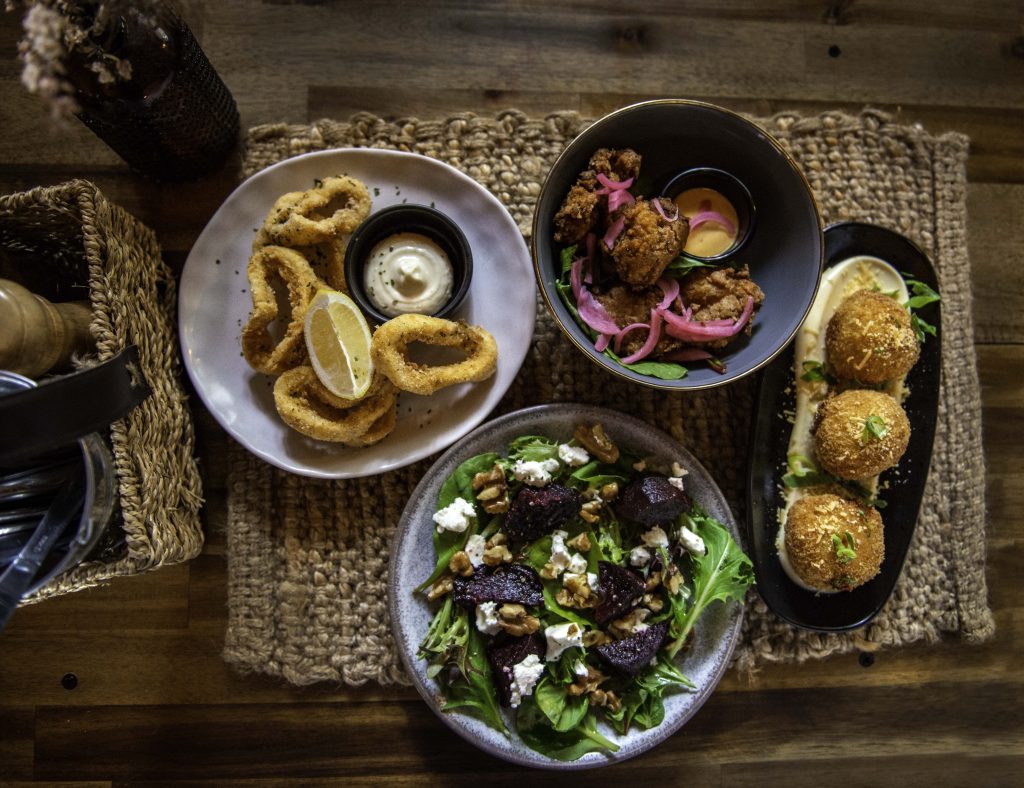 There is a focus on deliciously cooked local produce and Tasmanian beverages. Their stripey trumpeter (I think it's Tasmania's best tasting fish) has become a signature dish.
The cosy heated log cabin bunkhouses offer a wilderness experience right by the water. There is a large comfy lounge, communal kitchen and free WiFi, large TV and BBQ area. River Run Lodge is also a great venue for kayaking, sailing and boating, fishing, bushwalking, health retreats or corporate events.
Harvest and Light
6 Church Street, Geeveston
www.facebook.com/HarvestAndLight/
0401 841 720
Harvest and Light is a unique combination of photographic gallery and small batch picklery. As well as being a talented cook, passionate owner Cassandra Faux is a skilled photographer, specialising in the wonderful world of macro imagery.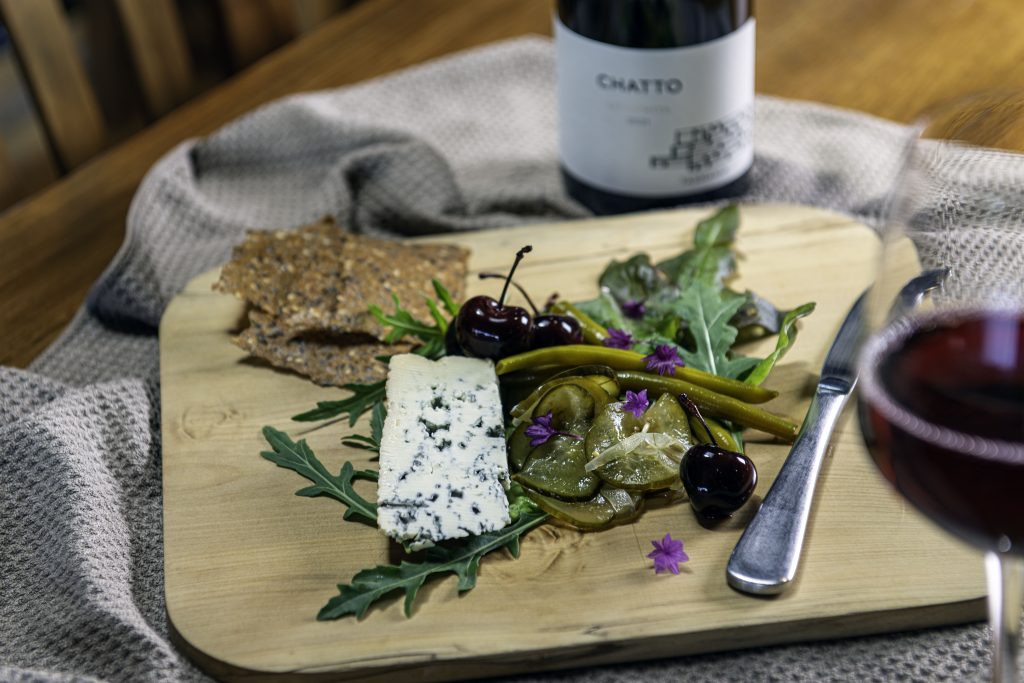 It's a light and relaxing space with outside seating, where you can enjoy a selection of the local produce and preserves made in-house. They can be tasted on delicious platters, matched with the extensive range of Tasmanian wines and spirits.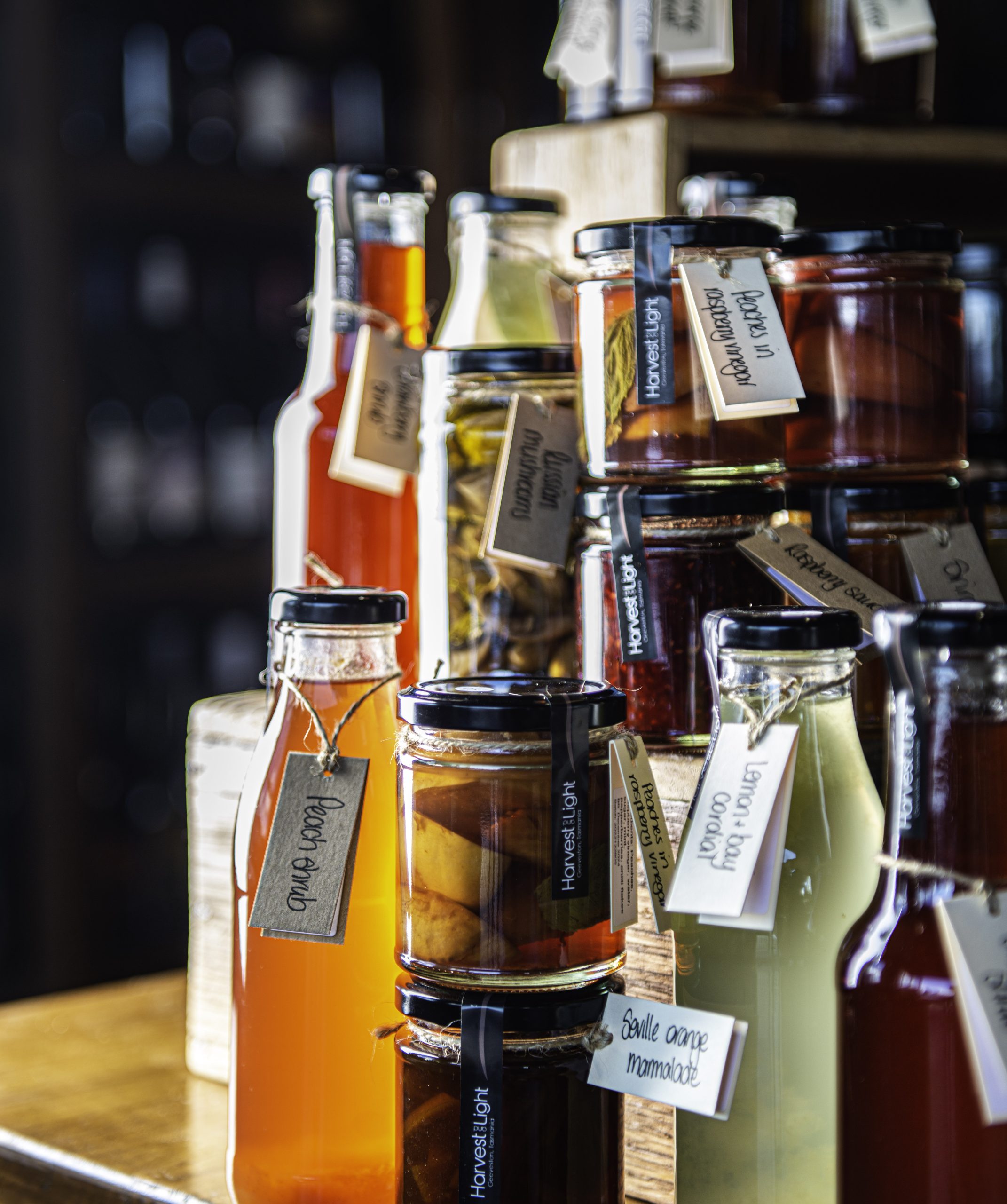 Sourcing local produce pays off! The delicious Clifton Hill Farm lamb skewers with roast carrot hummus, cucumber and wild fennel pickle using Ranelagh carrots from Old Orchard Farm in Port Huon and herbs from Bonnie's Kitchen Garden in Geeveston were all delicious.
On the day I visited, Plan B Distillery was offering gin tastings to eager samplers.
Summer Kitchen Bakery
21 Marguerite Street, Ranelagh
www.summerkitchenbakery.com.au
03 6264 132
Summer Kitchen, an organic, wood-fired bakery, is a Huon Valley institution that's been operating for nearly 50 years. It's hands-down my favourite Tasmanian bakery.
Tim Hohenboken, who bought his alternate lifestyle practices and philosophies from the USA, together with Shona Robinson, commenced trading on a trestle table at the first Salamanca Market in 1973. Their philosophy was simple – 'to provide fewer over-processed foods'. They were pioneers in sourdough bread baking in Australia. Sourdough is the ancient way of bread making. No commercial yeast is used to raise the bread – instead, flour and water are mixed together and allowed to slowly ferment. It is nurtured and a wild yeast 'sourdough starter' is born. After each day's dough is mixed, a little bit of starter is leftover and is fed again with flour and water. It is left to ferment overnight, ready to be used in the next day's dough. Therefore Summer Kitchen's sourdough starter is from the 1970s!
My favourites are their so-moist carrot cake and lemon custard tart with a rustic puff pastry. And their chunky steak and mushroom pie topped with homemade relish is possibly THE best pie I've ever eaten! The delicious organic beef is from Kelty Farm in Woodbridge.
Summer Kitchen are famous for sourdough breads and their hunza and homity pies, which are available at most good Tasmanian food stores.
Recently they have added a new kitchen and servery and turned the old servery area into a lovely light-filled dining room which overlooks the street.
The welcoming and secluded courtyard offers a dozen tables all shaded by a huge chestnut tree.
Lost Captain Restaurant and Taphouse
2-4 Short Street
Huonville
03 6108 1396
The Lost Captain name honours the story of the search for the lost French Captain Jean-Francois De La Perouse. In September 1791, the Huon Valley's namesake, French explorer Huon de Kermadec was chosen to command Captain d'Entrecasteaux's expedition to find La Pérouse.
The intrepid Captain Huon de Kermadec led the search aboard the fair ship Esperance to places thus far unseen by Europeans. While La Perouse was never found, much of the New World was.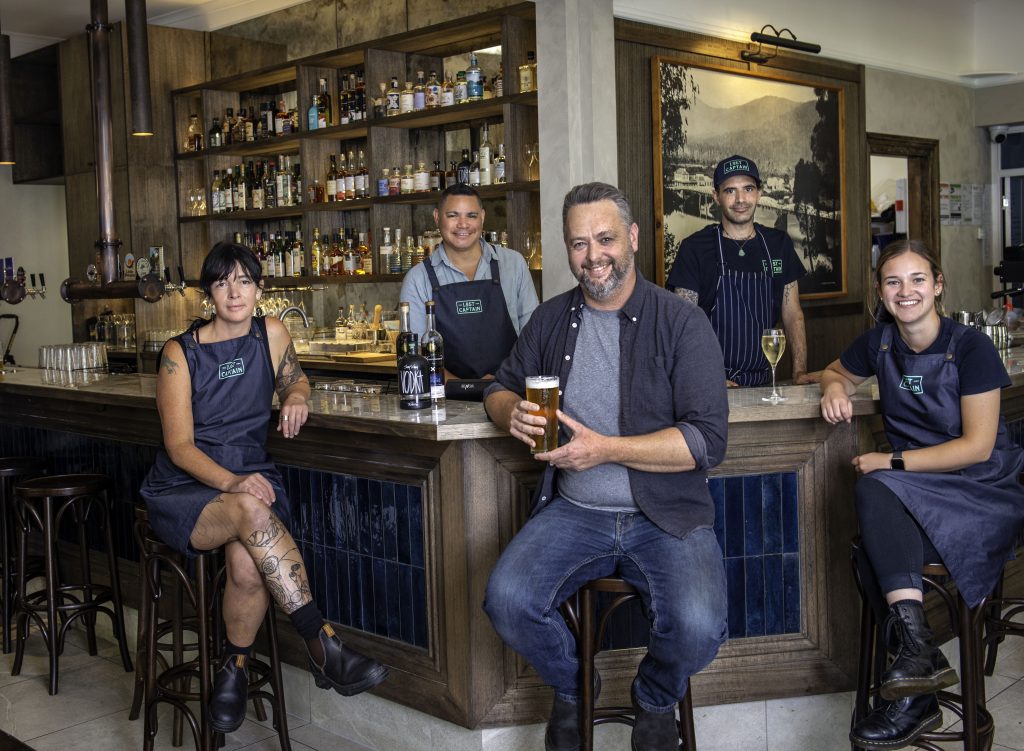 Owners Rob Flynn and Matt Griggs were themselves 'perusing' the Huon for a venue for their new restaurant. They were attracted to the attractive style and history of the house and grounds and its prominent corner position on Short Street by the mighty Huon River.
The house, originally named Duvida, was built in 1914 by William Short, son of another seafarer, Captain James Short, who operated a store and ferries across the Huon River in the 1800s.
The house has had a tasteful makeover – the pressed tin ceilings and stained glassed windows thankfully all retained. Paul Wensor is one of the restaurant managers steering the ship along with talented chef Dayal Patel.
Lost Captain has made a big splash since opening – and is full most sittings. There are many dining spaces. In warmer months people love the covered pergola in the front garden and the sunny Riverside Room which overlooks the river. The Captain's Lounge is more secluded and opulent. The bar promotes Tassie wines, beers and spirits and you can order a whole suckling pig or whole duck or huge tomahawk steak for shared dining experiences.
Rob Flynn says the venue is community focused and at only 35 minutes from Hobart, I think Lost Captain will be a very popular Sunday drive destination.
Jin's Kitchen
17 Wilmot Road
Huonville
0479 157 822
www.facebook.com/profile.php?id=100063481181771
Juha Ju and Deajin Ko(Jin) came to Tasmania seven years ago on a honeymoon/working holiday.
Juha says they fell in love with the clean air, stunning landscape and friendly locals. They set up Jin's Kitchen, their first ever business, in Huonville about two years ago.
Jin is an experienced and passionate chef who worked in five star hotels such as the Sheraton in Seoul. This is reflected in the intensively flavoured quality Korean food. They love the quality local produce, in particular the apple varieties which Juha says are included in many dressings, salads and sauces.
Jin's Kitchen is cosy and small with an opulent timber fit out, and it's often booked out, but takeaways are available.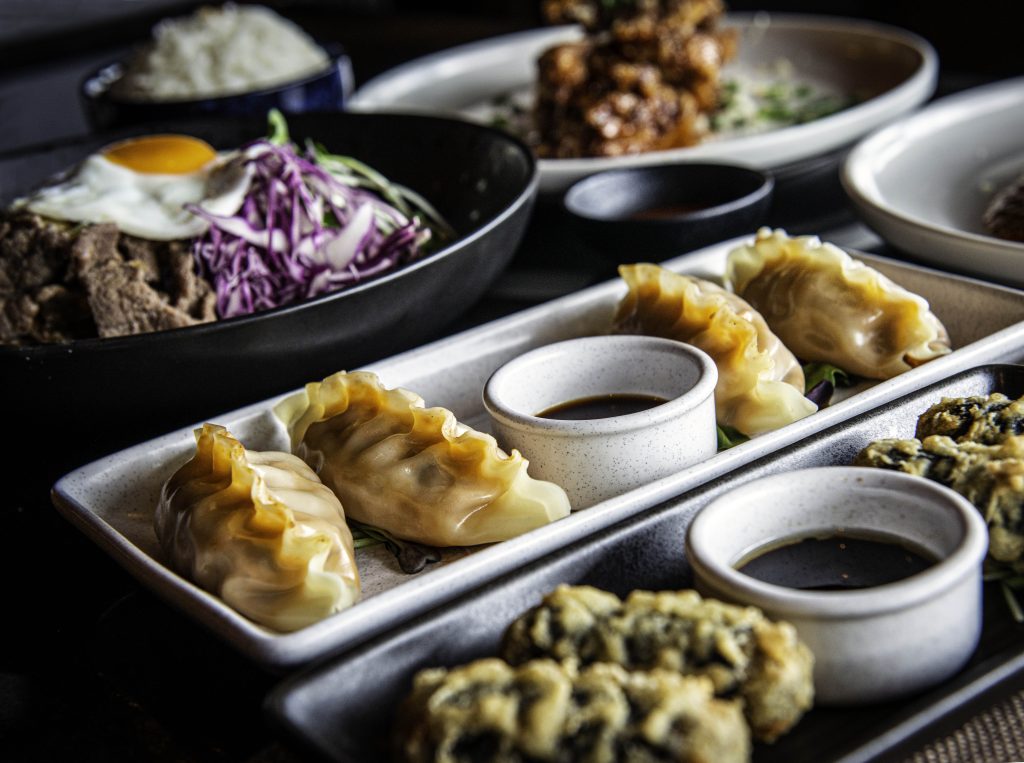 Poolish & Co
26 Mary Street, Cygnet
0499 079 514
Poolish & Co offer artisanal sourdoughs, contemporary and classic French pastries and savoury treats in the heart of Cygnet. They focus on using seasonal produce and preserve through summer so they have the best local produce to offer in their pastries throughout the seasons. Poolish is a high hydration yeast-cultured dough, typically used in French Viennoiserie. Viennoserie refers to breakfast pastries made in the style of Vienna, Austria.
Chelsea Martin and partner Jesse Knierum are both from the mainland. They visited Cygnet and instantly fell in love with its charms after driving down through the valley looking for a lunch spot.
Chelsea worked in hospitality for many years and Jesse is a baker. Together with pastry chef Aaron Morgan they make a very experienced and talented team. Poolish & Co is open wed-Sunday. Their goal is to focus on quality and seasonality and find a lifestyle balance so they don't end up working 70 hour weeks as many bakery owners do!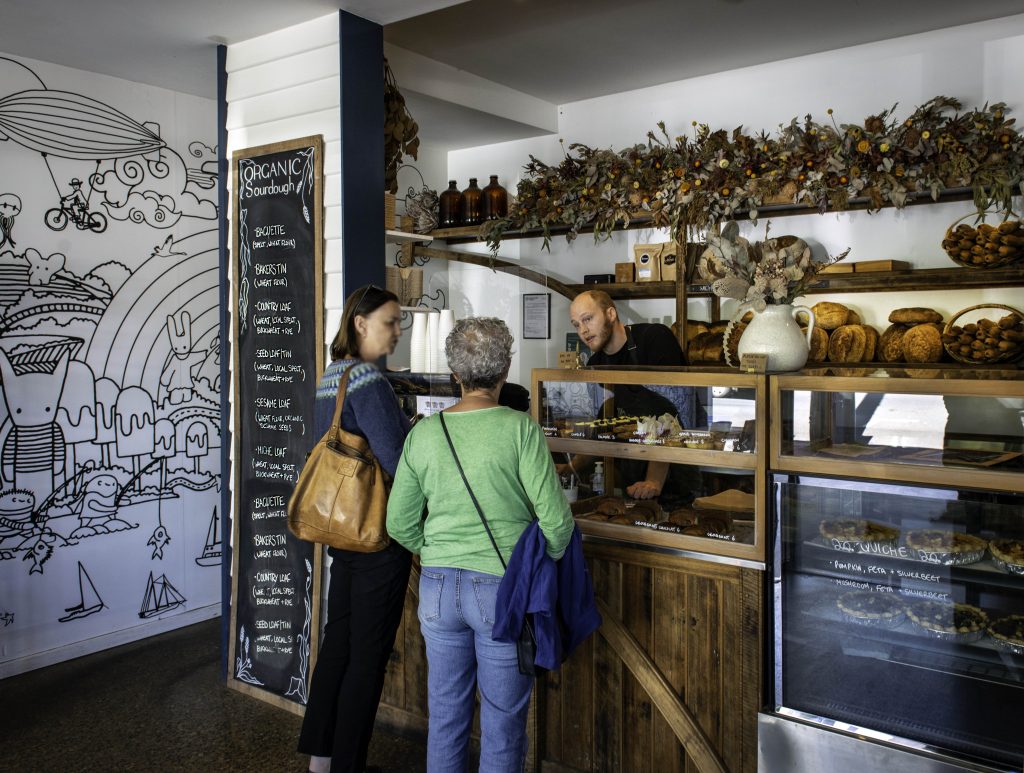 I loved the Portuguese tarts and the Canales are probably the best I've ever tasted – perfect for dunking! The individual blueberry cheesecakes was very moist and had the most delicious texture and flavour. All the breads use high quality stoneground organic flour. The day I visited there was a steady stream of locals collecting their favourites and enjoying the excellent coffee.
Little Lush Cakerie
23c Mary Street Cygnet
0412 256 713
www.facebook.com/LittleLushCakerie/
Mari Tibuliac came to Tasmania in 2003 on an 11 day holiday and loved the Huon Valley's lush pastures and glorious beaches. She managed an orchard, opened a tea room at Police Point, made speciality birthday cakes and sold apple scrolls at local markets.
Daughter Carmen moved down from Newcastle and worked in various local hospitality businesses where she honed her barista and front of house skills. With mum Marie she opened Little Lush Cakerie about two years ago.
Behind the magenta curtains of the old Cygnet schoolhouse is a treasure trove of slightly naughty goodness, and wonderful tastes and aromas. Barista Carmen serves excellent coffee using beans from Tasmanian roasters Villino Coffee.
Many locals LOVE the cinnamon scrolls and the apple custard pillows. The lemon raspberry cheesecake, which won gold at the 2022 Tasmanian fine food awards, is one of my favourites. The vegan peanut cookie and homity pie also won awards. The chocolate macarons are possibly the best I've ever tasted-large and chewy.
Carmen often starts work at 4am so the delicious treats are fresh daily, and she only use local butter and cream. They make wonderful celebration cakes – try the Persian birthday pavlova with seasonal berries-it looks amazing and tastes delicious. They also serve a wonderful high tea–just make sure you book!