Roadside farm-gate stalls offering in-season specialties of the local area are just some of the attractions of travelling in rural Tasmania. Many of the best and most appealing of them are found alongside the highways and byways of the Huon Valley.
The products might be garden-fresh vegetables, hand-picked fruit from a local orchard, honey from a backyard hive, baked goods, fresh-laid eggs or delicious tracklements (now there's a tasty word!) – mustards, pickles, jams, jellies and sauces, all prepared, cooked and bottled in a nearby kitchen.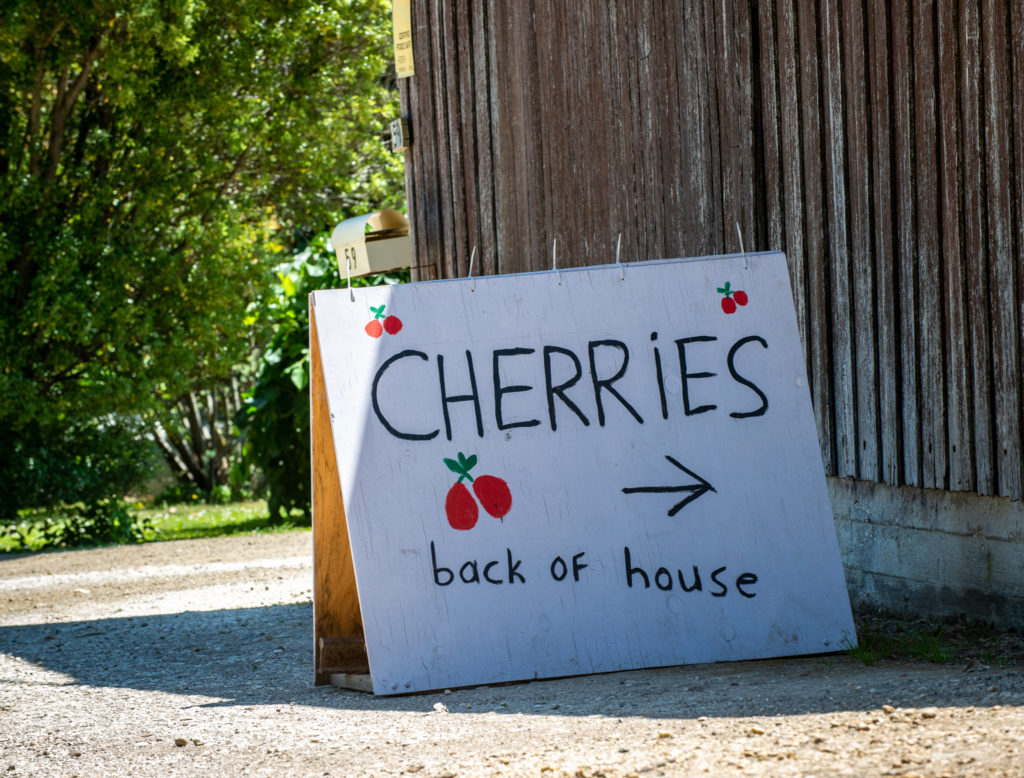 The roadside farm-gate stall advantage is that the local produce is usually cheaper and invariably fresher than you can buy from the supermarket – it's just a stroll from the source, so food-miles don't apply!
Most of the stalls are on the main tourist routes but you might be surprised to find some in unlikely locations, up little-used roads, winding into the hills.
The most common seasonal offerings include stone fruits, apples and pears, cherries, berries, eggs, veggies, and flowers.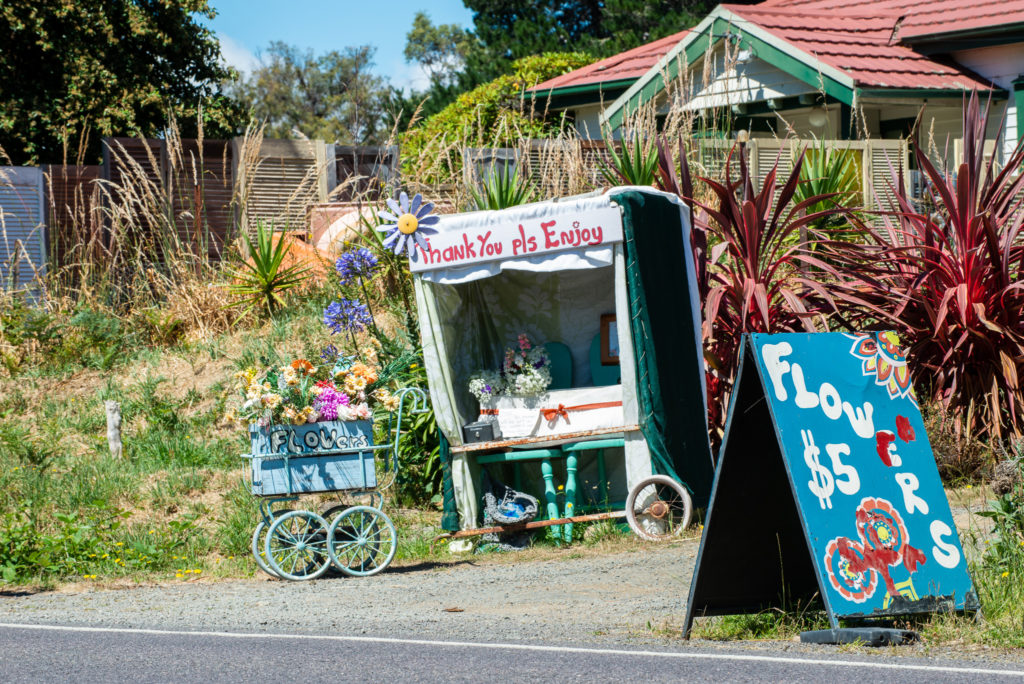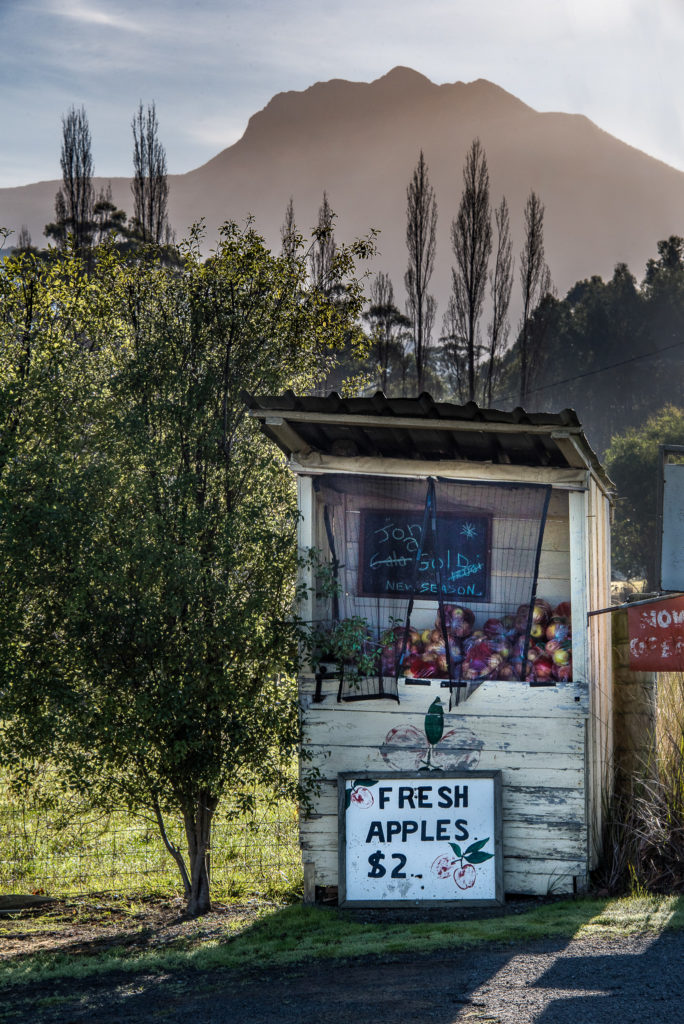 Naomie Clark-Port is the sixth generation of Clarks in Franklin. As a young girl she recalls the Dawson's raspberry stand in Swamp Road, where she would buy a supply of delicious freshly-picked fruit on the way to Hobart or back in the 1950s. The five Dawson children were eager earn some pocket money by harvesting the raspberries and blueberries they grew.
Naomie lives in the oldest homestead in the Huon at Franklin c1846 and thinks she may have had the earliest apple stall in the region, which she opened as a young girl in the 1950s. Her first stand was a row of bagged apples lined up on an old farm trailer and a toolbox with a roughly cut slot in the top. The request 'Your honesty is greatly appreciated is still displayed on her permanent stall today, where sells orchard-fresh apples and pears.
Naomi says that people almost always respect the honesty-box principle, although she sometimes gets quickly-squiggled IOUs and recently found an Aldi shopping token.
'That wasn't much use because there are no Aldis in Tasmania,' she chuckles.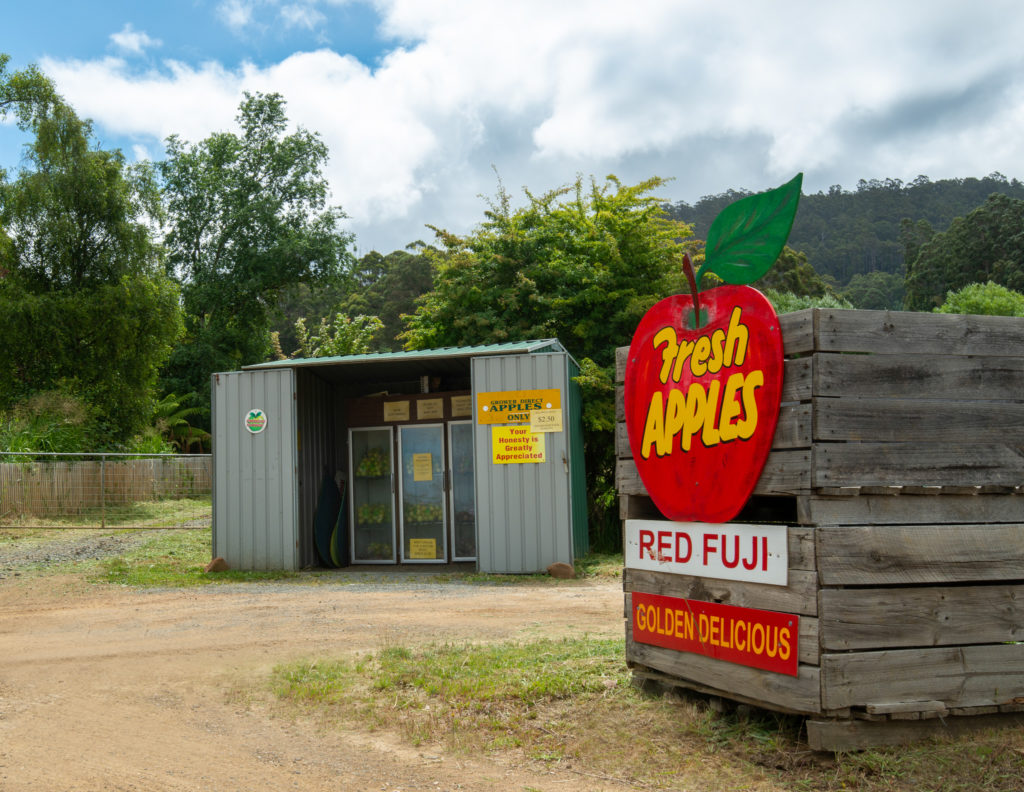 The message is simple – on your Huon Valley travels, make sure you always have some cash for the honesty boxes.
Some of the most popular and permanent stalls are Willie Smith's apple stall at Grove and Griggs Orchards Grower Direct near Franklin, which sells mostly apples and cherries. At Lucaston you can purchase Lucaston Park Orchard's fresh apples and their delicious juice from their roadside fridge.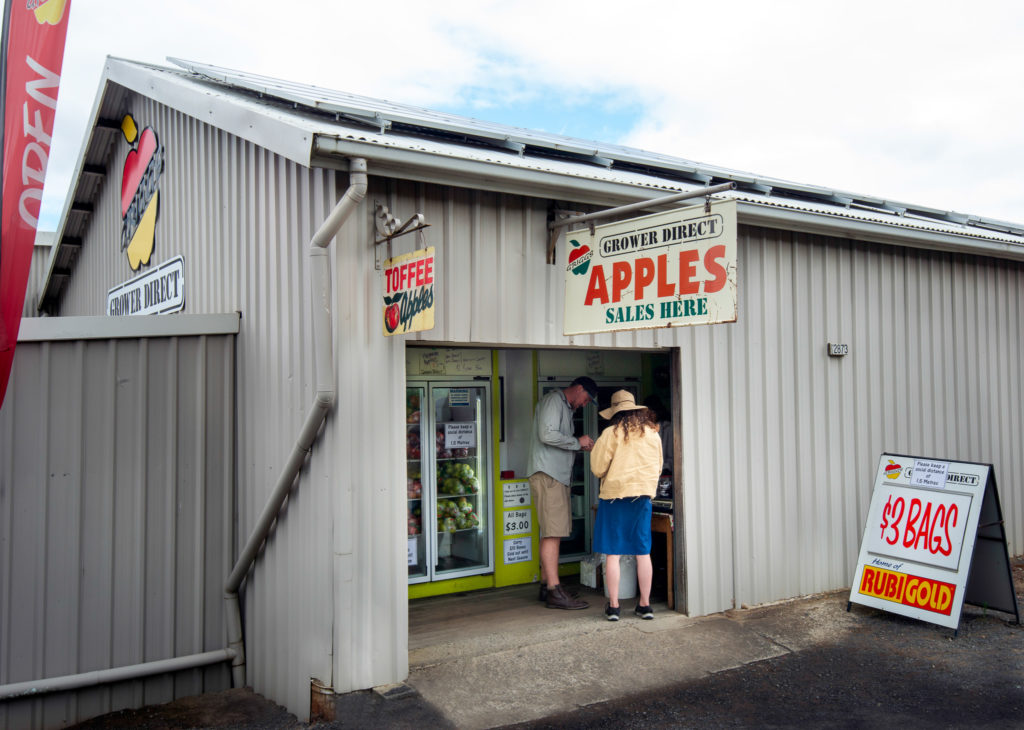 Most stalls rely on the honesty of the customer but occasionally you'll meet the grower relaxing in a comfy chair with a good book. A wonderful stall in Franklin is loaded with produce such as purple garlic, greengages and blueberries – if you stop, the helpful owner may actually pop out and assist you.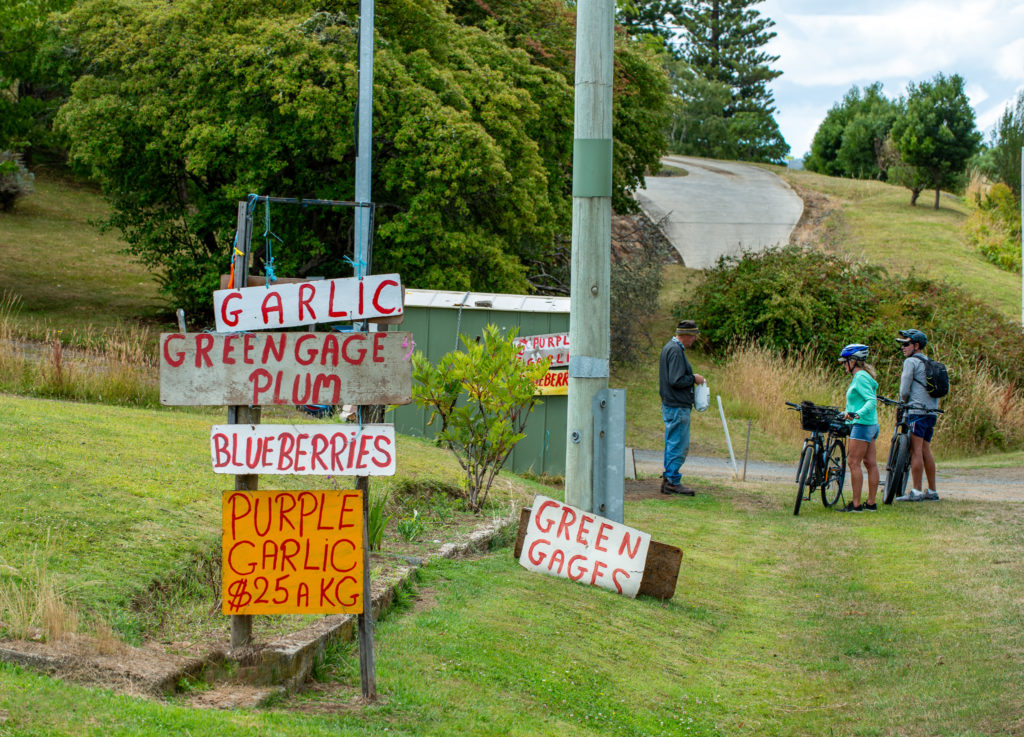 Heading towards Geeveston is Scotts Farm apple stand on Scotts Road at Cairns Bay. In summer the freshest blueberries are found at Tru Blu Berries in Lymington on the Cygnet Coast Road and the Gardners Bay Blueberry Farm on Gospel Hall Road, also near Cygnet.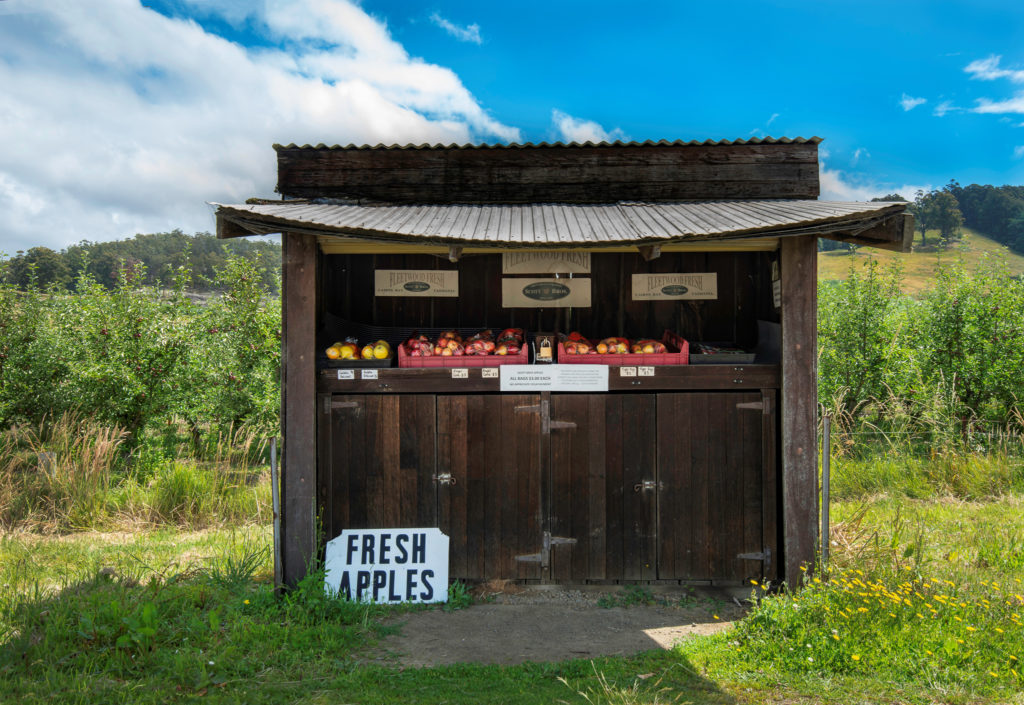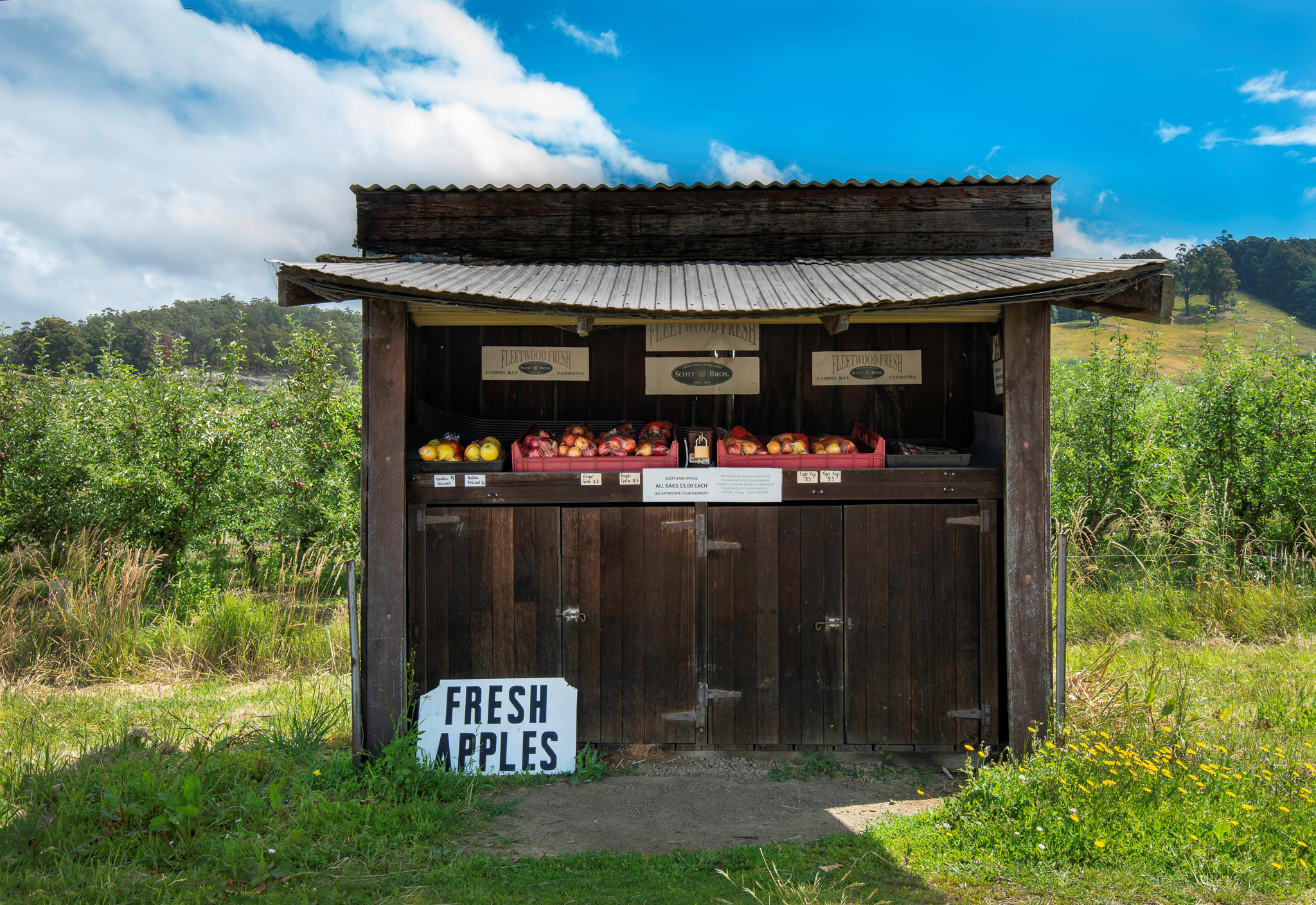 The majority of stalls offer one or two items, but others offer a veritable roadside larder.
Little Black Fridge
The Little Black Fridge at 9 Britcliffes Road in Geeveston is operated by talented young chef April Matusik. Her Tardis-like fridge has delicious home-made treats, cakes and slices, spiced nuts, spiced apple fudge (tastes amazing), vegetables and fruit, rocky road slices and wafer-thin sesame and oregano lavosh. Call in to buy snacks for your hike and treats for your picnic. April also sells her products at Willie Smith's Apple Shed Artisan and Produce Market every Saturday from 10am-1 pm.
Instagram – @littleblackfridge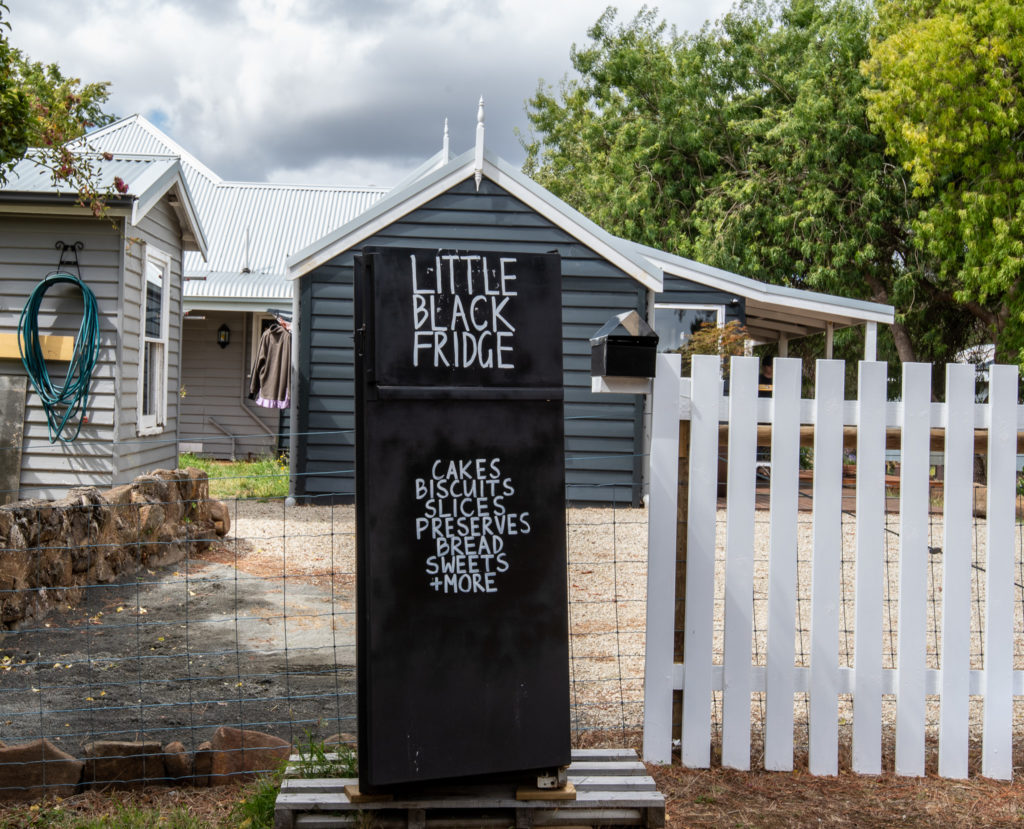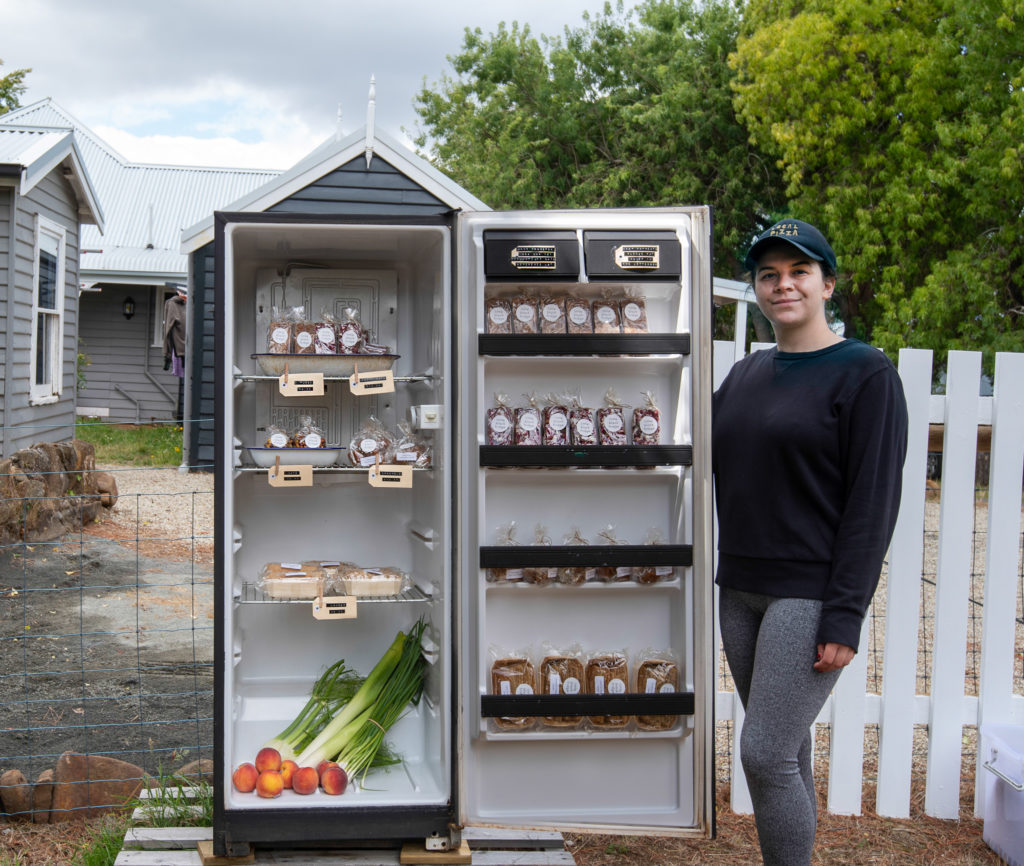 Whispering Spirit Guest House
Perhaps the most eye-popping stall is at Whispering Spirit Guest House at 253 Swamp Road in Franklin. The Bauers offer German speciality dishes, fresh seasonal fruit and vegies, jams and freshly-baked bread. In the freezer you'll find delicious frozen fruit crumbles and cheese cakes, ice creams (the strawberry yoghurt and native pepper berry custard are wonderful), free range eggs, chilled juice by the glass, and more.
The variety of offerings is surprising – you could stock up for breakfast, lunch and dinner in Heidi Bauer's mini chalet-style hut, which operates from dawn till dusk – it's an Aladdin's cave of deliciousness.
All the produce is organic and fertiliser-free. Heidi's a talented and fussy cook, pointing out she uses less sugar than normal because the natural fruit sugar flavour is so high.
'I only use the slightly bitter morello cherry for my cheesecakes,' she says. 'Normal cherries are best for eating off the tree, but not for cooking.'
Heidi and Herbert emigrated from Germany forty years ago looking for a location to establish their farm and a healthy lifestyle. They operated a well-known stall at Salamanca Market and the Hobart Farmers' Market for many years, but now they just operate their wonderful road-side oasis.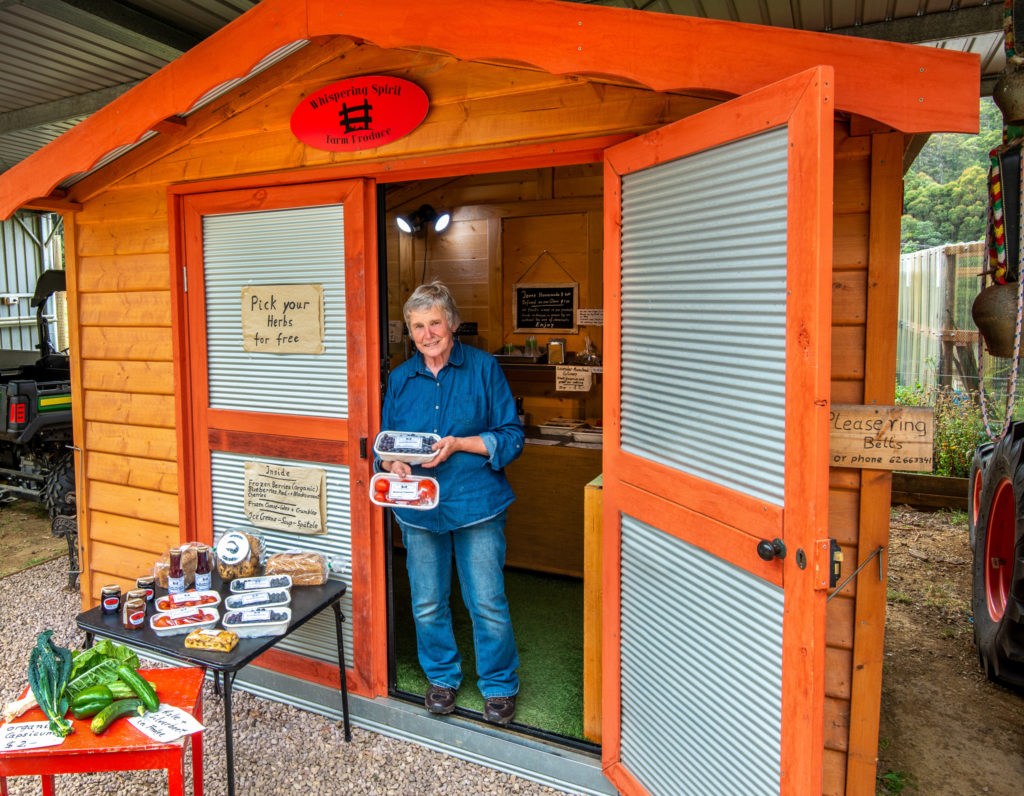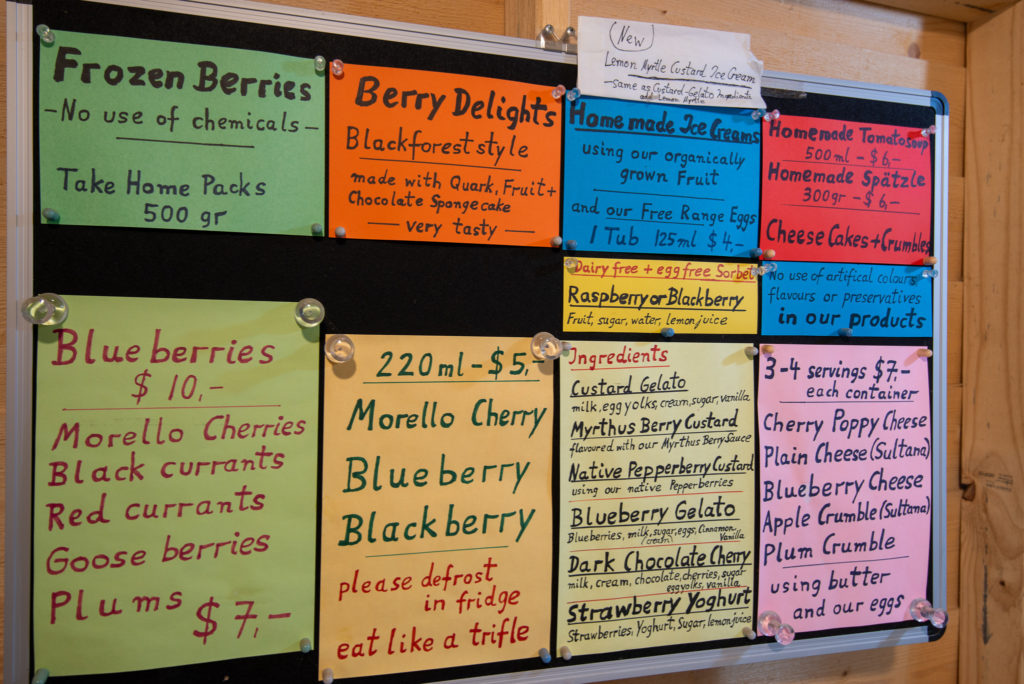 Early Bird Market Garden
The Early Bird Market Garden is only two kilometres north from Cygnet on the road from Huonville. Jenna and Zeb first planted a garlic plot in 2017. Locals contacted them to purchase their produce direct, so they opened the road-side stall in March 2020, selling out of produce every second day. Now they offer vegie boxes to locals who collect every Monday. The boxes are $25 for the small size and $45 for the larger one, which is enough for 3-4 people.
Their road-side stall is very popular and offers one of the Huon Valley's most interesting and varied selections of quality vegetables. They follow Tasmanian vegetable-growing expert Steve Solomon's guide to growing nutrient-dense foods, nourishing their crops with their own special compost mix.
You can often see Jenna and Zeb working in the garden to harvest produce for the stall. Some of their summer crops include lettuce, chard, kale, beetroots, onions, broad beans, zucchinis, cucumber, tomatoes, fennel and broccolini.
Jenna says they aren't concerned about people not paying – they feel there is a lot of trust and honesty in the community, which makes their stall viable.