Fancy restaurants are all well and good, but there are times – especially if you have young children – when a picnic is far more fun. No worrying about table manners, no two-hour time limit, and the freedom to make the menu as simple or as complicated as you like.
The Huon Valley is packed with family-friendly picnic spots, all of which offer lovely wide-open spaces for the kids to run around and burn off some energy, and many of which are near local bakeries and shops for you to pick up extra supplies. So… dig out a couple of cosy blankets, load up your Esky, and join me on a tour of the Huon's top picks for picnicking.
Huonville and Franklin
If you haven't got time to head too far down the valley, the Esplanade at Huonville is a good option for a quick picnic lunch. Remember to stop by The Apple Shed in nearby Grove and pick up a slice or two of apple pie for dessert. The playground at Huonville Foreshore has recently been upgraded, and there are plenty of picnic tables and benches where you can sit and watch the river meandering by.
If you're looking for a picnic spot that's a little quieter, it's well worth taking the time to head south and explore the Huon Valley more deeply.
The foreshore park at Franklin is a real family favourite. Again, there's a playground to keep the kids entertained, but there are also spectacular views of the river, and an easy walk along to the Wooden Boat Centre. Frank's Cider House is just over the road, offering takeout coffee and home baked goods, or if fish and chips is more your thing the Aqua Grill Café also does takeaway. The friendly ducks that call the riverbank home will be happy to help with any leftovers.
Cygnet
The delights of Cygnet are well known to all: plenty of craft shops and galleries, a population of makers and musicians, and a really decent range of places to enjoy fresh, local food. Once you've picked up a coffee and some toasties at Red Velvet Lounge, or perhaps some sweet treats from the Cygnet Woodfired Bakehouse, head to Burton's Reserve at the southern end of town. Right on the waterfront, this beautiful area adjoins a bird sanctuary and wetlands. There are plenty of picnic tables and barbecues, along with a playground and toilets.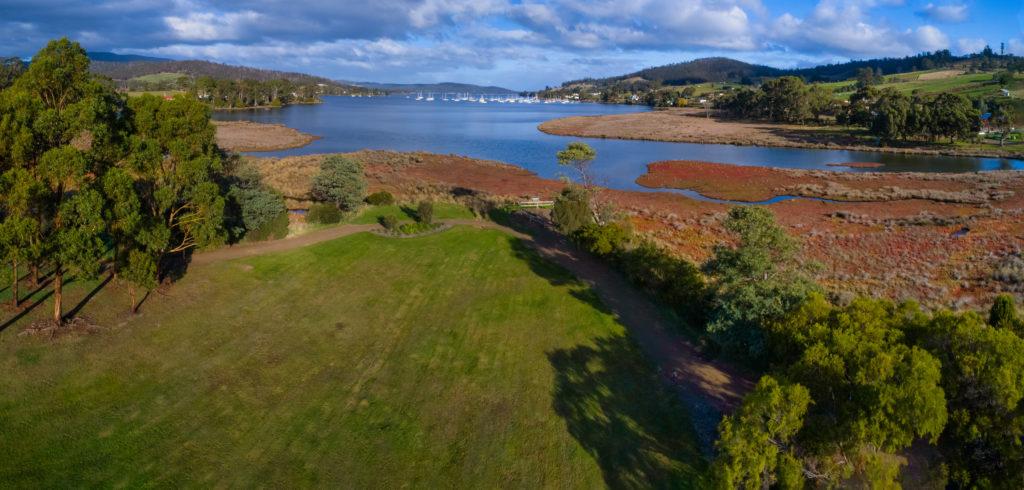 Slightly further out of town, Randall's Bay is rightfully considered one of the prettiest places for a picnic – not just in the Huon Valley but in the whole state. Again, there are picnic tables and a barbecue, but our recommendation is to find a comfy spot on the sand and take full advantage of this beautiful beach. Work up an appetite with a walk along the 2.5km Echo Sugarloaf Nature Trail, and enjoy the spectacular views from the summit before you head back to the bay.
Geeveston and surrounds
Twenty minutes past Franklin, travelling south, you'll find yourself in Geeveston. Surrounded by forests, rolling hills and the nearby peaks of Hartz Mountains National Park, this is a spectacularly pretty area. With orchards all around, keep an eye out for roadside stalls selling fresh apples; the perfect addition to your picnic hamper.
The area around Geeveston is bursting with great picnic spots, but one of the best has to be Heritage Park. In addition to an excellent playpark and barbecue shelters, there's a Platypus Walk along the river. Make your way through the shady trees to the viewing platform, or try your luck from the small bridge – either way, if you time your picnic for late afternoon you'll stand a better chance of spotting those telltale bubbles in the water! If the excitement of seeing a platypus playing in the wild helps you work an appetite, you can pick some pies and sweet treats at Michelle's Roadhouse Kitchen, or for a uniquely Tasmanian experience, order some sushi from the newly reopened Masaaki's Sushi. Don't forget the locally grown wasabi!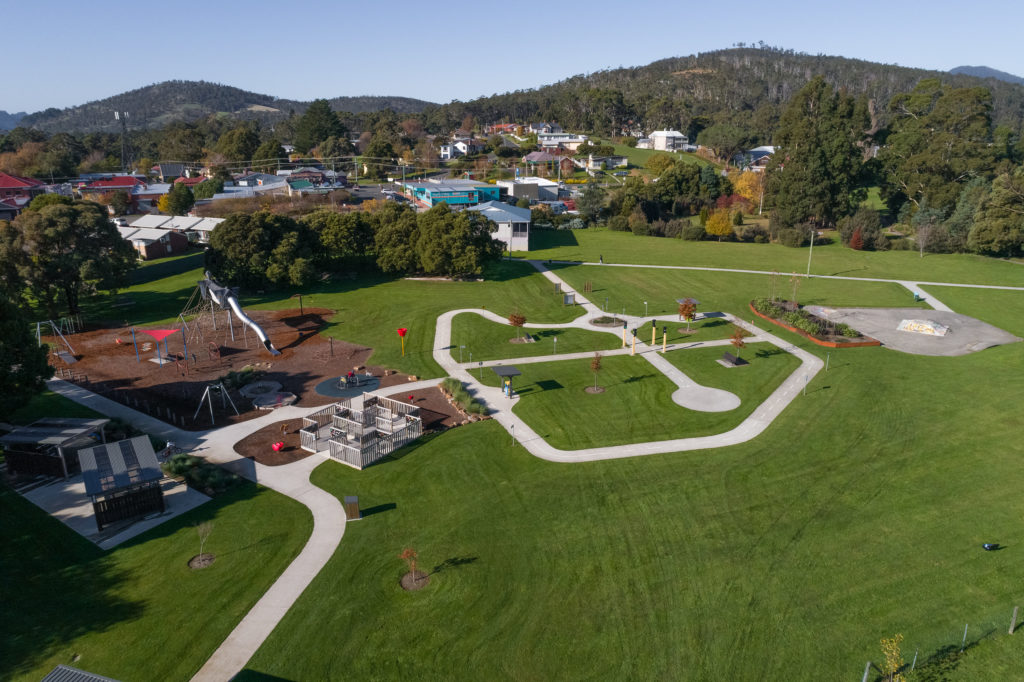 If you've made it as far south as Geeveston and you're looking for a picnicking spot that's not in the township itself, the Arve River Picnic Area is only a fifteen-minute drive west. The picnic area, which is also open for camping, is set back from the road in a beautiful forested area just on the banks of the Arve River. There are barbecue facilities, a few tables and toilets, and plenty of opportunities for post-picnic adventures. The river can be accessed by a set of steps and is popular for fishing and swimming, while the Arve River Nature Walk follows a short loop through the forest.
Dover and Cockle Creek
Dover is about an 80-minute drive south of Hobart, and this pretty fishing village is another superb spot for a family picnic. It sits at the head of Esperance Bay, overlooking three islands known as Faith, Hope and Charity. There are plenty of easy walkways along the foreshore as well as an abundance of nearby beaches where you can roll out your rug and admire the view.
If you fancy fishing for your lunch, try casting a line off the Dover wharf. If you're looking for someone else to do the heavy lifting, the Dover Café and Takeaway offers perfect picnic food like wraps and frittatas. The café has recently expanded to include deli-style offerings, in case build-your-own ham and cheese sandwiches are a better option for your hungry crew.
For an incredible picnic spot that also comes with bragging rights, make your way to Cockle Creek – the most southerly point you can drive to in Australia. Situated on the edge of the Tasmanian World Heritage Wilderness Area, Cockle Creek is two hours' drive from Hobart, and worth every minute. Where else can you sit on a beach and look south, knowing that the next stop is Antarctica? There are no shops or services at Cockle Creek, so make sure you come fully stocked with supplies from elsewhere in the valley. Then take your time to enjoy the sand, the silence, and the sights of the Southern Ocean.