The Farmhouse Kitchen is billed as an Italian cooking school, but it is specifically a Pugliese cooking school – food of Puglia, the region in the high heel of the Italian boot.
Giuliana White was born in Hobart, but Puglia is where her parents Francesca and Francesco Longo lived before they emigrated to Tasmania in 1959.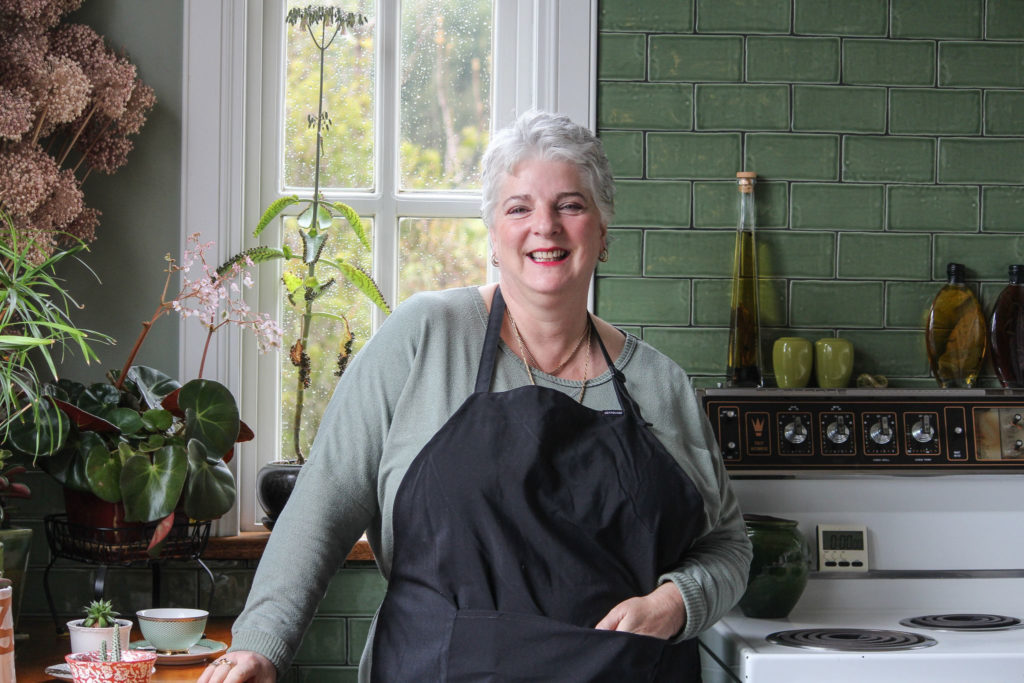 Back in Puglia, residents now probably reach for packet pasta, or order in pizza, but here in the farmhouse just outside Cygnet in the Huon Valley, the regional cooking traditions of Puglia are kept alive – and made from scratch.
Five years ago, Giuliana started holding classes with the help of her daughter Genevieve. Invitations to her mother to join them were issued from the start, and late last year 92-year-old Francesca finally accepted.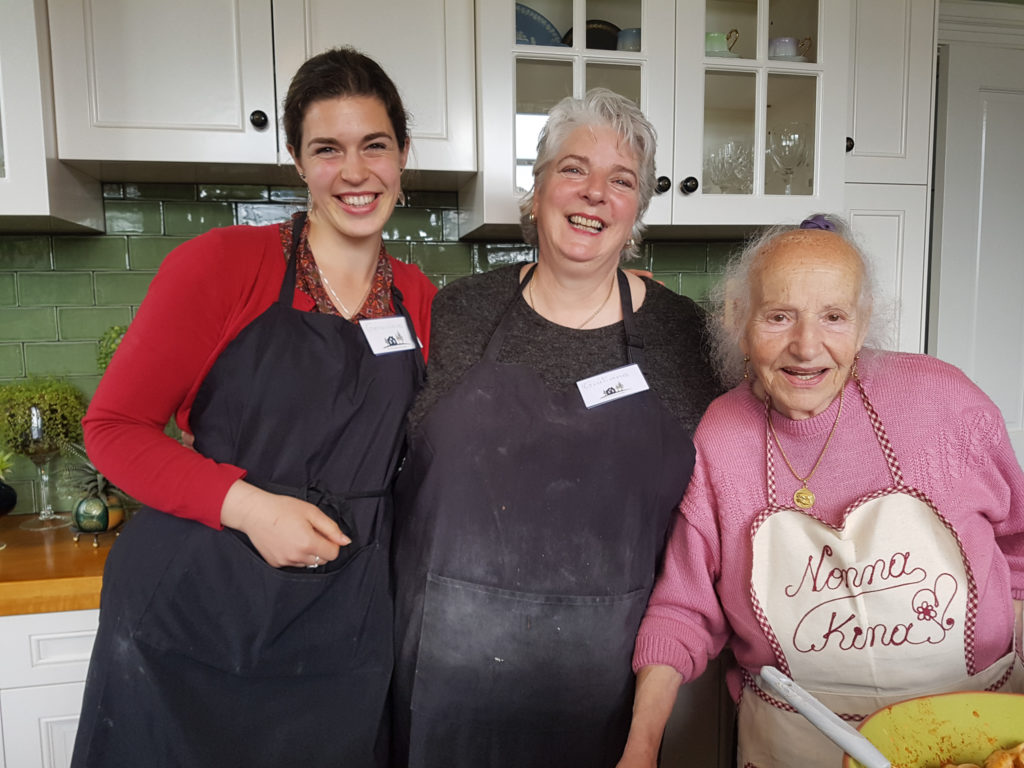 Those attending the class were asked to please, like her family, call her Nonna Kina, the name earned by having 11 grandchildren and six great-grandchildren. And easy to remember because it is embroidered on her apron.
When the couple emigrated they did not speak English, and had to set about learning the local language. But in their case, living in an Italian enclave in North Hobart, the lingua franca was Italian.
Back it Italy, they spoke a language unique not just to Puglia, but to their town of Caprarica di Lecce – a combination of Byzantium, Ancient Greek, Latin and Messapia.
The Longos were both tailors, and Italian was the only language they needed to communicate with their customers or to shop and mix in the neighbourhood. To this day, Nonna Kina's English is sparse.
Hence the need for Giuliana to selectively translate for her mother at the pasta master class. Sometimes translation was not necessary, as when Nonna reminded her daughter of a step Giuliana had just conveyed to the class.
At other times translation was not politic. Giuliana has been telling us that the way to tell if leafy greens were properly cooked is to nick a stem, which should be soft.
When Nonna looked into the pot and announced the bitter greens were ready, Giuliana responded: "Let me see if you are right." I guessed: "Nonna did not understand what you just said, did she?" "No", Giuliana responded. And yes, the greens were ready.
We will get the recipes for two different pasta doughs, one with egg one without, and get to practice making several different shapes, but first the sauces must be got ready.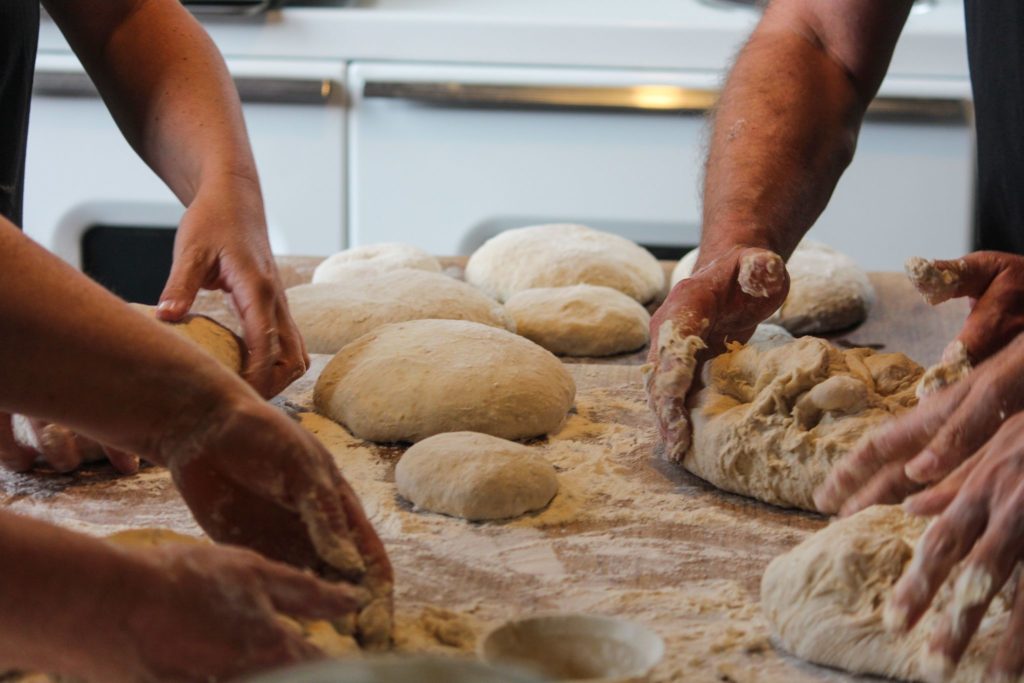 "We do not rest our dough," said Giuliana. "The idea was you put the sauce on and made the pasta while it was cooking."
Soon the hob is fully loaded. There are two huge pots of sugo di pomodoro (tomato pasta sauce) one with a little meat, one without. Chickpeas are simmering away, as is a pot of bitter greens, and another of perpetual spinach, which will be blitzed with ricotta for ravioli stuffing.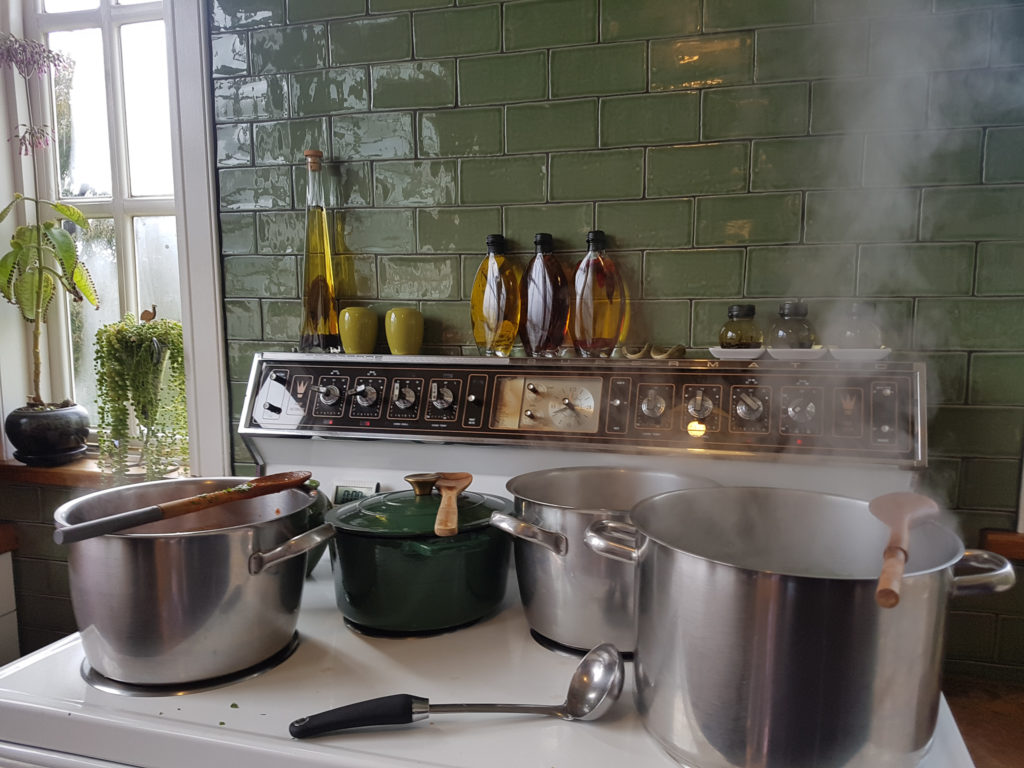 And we have made many polpette (meatballs). Giuliana says although her widowed mother lives alone, she makes meatballs about three times a week ready for her many visitors.
Then we begin on the pasta. Cavatelli, or "cave" are the easiest. A piece of dough about 3cm long is dragged and curled off two fingers, leaving two little depressions. These will be boiled in the water the bitter greens were cooked in and added to them.
Also with the eggless dough, we cut on the machine clamped to the bench very short tagliatelle. Some of these will be boiled and some fried in oil with garlic, before joining the cooked chickpeas.
The egg dough is used for the ravioli, which is fun to press out with a special tool that seals and cuts the pasta around the filling.
Giuliana says she and her siblings never had play dough as children. "If we wanted to play around, we might as well do something useful – we made pasta," she said.
And as we are trying to accomplish orecchiete or "little ears", Nonna volunteers that her mother would prick her with a pin if she did not get the right shape.
Giuliana tells us that for Italian cooks, making pasta is seldom a solo activity. Women would do it together and children joined in.
The class has a go at everything, with varying degrees of success, but when it comes to making macaroni by hand, only Nonna Kina can execute it properly.
She rolls a strip of the eggless dough about 10cm long and then presses an "iron" into it. The iron is like a fat knitting needle but with corners. Nonna rolls it back and forth on the bench a couple of times and then brings it very fast towards her in a final flourish. She pulls off a hollow pasta and reaches for the next piece of dough.
Giuliana produces folders of recipes (including ricotta from scratch) only at the end of the class – the idea being that we learn, as she did, by watching and doing.
The dish that the orecchiete and macaroni go into is not in the folder however. Improvised on the spot, is a dish with gorgonzola on the bottom, then some ricotta, the pasta and tomato sauce and some pecorino cheese on top.
Then we share a meal no Italian now, nor in Nonna's day, would sit down to – five pasta dishes. No one at the table was bothering about that however, nor about counting calories or holding back.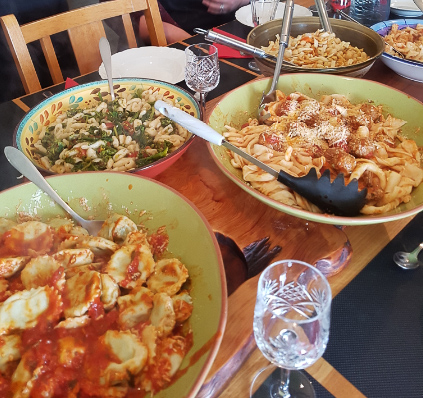 Chances of meeting Nonna Kina at future classes are high. After having held back for so long, she now has quite a taste for classes with her daughter and granddaughter.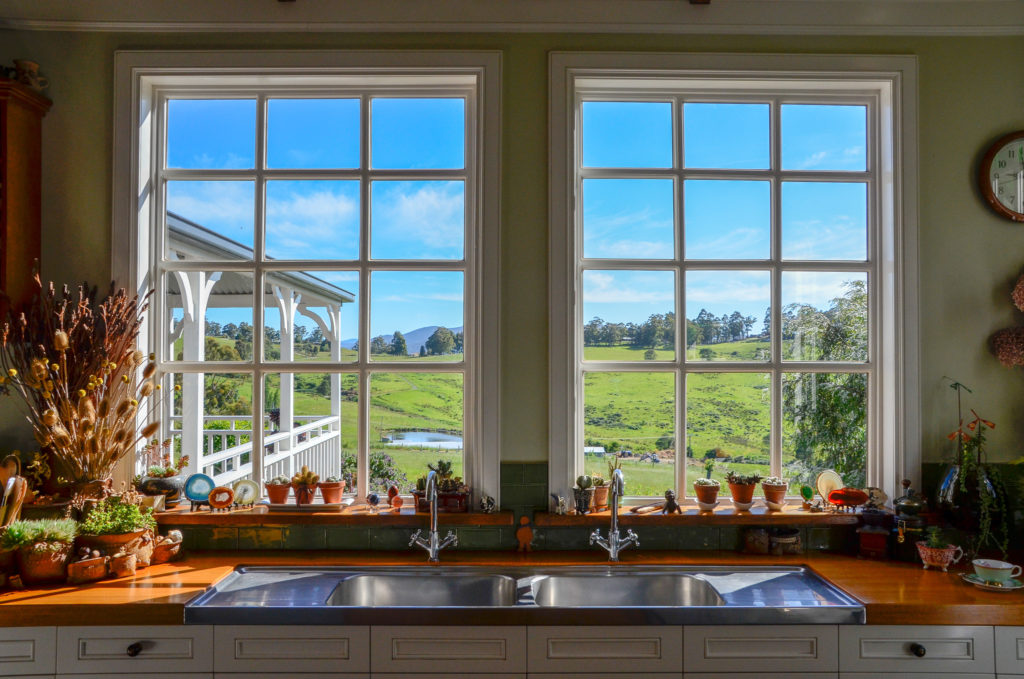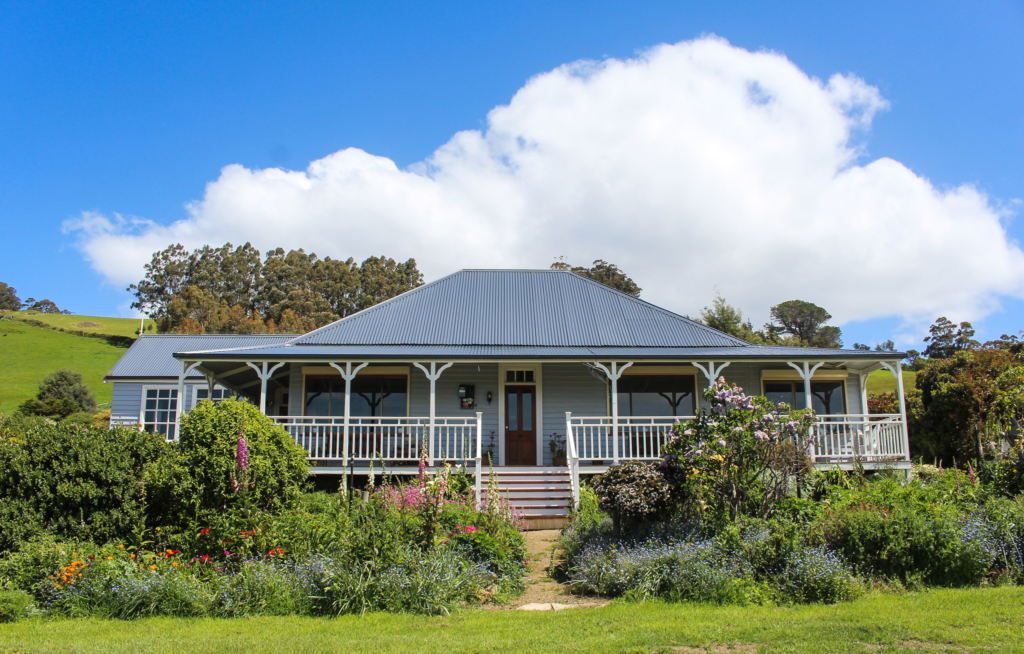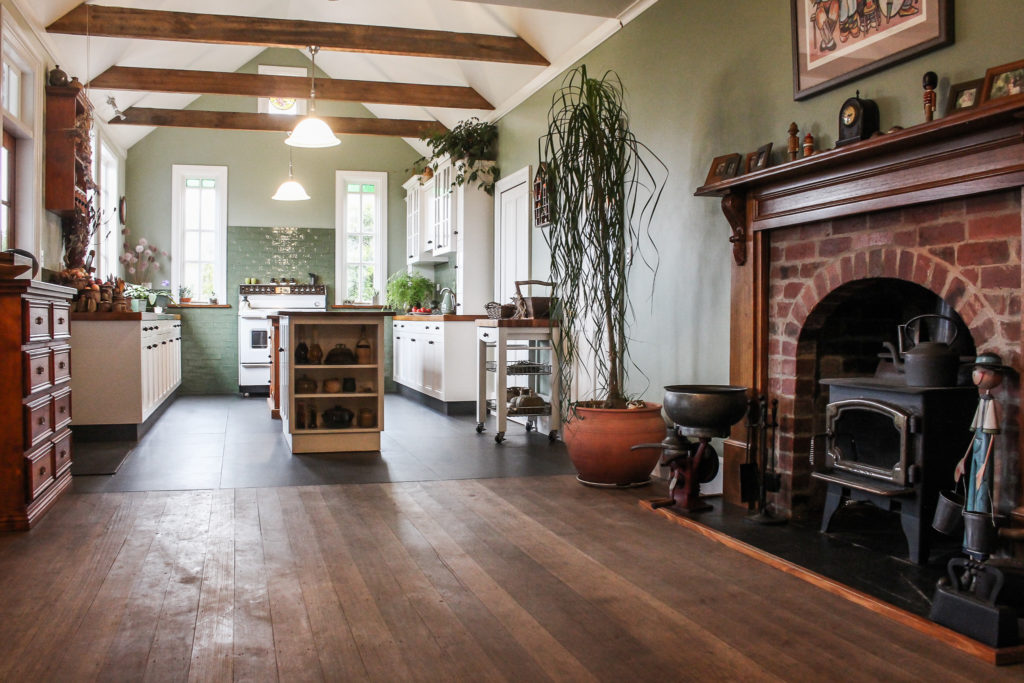 Masterclasses in the beautiful kitchen overlooking green hills start at 9am and finish when your Pugliese lunch finishes. Giuliana also runs shorter classes doing just one dish – gnocchi, tiramisu, cannoli – that run for two hours and also include lunch.
See www.thefarmhousekitchen-tas.com for more information.