Kate Hill Wines, established in 2008, is located on the edge of Huonville in southern Tasmania's magnificent Huon Valley. Under the watchful eye of winemaker Kate Hill, wines are produced from grapes from their two vineyards in the Huon Valley, as well as fruit sourced from some of the best vineyards in other parts of southern Tasmania.
The wines are made in a 19th century apple cool store and packing shed which Kate and her husband Charles have converted into a winery. Their winery, which includes a bottling line, is well equipped, enabling them to be fully independent winemakers, with control over quality at all stages of the winemaking process.
Prior to moving to Tasmania in 2006, Kate was fortunate to have worked in wineries across Australia and overseas, where she was exposed to many different wine varieties, styles and climates. A love of wines from cooler climates combined with a love of Australia, drew her and husband Charles to one of the coldest areas Australia could offer – the Huon Valley.
The Kate HIll Wines brand was established in 2008 using fruit from southern Tasmania and a contract winemaking facility. It was not until 2011 they established their own winery and started planting vines in 2016. The cellar door opened in 2017.
At the cellar door site they have three hectares under vine including chardonnay, pinot noir and shiraz (possibly Australia's coolest shiraz vineyard site). Another hectare of pinot noir is located at the winery site, not far from the cellar door.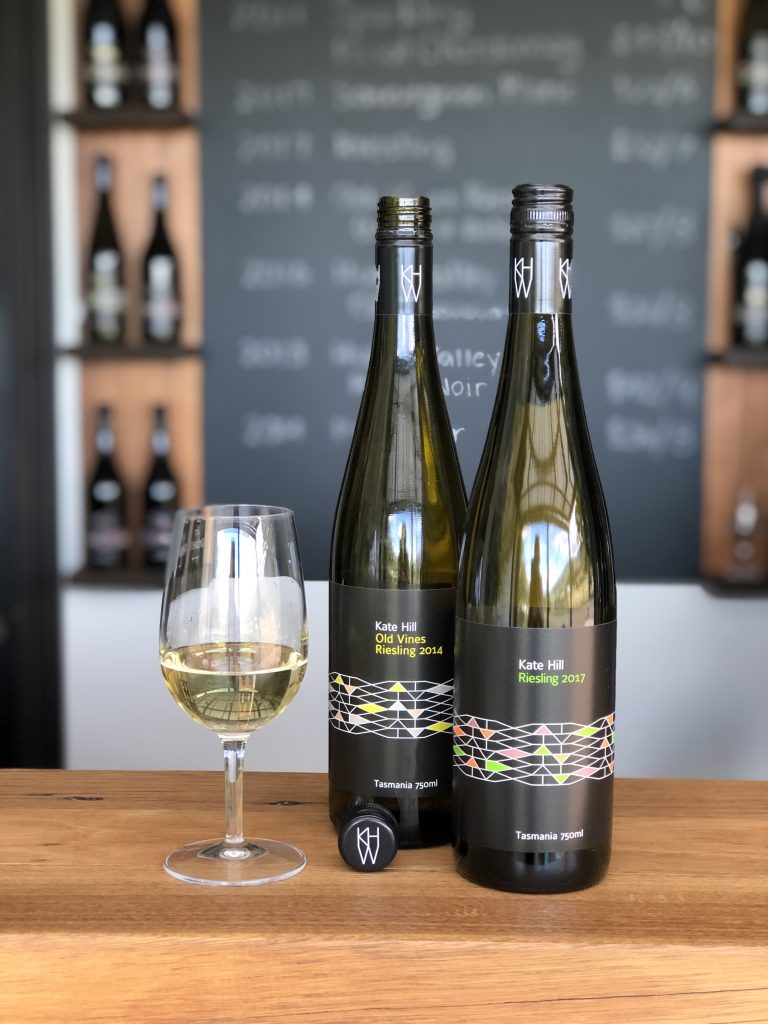 At Kate Hill Wines, the focus is on producing and sourcing the highest quality fruit possible, and allowing the fruit to be crafted into wines of elegance, character and expression of the fruit they were made from. Minimal intervention is the overriding philosophy, something that is easy to achieve when soil health and fruit quality are so good.
It will be very exciting to see how the wines from our Huon Valley site evolve in the years ahead. So next time you are wondering what to do in southern Tasmania, why not pop into the cellar door and see how things are progressing at Kate Hill Wines – we would love to see you!
Winery and Vineyard
Kate and Charles firmly established themselves in the Huon Valley with the acquisition of a large, 19th century apple cool store packing shed on the edge of Huonville in 2011. Following some refurbishments and alterations, they started making their wine in the lovely rustic, wooden shed for vintage 2012.
By 2013, with the installation of a new bottling line, their winery was fully equipped, giving them independence in all aspects of winemaking. All of the Kate Hill Wines have been made under the watchful eye of Kate ever since. With a well equipped winery, Kate Hill Wines is achieving the goal of continuous improvement in wine quality, while minimising dependence on non-renewable energy sources.
Kate Hill Wines has been sourcing fruit from vineyard in southern Tasmania since 2008. Establishment of their own vineyard commenced in 2016 with one hectare of chardonnay at the Dowlings Road site, adjacent to the cellar door. Shortly after in 2017, one hectare of pinot poir and one hectare of shiraz were planted. The shiraz was planted at the high end of the vineyard where the soils are shallower and it is a little warmer to facilitate ripening. Another hectare of pinot noir was planted the following year at their Glen Road site, where the winery is located. The shiraz and chardonnay were harvested for the first time in vintage 2020, and the entire four hectares of vines was harvested in 2021. By vintage 2022, the vineyard is in full production.
Whilst the goal is to produce the highest quality fruit possible, the overriding philosophy in the vineyard is for the soils to be in exemplary health, to eliminate dependency on non-renewable resources, and to enhance the diversity within the vineyards and their surroundings.
Kate Hill Wines continues to be a James Halliday Wine Companion five star winery.
Cellar Door
Our cellar door is an intimate tasting room only 25 minutes south of Hobart on the Huon Highway in an 1880's heritage-listed cottage, surrounded by beautiful country gardens.
You can take time to relax in the gardens and enjoy a bottle of wine while staring up the valley at the majestic Sleeping Beauty or Hartz Mountains National Park. And there is plenty of room for the kids to run around – or play with some of our toys: they can even fly a kite off our escarpment.
Our cellar door is open Wednesday to Sunday 11am-4pm and at other times by appointment.
Groups of 8 or more need to pre-book. Please phone 0448 842 696 or email: info@katehillwines.com.au
Follow Kate Hill Wines on their website – www.katehillwines.com.au, on Facebook and Instagram