The South Cape Bay Track is a 4 hours return (15.4km) short walk within the Southwest National Park. The walk starts at Cockle Creek, the end of the most southern road in Australia. The Southwest National Park is part of the Tasmanian World Heritage Wilderness Area.
Cockle Creek is 2 hours drive south of Hobart into the Huon Valley's Far South. When driving from Hobart take the A6 via Geeveston, then the C635 past the Hastings Cave turn off, and the C636 to the end of the road.
The South Cape Bay walk leaves Cockle Creek and wanders through lush ferny forest, woodlands and across duck boarded marshlands. The track comes out at on the edge of a cliff looking out across South Cape Bay. You will see first hand the wildness of the Southern Ocean and conditions along the South West Coast of Tasmania. You can see Lion Rock to the right at the end of the beach, named so for its shape like a Lion resting.
If conditions allow you can walk down the steps to the beach and explore the rocks, seaweed, shells and other curious things washed up.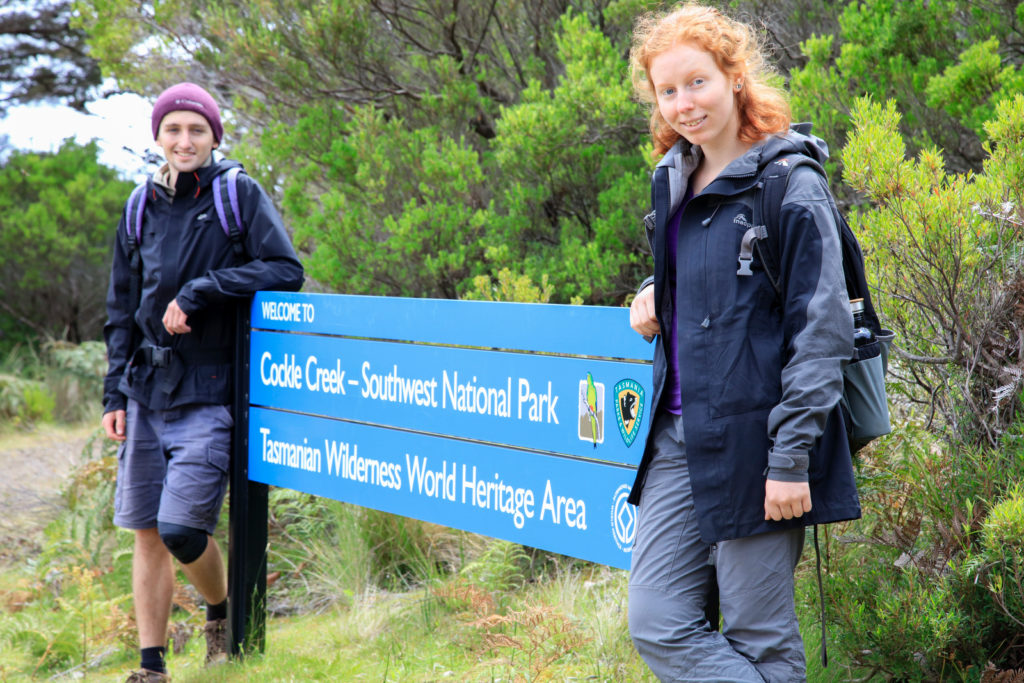 Towards the beginning of the track you will first need to sign the walkers registration book located within a small hut. Make sure to also sign out on your return.
The South Cape Track is a Grade 3 walk which requires some bushwalking experience. The tracks may have short steep hill sections, a rough surface and many steps. You will need to supervise children as there are hazardous cliffs and unprotected track edges. The beach at South Cape Bay is unpatrolled so swim with caution. There are likely to be wet and muddy sections throughout the track. We recommend sturdy shoes with grip.
Story of the Valley
For a greater insight into the South Cape Track walk read the following story by writer Alice Hansen.
National Parks Pass
You will need to ensure that you have a Parks Pass before you arrive. If you do not already have one, we recommend that you purchase one before departing or purchase one online on the Tasmanian Parks & Wildlife website.
Before you go
Before you take any walk-in Tasmania you should follow the Tasmanian Parks and Wildlife Safe Walking Guidelines.
South Coast Track Walk
The South Cape Bay Track is the eastern endpoint of the 6-8 day challenging South Coast Track walk extending along Tasmania's wild southern coastline from Melaleuca to Cockle Creek. We recommend that you do extensive research and preparation before taking this walk.
More to see in the Far South