Sunday mornings are well spent idling by the Russell River. It's a place to let your mind be calmed by the sound of waters that hail from deep within the south west. Linger over a pot of hot tea as the blanket of cool night air slowly lifts from the Huon Valley. As the day breaks, gently filtered sunlight reveals rich native bushland and simultaneously heralds a lively chorus of birdsong.
No one is more excited to be out and about than the huskies.
Happy howls and blissful barks suddenly fill the air. A pack of eight jubilant Siberian Huskies are anticipating exactly what is about to unfold. They move almost in unison, their excitement palpable. It's a true frenzy of fur.
Knowing exactly what they need to do and where they need to be, the dogs' eagerness makes the harnessing process go smoothly. In just a few short minutes, they are paired up, harnessed in and ready to go. The yelping and whining reaches a crescendo as final checks are performed. And then – almost like magic – they're off under a wave of silence. The calm of the Tasmanian bush returns to the valley once again.
Peter and Prue deVries operate Sled Dog Adventures Tasmania. It's a unique experience catering for thrill seekers who love to have man's best friend right by their side. A team of eight to ten dogs hurtling through remote forest tracks may seem chaotic, but in reality it's anything but.
"They simply love running," nods Peter, casting a watchful eye over his charges. "They're so excited before they begin and so relaxed whilst they are out on the trails. It's their single biggest desire."
Observing the sled in operation, it's easy to pick up on the relationship between the skilled 'musher' and her charges. This energetic team of dogs are under pure voice command. The ability of the dogs to react instantaneously to Prue's instructions is impressive and they thrive on the challenges the forest presents to them.
The dog sled is a light, specialised contraption on wheels. There's just enough space for the musher to stand and command the pack, and one special guest to take their place for the ride of their life.
"Obviously we tend to attract people who love dogs," says Peter. "They quickly pick up on how much the dogs love doing this and it's fantastic to see them come in at the end of the ride with huge smiles on their faces. It can be a messy affair, but no one ever cares that they're covered in mud…it's just all part of the fun."
In fact, a towel down at the end of the trip is all part of the experience. "Guests are usually keen to be hands on and there are plenty of dogs to rub down afterwards," says Peter. "They love a good pat and cuddle and will lap that all up at the end of the run." He grins, "No one gets a cuppa until the dogs are all cleaned up and settled."
Cookie, Tonka, Google, Crunchie, Riddle…the list goes on and Peter and Prue know all their dogs individually. Close to thirty huskies are lucky enough to call this beautiful slice of the Huon home, each as unique in their markings as they are in personality. It's a collection of stunning coat colours, striking almond shaped eyes and quirky persona traits. Siberian Huskies are indeed a beautiful and intelligent breed.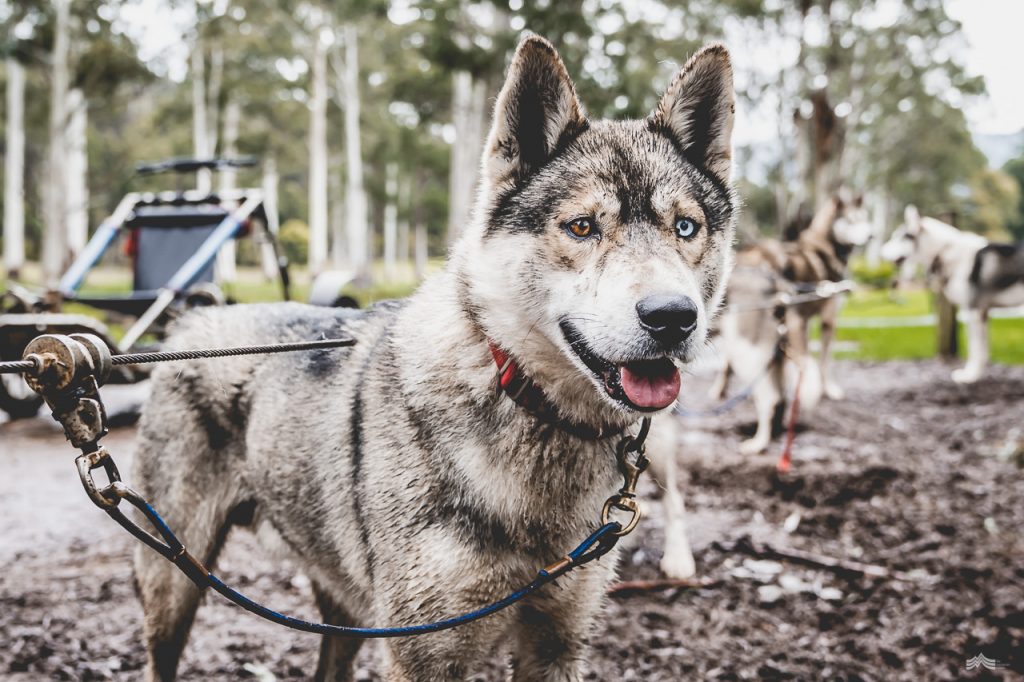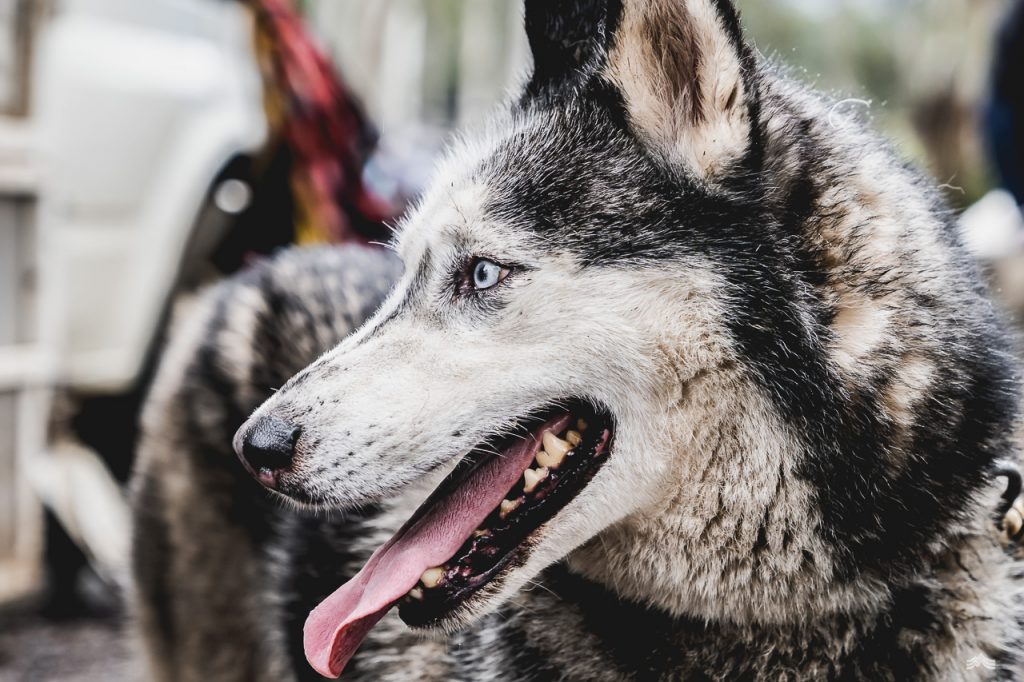 Peter describes how this quiet pair of locals ended up surrounded by canine company. "We'd always had dogs…two, three, four… but around 15 years ago we ended up with a couple of huskies. We set about looking for a good way to exercise them and that's really where it all started. In the beginning Prue did some dry land racing, and then a tour cart came up for sale." He explains, "They're really hard to come by, there are only three in Australia, so we jumped at the chance to create an experience we could share with others."
Peter and Prue's huskies have landed squarely on their feet. "A lot of these dogs are rescues and rehomes," Peter recalls. "Some are from accidental litters, some were placed in unsuitable homes ending up in shelters, and some are from kennels that have been disbanded. We've always been passionate about providing them with a good home and we are very tuned in to each individual dog's needs."
This is a lifestyle choice not for the fainthearted. "From 6am to 7pm every day of the year, life is all about the dogs," nods Peter. "We're focussed on keeping them busy, active and healthy. Our days are filled with exercising, cleaning kennels and yards, rest, play and feeding. And we wouldn't have it any other way."
"The dogs really love routine," continues Peter. "If we're cleaning the yards, they all know where they're meant to be and will pretty much work with us without too much instruction. They're not really a one-person dog, they love being in a pack and love being a part of a family."
Peter explains that Siberian Huskies are a compact breed known for their endurance. "They were bred to work in packs and pull loads over vast expanses. They're powerful and nimble animals that make running look effortless. Huskies have been sled dogs for over 3000 years so a working mindset is ingrained in them. They thrive on the work and on living in a pack."
A thickly furred double coat adorns these beauties, also dictating the conditions under which the dogs can work. "Huskies have a dense undercoat and a longer topcoat. It's a feature designed to maximise warmth in artic climates and also to reflect heat in the summer. We only run the dogs if it's less than 15 degrees," says Peter definitively. "Anything above that and it can get too hot for them. For these same reasons, in some parts of the mainland races happen as early as 4am. They have to be done before the heat of the day sets in."
"The dogs 'blow their coats' twice every year. That means a whole lot of fur and a whole lot of grooming. We have an industrial blower to help out with that too."
Every state of Australia has a sled dog club except for the Northern Territory – for obvious reasons. "We have a small club here in Tassie," says Peter. "It's great to get together with the dogs, but we've also enjoyed travelling with them the last few years. Prior to COVID, we'd usually go camping and racing on the mainland for a month or two each year. It's great fun for us and the dogs love it too. They thrive on the stimulation of new environments and new challenges."
Peter and Prue's double-decker dog trailer is a sight to behold. Providing shelter and security for their charges whilst on the road, one can only imagine the reactions of unsuspecting holiday makers when they arrive at campgrounds across the country. "Yes, we've been asked to leave a couple of times," laughs Prue. "It's not that the dogs are noisy all the time – in fact, far from it. It's just that they tend to attract attention and when people approach the trailer to have a look they can rightly get excited. Once one starts, others will chime in…so we tend to stick to more remote campgrounds now."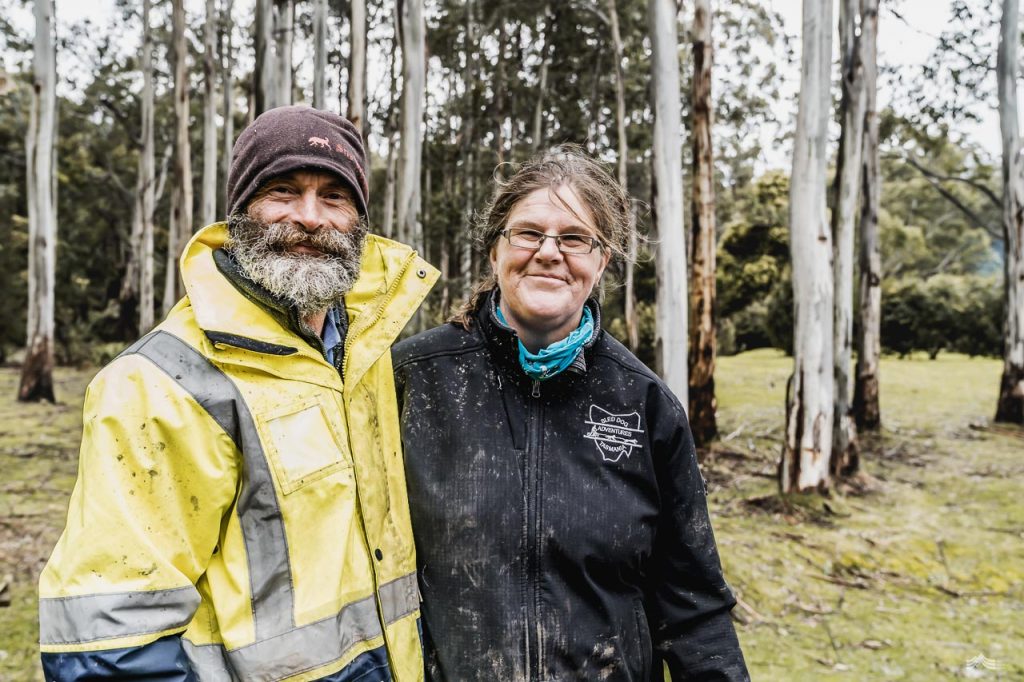 Today, Peter and Prue manage the tranquil Rivers Edge Wilderness Campground in Lonnavale, some 30 kilometres to the west of Huonville in Tasmania's deep south. Stretching along a glorious riverbank, it's the last place one expects to find a working team of Siberian Huskies. "It's worked out really well managing the campground," says Peter. "We live just down the road, so we're very close by. We're either down here at work, or back up at the house attending to the dogs. It's also meant that we've been able to share the dogs story with visitors to the campground. Whilst they're not on site often, we bring the dogs down to the campground and start the tours from here."
Dog Sled Adventures Tasmania operates between May and September here in Tasmania. "Outside that window the temperatures start to creep up," explains Peter. "We're also by appointment only as we work around the dogs routine and their scheduled rest days. The dogs' needs always come first." What does it take to feed and house thirty huskies? "A lot of patience and a lot of money," he laughs. "Grain-free kibble, chicken frames and salmon make up the bulk of their diet. As we don't run them on full stomachs, rest days are also good for feeding them up.
"Races in the Arctic Circle can be up to 1000 miles," continues Peter. "And under temperatures of about minus 20 to minus 40 degrees. Around here our dogs will run about 4 kilometres on our Forest Tour. We've found this to be a suitable distance for them under these conditions. For us, it's about exercise and fun for them, it's certainly not about working them to extremes."
Whether it's an eight dog team or a six dog team, Peter describes, "We can only go as fast as the slowest dog. If they don't want to work, or are just having a bad day, we can remove them or rotate them to a different position on the line. We're very attuned to how they are feeling and performing and the day is guided by that."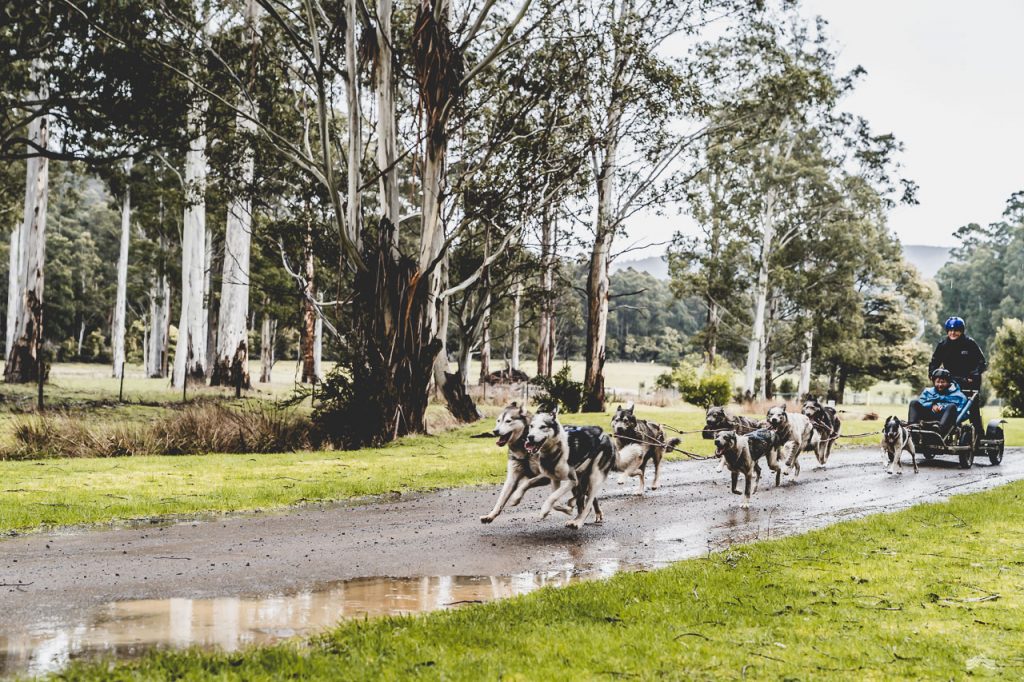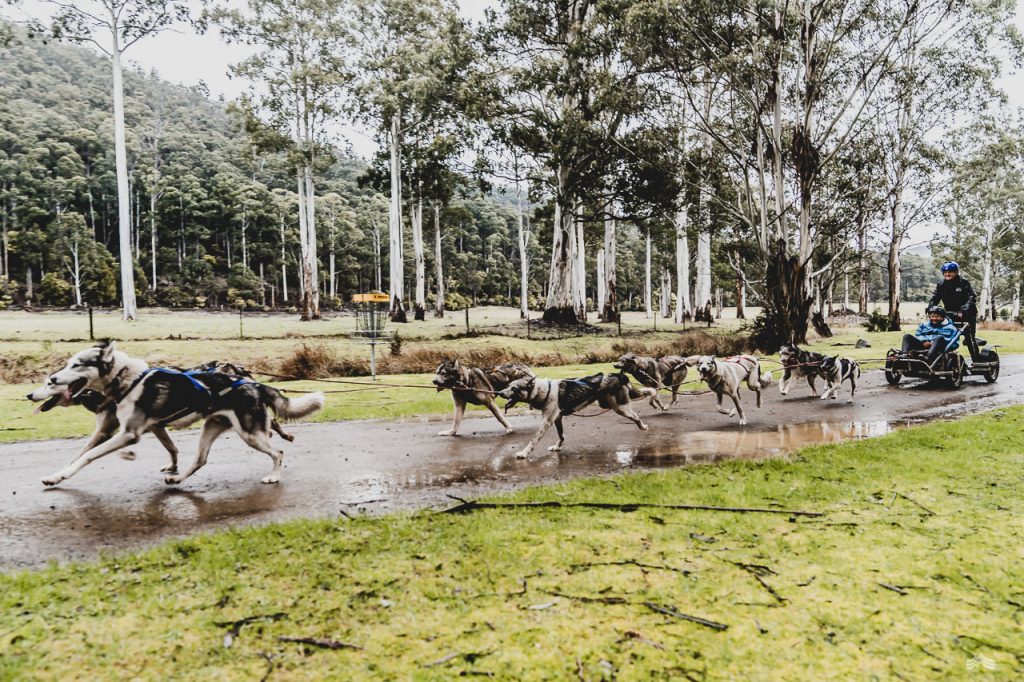 Interestingly a sled dog team is comprised of various positions, each as crucial as the next. "There's the lead dog," stated Peter. "That's a demanding position and requires the right kind of dog. Behind that comes the swing dogs, who help the leaders turn the pack, and then the team positions – they provide momentum and speed. The dogs also work in pairs when pulling the sled. It's a funny thing…some dogs don't get on in the kennels, but will work very well together when running. The right pairings are very important too."
Like all enterprises, running sled dogs requires succession planning. "Some of our lead dogs will retire in due course and then a new lead dog will step up. We keep a close eye on the positions that each dog prefers on the line…often a leader will emerge naturally." Peter explains, "The lead dog is definitely a special position and requires mental aptitude. They must listen, remain focussed and are responsible for setting the pace."
Reflecting on the previous few years, Peter notes, "In the beginning we certainly noticed the high energy that prevails before a tour and it was quite stressful. Now we don't even think about it. We've become quite relaxed in all their commotion and have just learnt to get on with getting things ready. Like most things, the more you do it, the better you get at it." Motioning to his adult children, he adds, "We have family on hand that help out too. It is definitely easier with a few more pairs of hands around."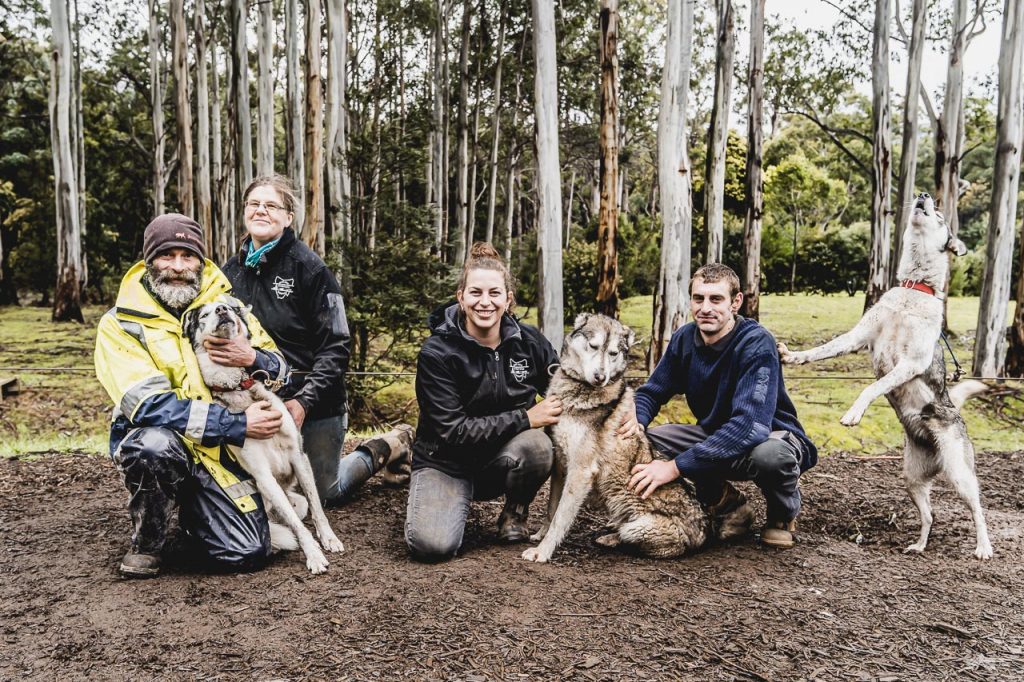 "This is our sixth year running tours," says Peter. "And it's been our busiest yet. We've been able to get the dogs out and keep them happy for four to five days each week during the cooler months and that's been great. It's certainly not something you do for the money. It's totally about the dogs. Some weeks they make enough to cover their food and repairs to the kennels, and that's just a bonus."
"Huskies are different to other dogs. They're not driven by a desire to please you. They are very intelligent but they choose when they want to work. They love what they do but they are also very independent."
"At home, they like to hang out in groups of two to seven," Peter shares. "They're usually in a kennel or sleeping together. They love being in a pack, and that includes people too. Our lounge room regularly has up to nine dogs laying around at any one time."'
Prue finishes, "We just love everything about them. They are true independent thinkers with their own minds. They bring us a lot of joy."
To find out more visit the Dog Sled Adventures Tasmania website.