On the cliffs of South Cape Bay there's nothing but deep sea and somewhere out there – Antarctica.
When we hop in the car to drive to the end of Australia's southern-most road, Tasmania is in a mood. Thoughts of blue bird skies are dashed with every defiant windscreen swipe. Sheets of rain dull the usually rich Huon Valley hues. Our two-hour commute from Hobart to Cockle Creek gives us ample time to consider the soggy boots ahead for our 15-kilometre hike out to South Cape Bay.
No surprises when we are the first to sign in for a walk, wrapped in Gortex and determined to brave the conditions. The forecast promises only showers, so there's a glimmer of hope as we take stride on what is the final leg of Tassie's famed South Coast Track. It's one of Australia's most epic and gruelling coastal hikes, where walkers are deposited by plane or boat to South West's Melaleuca and spend 6-8 days navigating 85 kilometres back to Cockle Creek.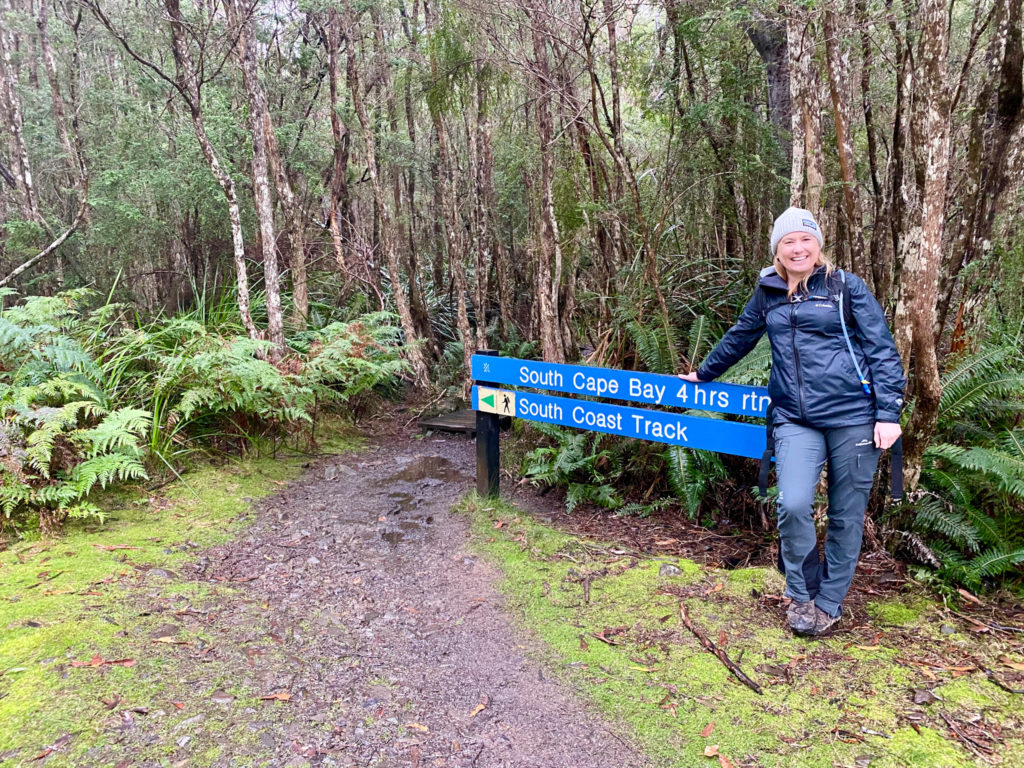 Fortunately, our mission is a day trip. By walking standards, South Cape Bay is considered moderate, where bushwalking experience is recommended. The first three kilometres is a gentle rocky climb up Moulders Hill but overall the 4-5 hours of walking is relatively flat. It takes little time to reach vast marshland where duckboards make for easy walking. Constant chatter keeps our spirits high as determined winds carry raindrops with a southerly cool prick to them. We're interrupted only by the call of small birds (possibly Silvereyes) who seem to love the open plains of this section.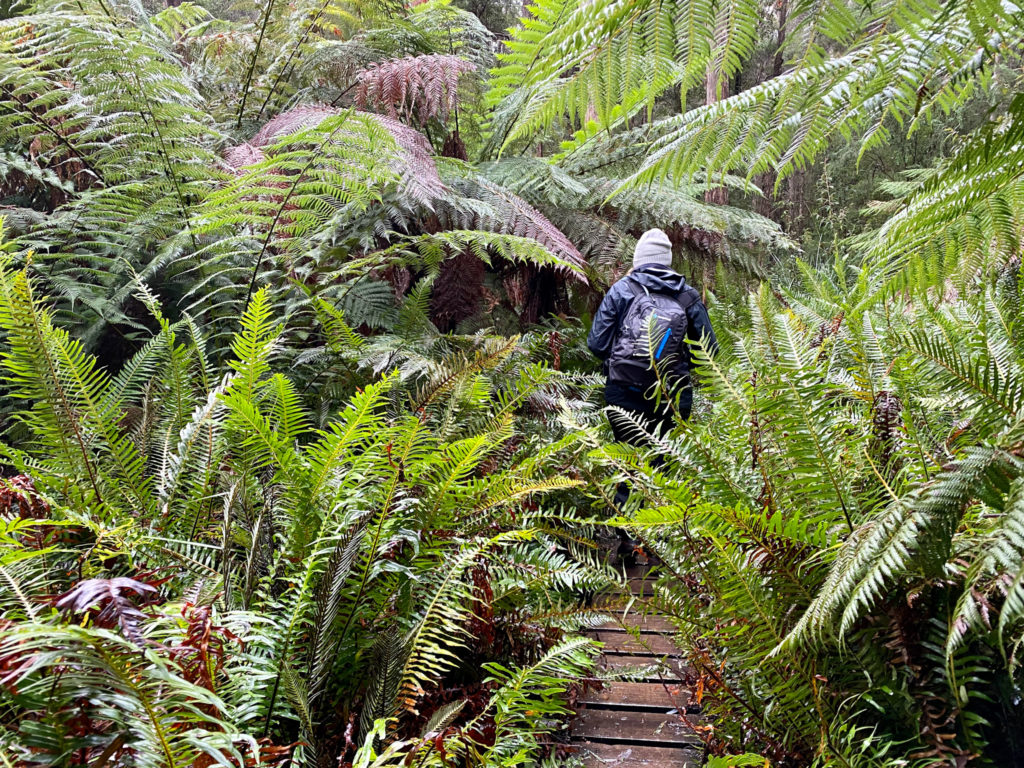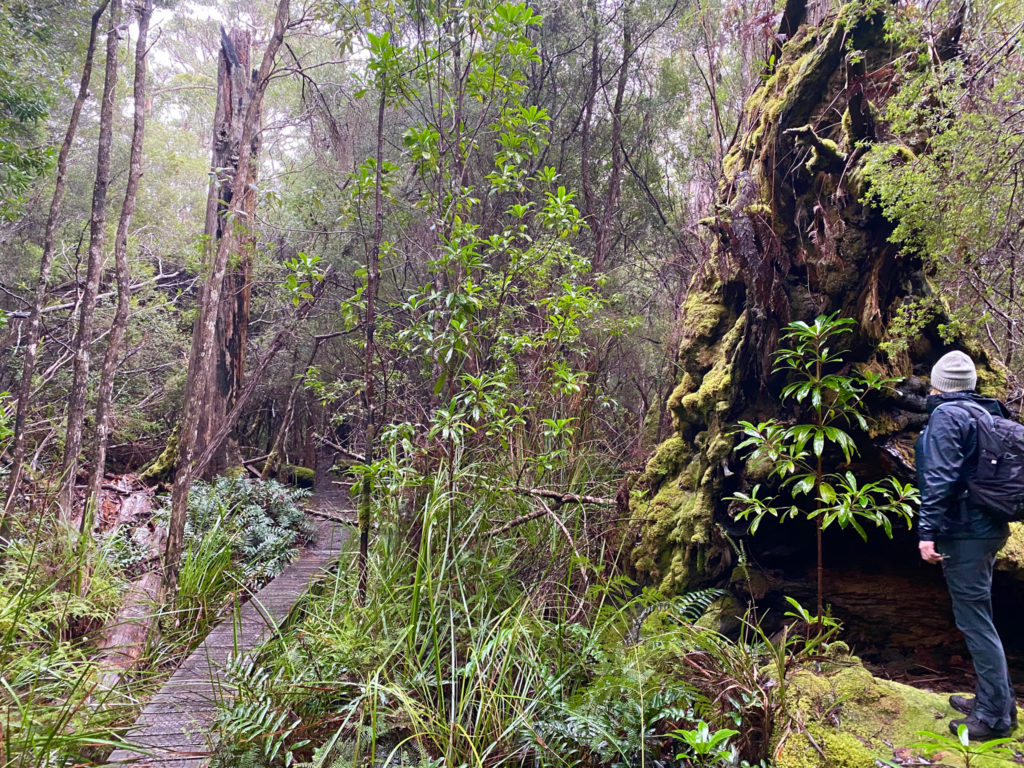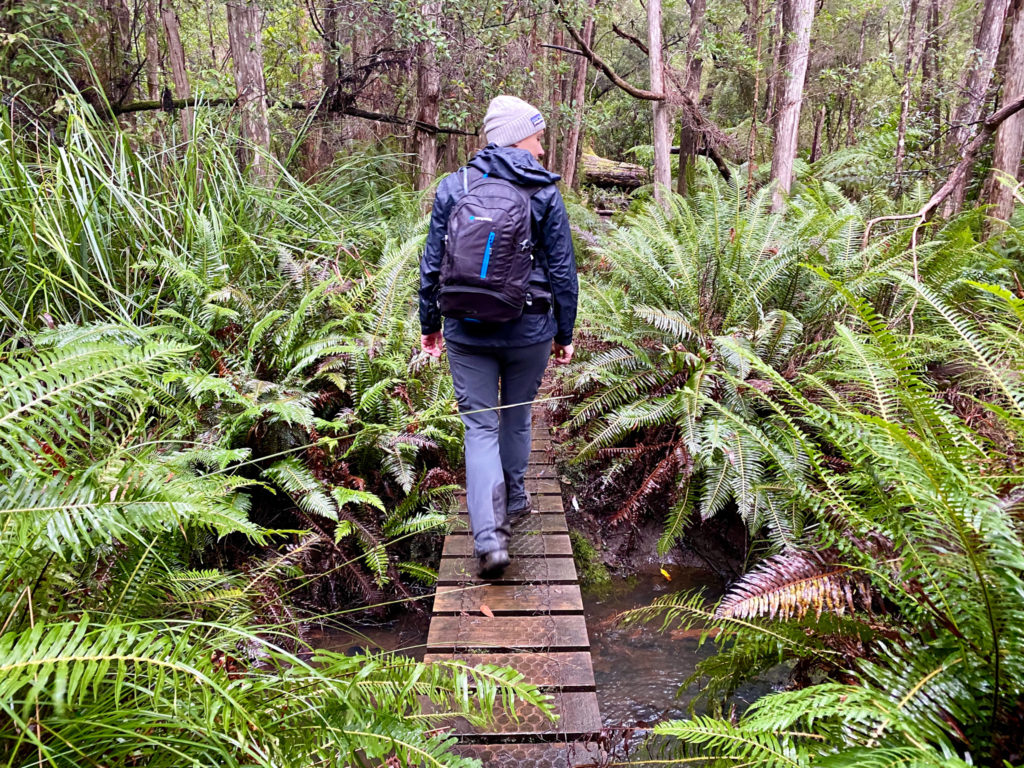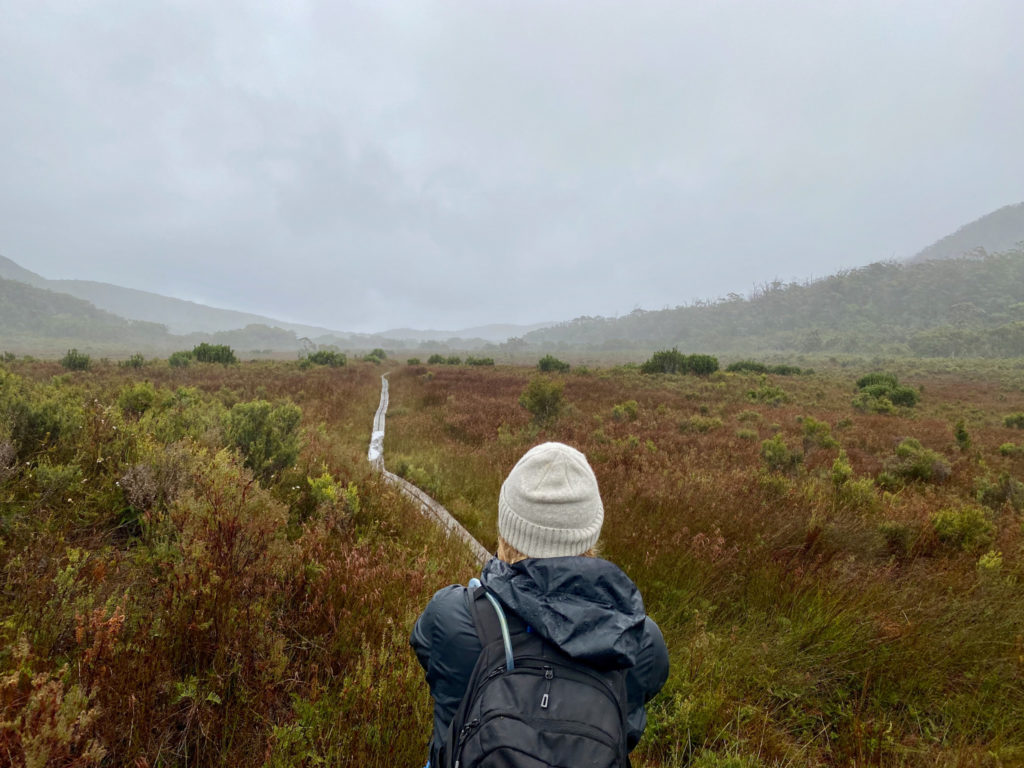 Venturing back into the dense forest, a lyrebird takes a particular interest in us, peeping through the foliage. As if to announce the rain has eased, this elegant bird parades for some time with its dashing tail. We carry on, embarking on the final climb leading out to South Cape Bay. Chirping birdlife is replaced with the sound of crashing waves. We can see only trees. Yet, the presence of the Southern Ocean is thundering. It's primal. Loud. Raw.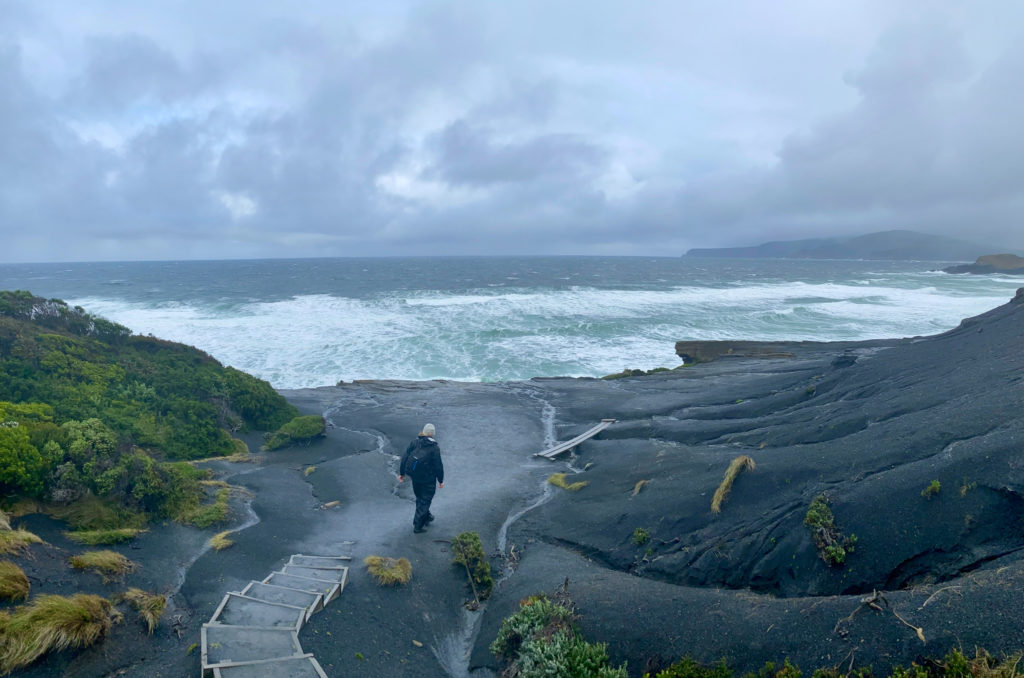 Those final steps through the forest onto barren dark rocks of the cliff position this as one of Tasmania's most remarkable day walks. It's nature's version of a 'big reveal.' There she is … ocean as far as you can see. The wind howls. My friend's wet weather pants have swallowed so much fresh sea air that the Michelin-walker indicates photos are off limits! Once content that she's not going to take flight in said pants, I stop on the stairs in awe. This wild outpost is something else. The Southern Ocean is heaving. Waves crash into the cliff face with relentless force. Lion Rock out to the west is withstanding the battering, as it's done for millennia. Today, it's not watching over any surfers.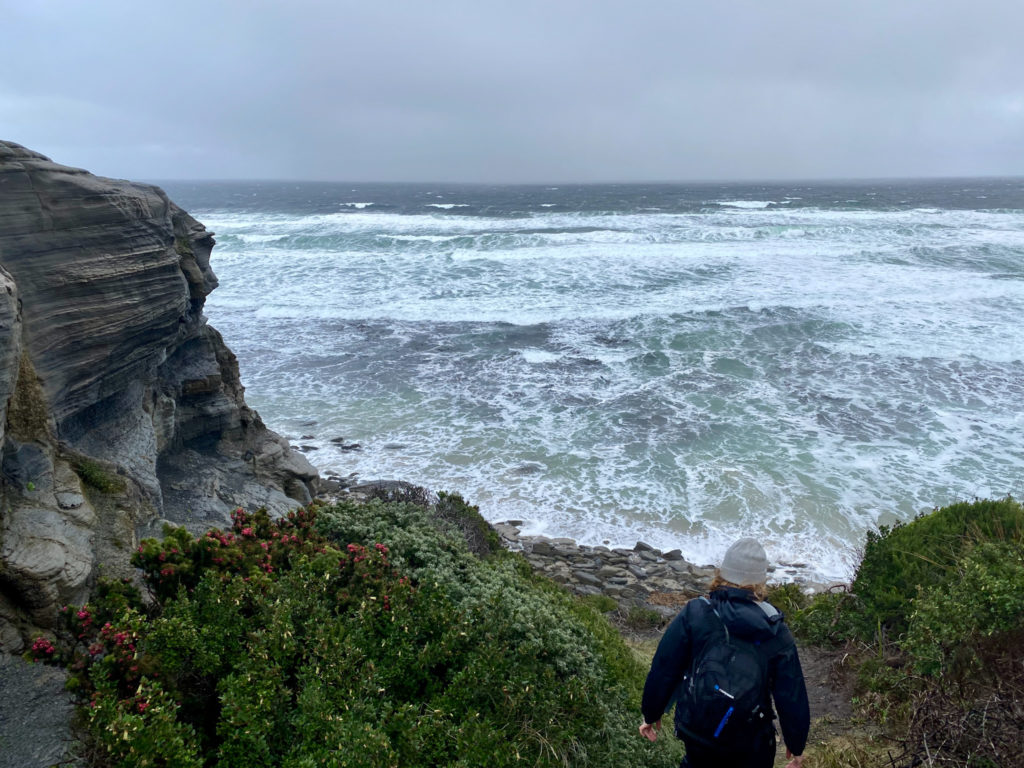 I walk closer to the cliff edge, searching for a makeshift sign that once read along the lines of 'Australia's southernmost point.' It's long gone. As my hat takes flight for the second time, I figure the sign got blown away. I crouch down, perched with nothing between us and Antarctica and smile. Tasmania didn't serve up idyllic weather because this place is equally beautiful in its wildness. The elemental forces jolt one into feeling alive. Standing on a beach uncertain if it's rain or the tips of windswept waves hitting your face – that's when every sense comes to life. Watching frothy waves meet the sand, we're reminded this powerful nature is right in our backyard.
We tuck in to a little camping area hugged by gnarly branches and smile. To have some protection from the whipping winds for lunch is welcome. Just as the first warm sip is taken from a thermos though, Tasmania has other ideas. Down plummets the rain, our order to commence the return hike. Heading back the way we came, although identical in path, feels pleasantly different. The landscape takes on a new persona as our view turns inland. The birds welcome us back through the marshlands and a glimpse of blue sky appears as if to tease, in our final few kilometres.
Am I disappointed that Tassie was in a terribly turbulent mood? Not for a moment. When some of the freshest air on the planet is gushing deep into your lungs on the edge of the wilderness, worries like Covid-19 are swept away for a moment. There are no distractions here. No clutter or noise. Just a place where the wilderness meets the ocean. Perhaps the ultimate destination to clear one's mind.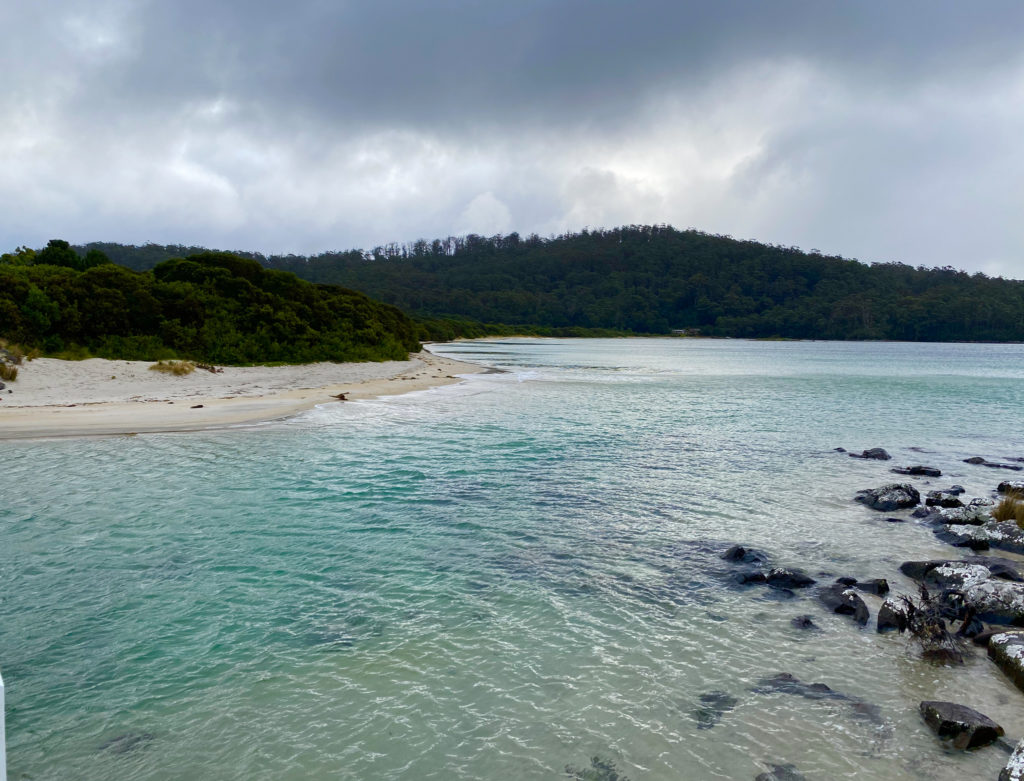 More on South Cape Bay Track
More to see in the Far South