I've lived in Tasmania three times. I came here first as a teenager with my parents – my father was the Tasmanian connection. He'd not been back in the preceding 20 years and Tasmania, then, was a different place. We lasted two years before we all decamped to Adelaide but I'm pretty sure we never went much South of Hobart in that time. So, I never got to the Huon. I came back as a young woman in my twenties and lived pretty happily in a semi-ruined old – very old! – house in Richmond for almost a decade. And though I know I went to the Channel, I don't think I ever made it to Cygnet, or Franklin, or Huonville. Ridiculous!
But then, one day in 2006, I needed to travel to Hobart. That's where my mum was living. She was in her nineties by then and not doing so well. By that time I'd been in Sydney for over 20 years. Those were the career-building years, the years of stress, the years of putting-up-with-the-traffic. The years of the most amazing opportunities too – which I grasped. But nothing comes free and in my case the price was high, emotionally and spiritually, though I did work I adored with people I loved. No point complaining about any of it…
I'd come to Tasmania this time with at least two things to do. One was to see my mum – I decided that would be each morning – and the other was to finish the first draft of a book I was writing.  That would take care of the afternoons. Yet when I landed in Hobart in early September that year, I didn't understand how worn down I'd become; how close I was to losing all sense of proportion about what mattered. How much I needed to just stop.
I was still in full-on busy mode as I drove into the city. Somewhere to stay, that was the first thing; somewhere quiet, definitely no traffic noise. Turns out that moment, when I flipped through the options at the Tourist Information office and picked that little blue cottage on the banks of the mighty Huon River, was the hinge-point of my life. And the hinge did what it was supposed to do: it opened a door. I just didn't know it, then.
This was the lovely thing. That small building I'd hired sat on a hillside looking out over the river towards Franklin. The view was glorious, 180 degrees of river and sky and hills. It was owned by a painter and her husband the sculptor. Adorable people, they became instant friends, and that felt like some kind of omen. Never happens in a big city, not like that, because so many relationships are transactional…
That first afternoon, I just sat on the verandah at the front and watched the sun set. Then I lit the fire and watched some more as the stars came out. Real stars in an ink-black sky. That was the first proper view of what's above our heads I'd had for, oh, years and years. And it was silent. No noise but the crack of the fire, wind in the trees. The best bit of all? I slept. Really slept…
And then? Fast forward to now. We've lived on a ridgeline in Cygnet for 13 years and we have a farm. 200+ acres. If you'd told me, then, that I'd be living the life of a kind-of-country-woman for real, I'd have laughed. Born and bred in Sydney, my husband Andrew, wasn't at all keen on the idea of country living. Until, that is, I found this place and we both became intrigued by what it offered though it wasn't flash. It's not flash now, but it is a proper house, a machine for living-in that's comforting and warm. And tolerant of our foibles (as we are of the doors that open and close by themselves in some kinds of weather, and the odd creaks and groans in the night.)
In the end, Andrew found a lot to love in the landscape, the light and the buildings in the valley. An ex-production designer, he's relished re-inventing the house we now live in, and putting the other buildings back together (except for a massive, massive apple shed. He likes that old pile just the way it is, lean-to-the-left and all.) I thought the ten acres of our "homestead block'' – we scored all the original farm buildings but not much of the land – was just about the perfect size for us, too. Perched on our hill, we 'borrowed' the big view across the bay from our neighbours – a pair of brothers who'd been brought up here. Then, about six years ago, half of the original farm that took up the valley around us came up for sale. And we freaked. We'd come to so enjoy the solitude – classic extroverted introvert, me (typical writer) – and, after all, all that land?? What would you do with that?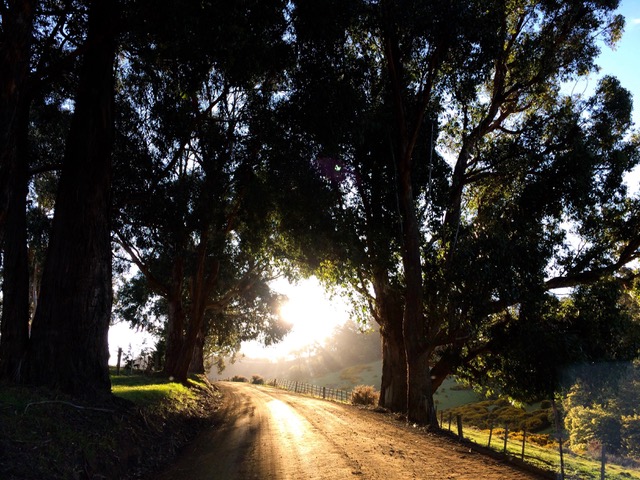 That squeak you just heard was the hinge opening wider. Andrew bought a tractor. And has never looked back. Now you can't keep him out of the paddocks. He's rebuilt the old yards with Google's help and will finish the loading ramp soon – which, believe me, will stand for another 100 years. And, yes, we have cattle; the perfect herd for a small holding, Angus lowlines. Gentle, short in the leg, broad in the beam, they're kinder to the land and will follow me for food if I walk by with a bucket.
So. The Huon. Why here, why now? Because first, last and always, it's beautiful. Because the weather is just about the most dramatic thing in my life, now, and I adore seeing the big storms sweep up from the South. Because it's just the very best place to be a writer. And? Because we like everyone we meet and have experienced nothing but kindness. That's pretty good.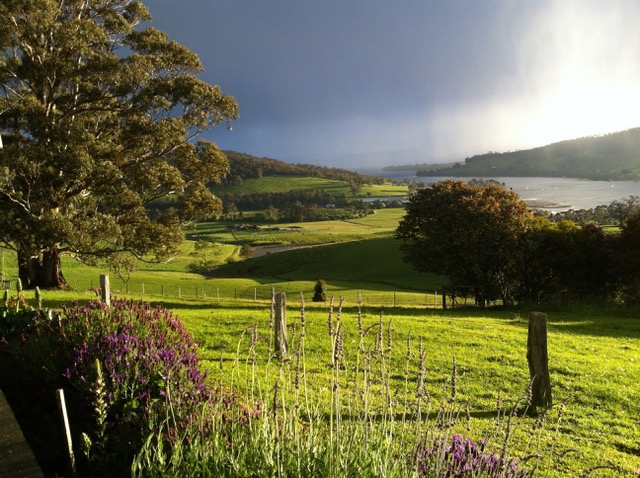 Also each dawn, and each sunset are different and once the cafés function again properly, there's no better coffee anywhere than here, in Cygnet. Big call? Yes. But true. And, how glad I am I know where the sun rises and sets on any given day, the names of the most of the birds who visit the farm, and that we have Devils, and platypus in the dam, and eagles in the hills above us, in our forest. How lucky are we? Very.