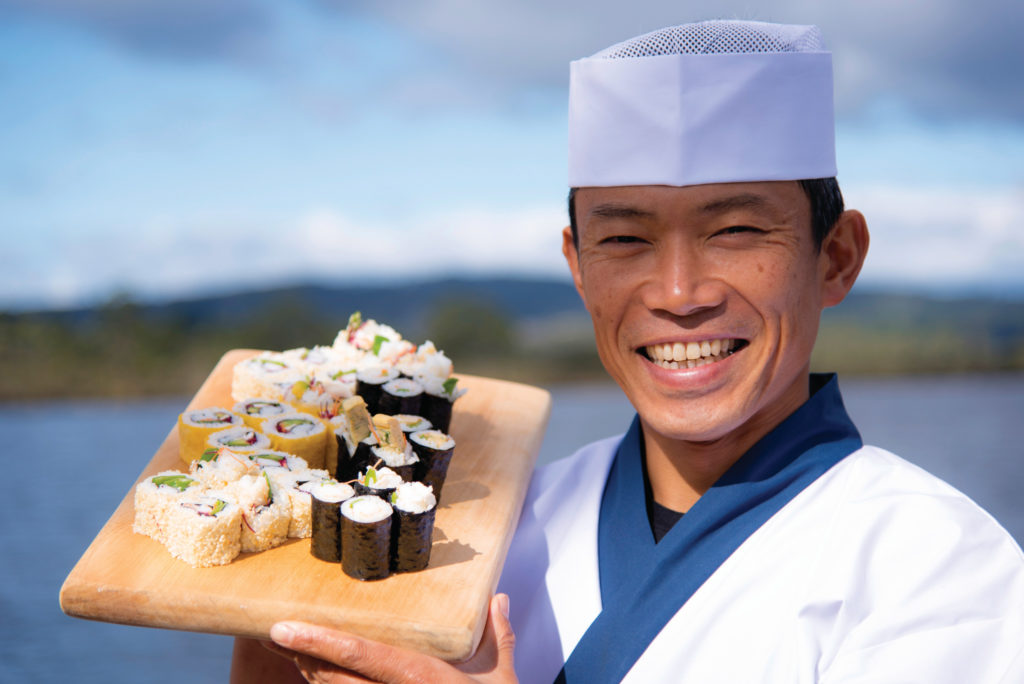 Masaaki's love of sushi making began as a young boy, learning from his grandmother and fisherman father in rural Japan. Raised in a small village south of Osaka, Tasmania's valleys and rivers have a feel familiar to his childhood.
"It was Lucy who brought me to Tasmania," smiles Masaaki. "My English was not so good so I decided to get lessons. She was my teacher from Tasmania. I fell in love and here I am in Geeveston."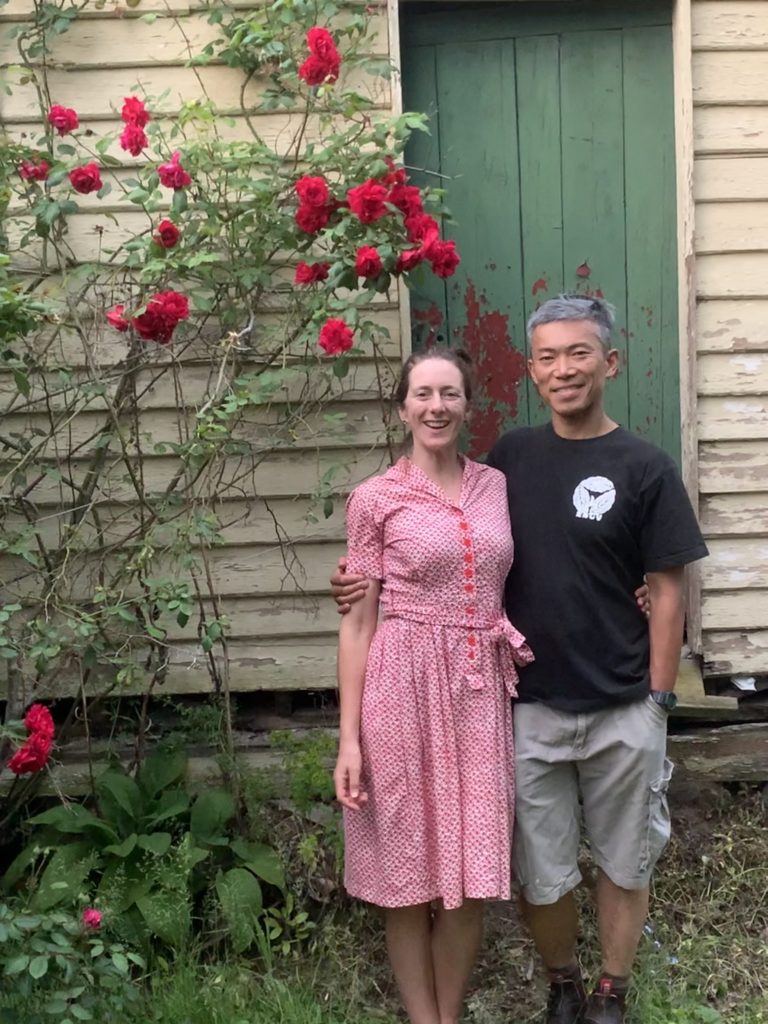 The forest town of Geeveston, about an hour south of Hobart, has a population hovering around 1300. It's an unlikely place to find what has been hailed by some as the best sushi in the Southern Hemisphere.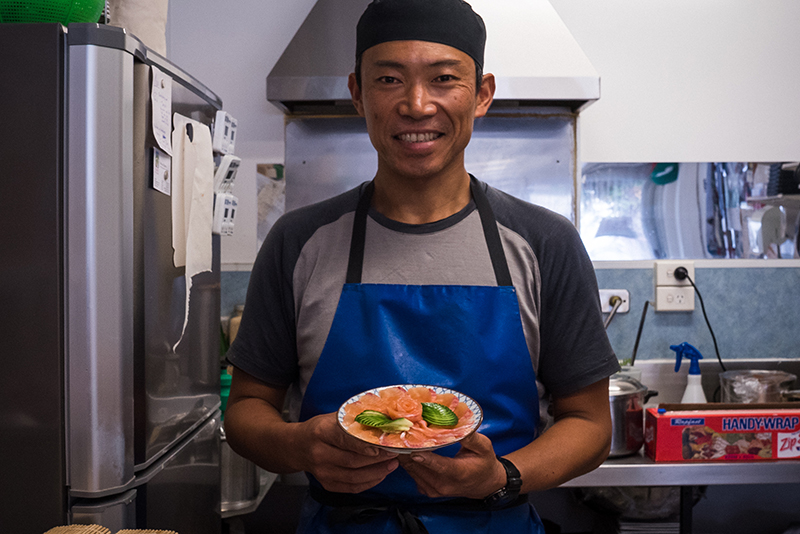 The couple moved to Tasmania in 2007. They came the long way, via Central America, to settle in Geeveston. Lucy's connections here dates back to life as a 10-year-old visiting the family shack. It was a natural transition back to Tasmanian life for her, teaching at the University of Tasmania and then working in Adult Literacy. For Masaaki, opening a sushi bar to a local audience, many of whom had never heard of wasabi, was a curious challenge. Well-meaning folk told the eager chef he was 'mad to open a sushi bar in rural Tasmania.' But Masaaki persevered.
Business was slow to begin with. In the early days, Masaaki would sit with his few customers – picking up new English words. Some would come just to watch him sharpen knives and carve with skills crafted over three decades. Fast forward a couple of years and the line for Masaaki's sushi became 30-minutes deep and foodies hailed from as far as France and Sweden to join the queue. Word of mouth, a cult following at farmgate markets and a feature on British Chef Rick Stein's TV show catapulted Masaaki well out of his tiny sushi bar premises.
Today, Masaaki is in the process of opening his new Geeveston restaurant in a former Anglican church. He continues to operate from a food van while the renovation takes place and during Covid-19, he hand delivered hundreds of sushi packs to the homes of delighted Masaaki fans.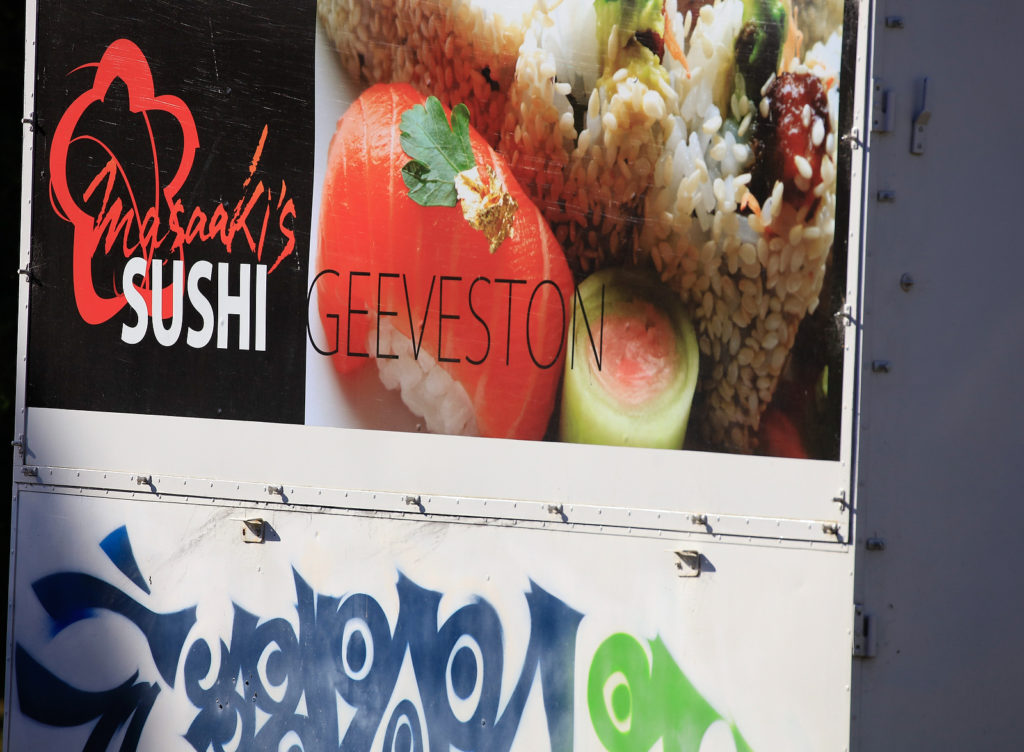 "I think many people were surprised to see Masaaki himself in his sushi whites at their door," laughs Lucy. "When we first set up the website for online orders, we got hundreds coming through. It was crazy!"
Masaaki's workday starts at 3am. His routine is meticulous and precise. Fresh fish comes from the hands of select commercial fishermen, usually straight from the docks of Margate. Whether it's a mighty Blue Fin tuna or Stripy trumpeter, Masaaki pairs it with produce particular to Tassie, including shiitake mushrooms from Snug, Port Sorell grown wasabi and local beetroot. His combinations are at times not traditional, but always testament to his home turf.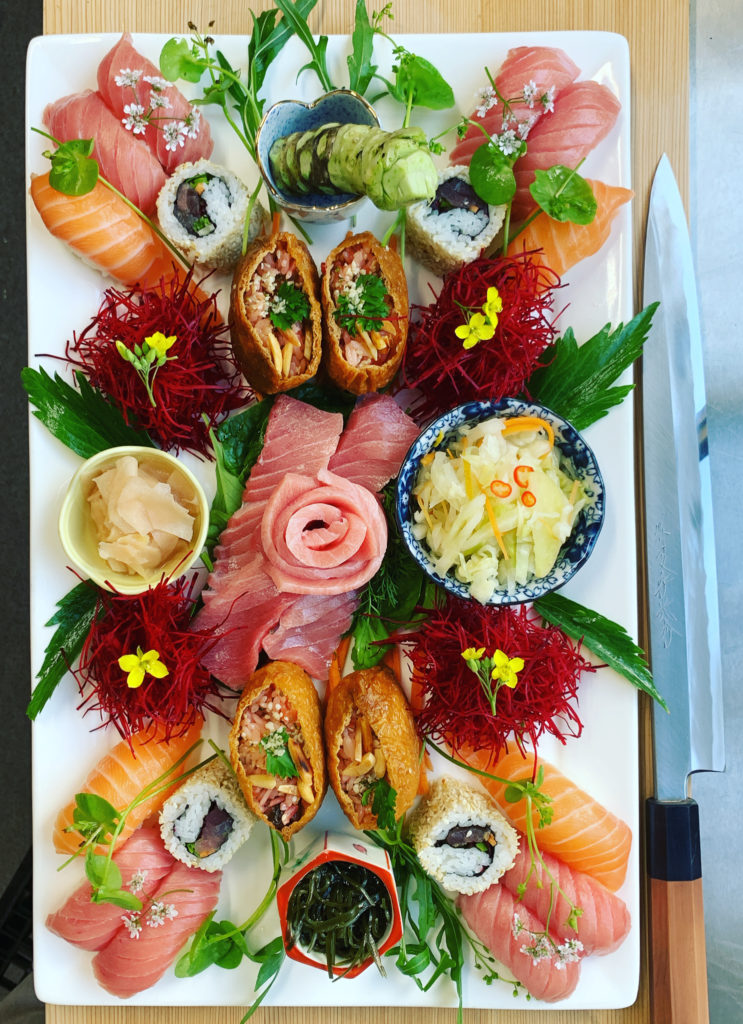 Masaaki even has his own prized veggie patch at the Port Huon home he shares with Lucy and their much-loved kelpie-lab-cross Jess. Fresh micro-greens plucked that morning, fresh East Coast sea urchin, calamari in sushi; these are the hallmarks that have market-goers loudly cheer when they reach the front of Masaaki's line. Note: they don't reach a boastful celebrity chef, but a humble, quietly spoken and ever grateful Masaaki with his signature smile. Perhaps equal parts why sushi lovers return.
Think it's all about 3am starts and hard work for Masaaki? No. He always has an eye on the weather maps and swell. There's good reason he's known as the Surfing Sushi Chef. From his days surfing with Lucy in his homeland, where a roadside hot spring was a popular post-surf luxury, these days Masaaki is a regular at some of southern Tassie's most sought out breaks.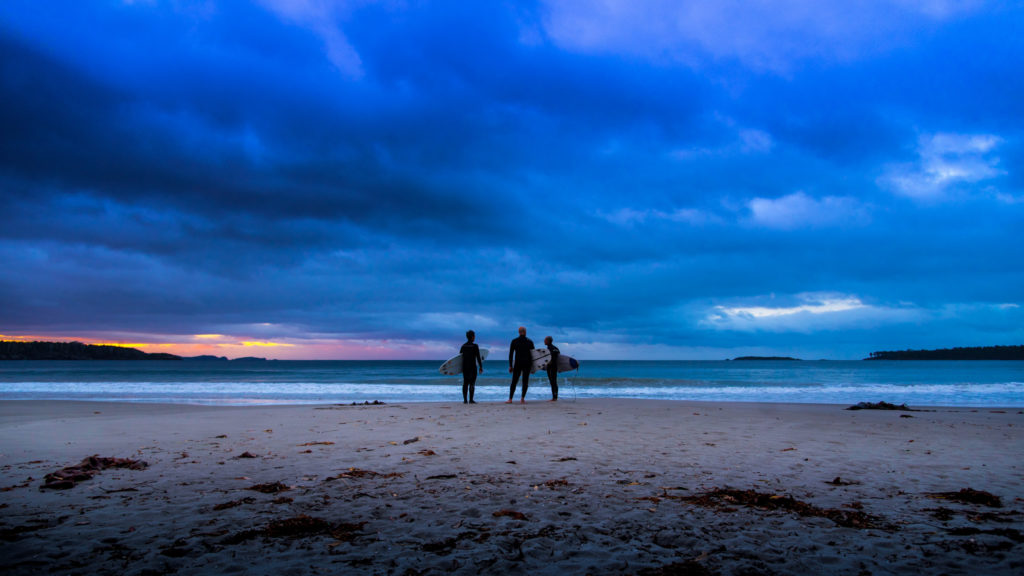 Not one to be just the town sushi chef, Masaaki was a volunteer fire fighter with Lucy and also spent a winter working on a crayfish boat. "My time on the boat gave me a great appreciation for the hard work involved. I lost seven kilos in one month – it was tough going! Of course, my friend, the skipper is also a surfer so we got a few surfs in too," grins Masaaki.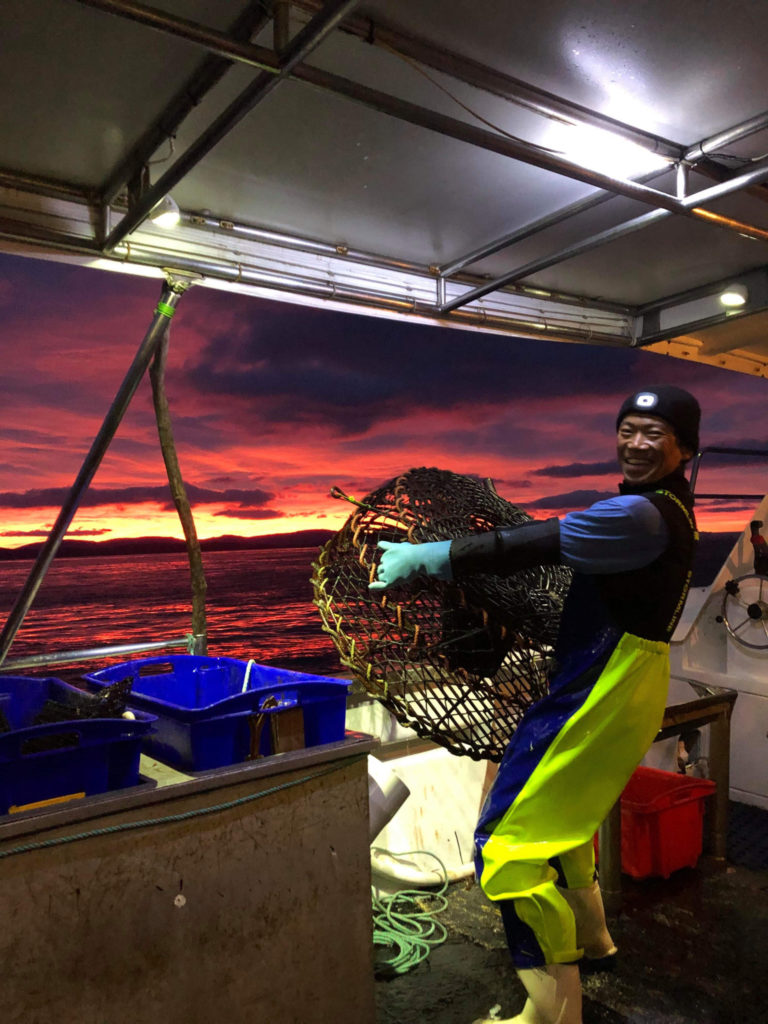 Given a peek inside the former Anglican church, the renovations are still ongoing. But it's clear Masaaki won't be making sushi 24/7 for his eager devotees. Against the back wall of the restaurant are a collection of surf boards … lined up and waiting for that next perfect break.
Want to try Masaaki's sushi?
To enjoy Masaaki's sushi you can drive to Geeveston and visit his van at 17 Arve Road, Geeevston on a Friday, Saturday and Sunday from 12pm until sold out.
Massaki is also taking online pre-orders which you can choose to pick up from Geeveston or at the Hanging Garden Green Grocer in Hobart.
To pre-order your sushi for pick up visit www.masaaki.com.au
Masaaki also has a Facebook and Instagram page. We recommend you follow his Facebook page for the latest opening times and pick up locations.
Other stories by Alice Hansen