It's a rare moment in time. Tasmanians literally have Tassie to ourselves. That's right. It's like going back in time well before selfies on a crowded Wineglass Bay lookout were a thing. Now is the time, my fellow locals, to savour our island sans visitors. The stillness. The space. The nature. All those hallmarks that draw people from distant lands is quietly ours. And there's no better place to experience it than down the Huon Valley and Far South.
Starting Friday 3rd June we will be among the first to venture out of iso hibernation and book a self-contained stay. It doesn't matter whether you're ready to go all out and stay on your very own peninsula or bunker down in a Tassie-style shack right on the water. If the savings account has taken a hit, there's cheerful price points and deals just for locals, too.
Desperate for some indulgence? When you arrive at the Coast House, there's no need to leave. Perched out on your private peninsula, roll up to a pantry stocked with gourmet food and a bottle of Tasmanian wine all included. You'll want for nothing. Pick a book from the library and curl up fireside.
There are two queen-sized rooms either end and floor to ceiling windows to breathe in the water views. With cosy feet courtesy of underfloor heating, feel a world away in your Coast House cocoon, even though you're just minutes from Cygnet. Might we add, the owner has kindly offered a 20 per cent reduction in rates just for us locals through to December, 2020.
At Frenchman's River, there is so much to love in winter. Choose between the two-bedroom Helmsman's House, a reimagined Federation farmhouse, with its Chimineé Philippe double-sided wood fire or The Writer's House with its crackling open fire simply made for couples. A bottle of Tasmanian wine is yours, along with a decanter of port by said fire. Get lost in a thriller from the book shelf with only wallabies, quolls and potoroos as your evening company.
Brekkie provisions include artisan bread, free-range local bacon, fresh eggs, Tassie butter and milk from cows just down the road. Just over a kilometre from Cygnet, Fat Pig Farm is nearby too, currently offering Ration Packs full of produce straight from the source including a nightly meal. Just get in contact via their website or hello@fatpigfarm to order.
Essentially Tasmanian Collection and Driftwood Cottages
Feeling like a shack escape is more your style? The Essentially Tasmanian Collection and Driftwood Cottages have you sorted from Dover to Southport in the Far South. Think homely cottage feel by the water and waking to a still winter morning. Literally drift through your days here; between beach strolls, fishing and one more coffee on the deck.
The self-contained options range from a luxurious boat house set on 250 acres of wilderness to ocean view cottages just right for the family. A hot tub beneath the stars, roaring wood fire and views across Port Esperance Bay may be just the way to emerge from your lockdown slumber.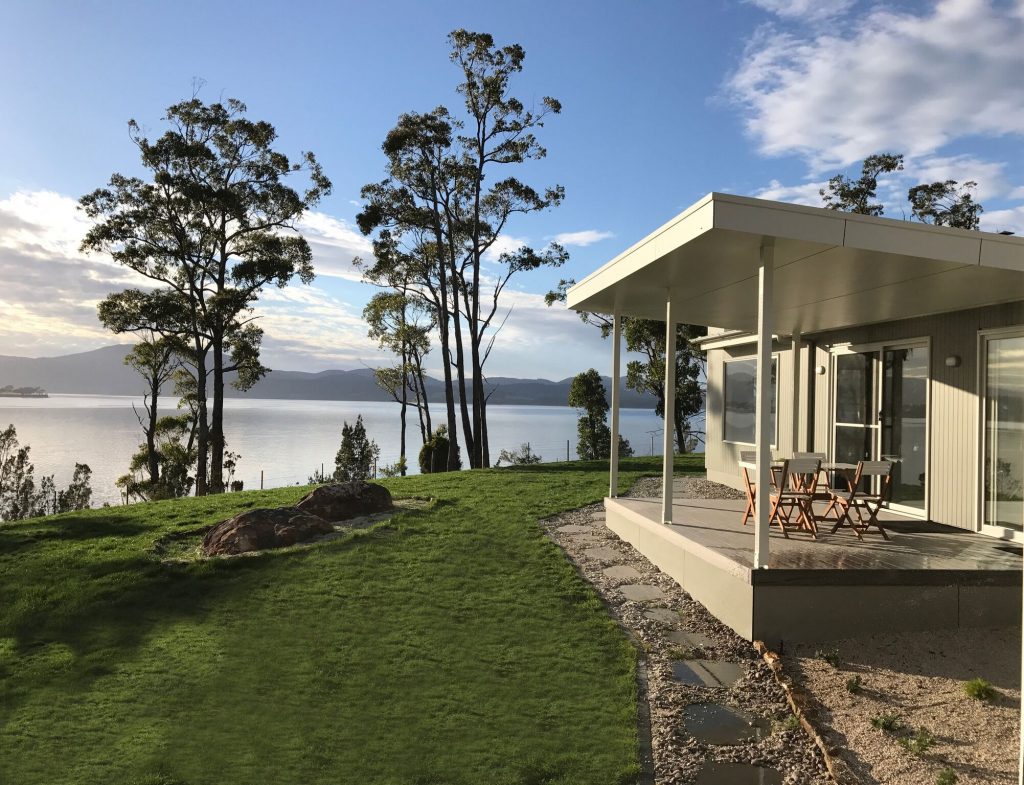 Huon Bush Retreat & Buttongrass Retreat
Huon Bush Retreat are offering locals a great incentive to venture to the valley, charging just $10 for the second night on a full-rate stay across both properties. If you're ready to get back into Tassie's wilds and breathe that fresh forest air, this is the go.
"Huon Bush Retreat offers wilderness right on your doorstep. It's only 50 minutes from Hobart but you'd think you're on a different planet," says owner and operator Paul Dimmick. "Rainforest, mountain top, waterfall, wildlife without cages, it's all right here. There is no contact with other guests during a self-contained cabin stay – you're totally isolated by design of the property. And the three-hour Mount Misery walk departs from right on site, also accessible for day trippers. There's no need to go anywhere to experience the wilderness."
Just under two hours from Hobart is Australia's southern-most tourism accommodation, Buttongrass Retreat at Ida Bay. If you're ready to switch off from the 24/7 news cycle, this eco-experience is for you. With 12-volt solar electricity and hot water, cosy wood heating and no TV, head for the buttongrass plain. The two-bedroom escape has a bath on the deck for stargazing. It means you could become one of the few Tasmanians, just maybe, to see the Southern Lights (Aurora Australis) from a bathtub!
Who knows, we may each fall under the spell of holidaying at home. No airport check ins. No long lines for baggage. No traffic. Just orchards, roadside stalls, rolling hills and an old-fashioned welcome when you roll into the valley. Uncomplicated and gloriously Tasmanian.
Find out more: