It all began with a few frustrated words, "you're a woodworker and I don't have one wooden spoon in the house." As a peace offering, David Rauenbusch made his wife Michelle a hand-carved spoon. Little did the Furniture Maker know it would be the first of 4,000-plus spoons and counting.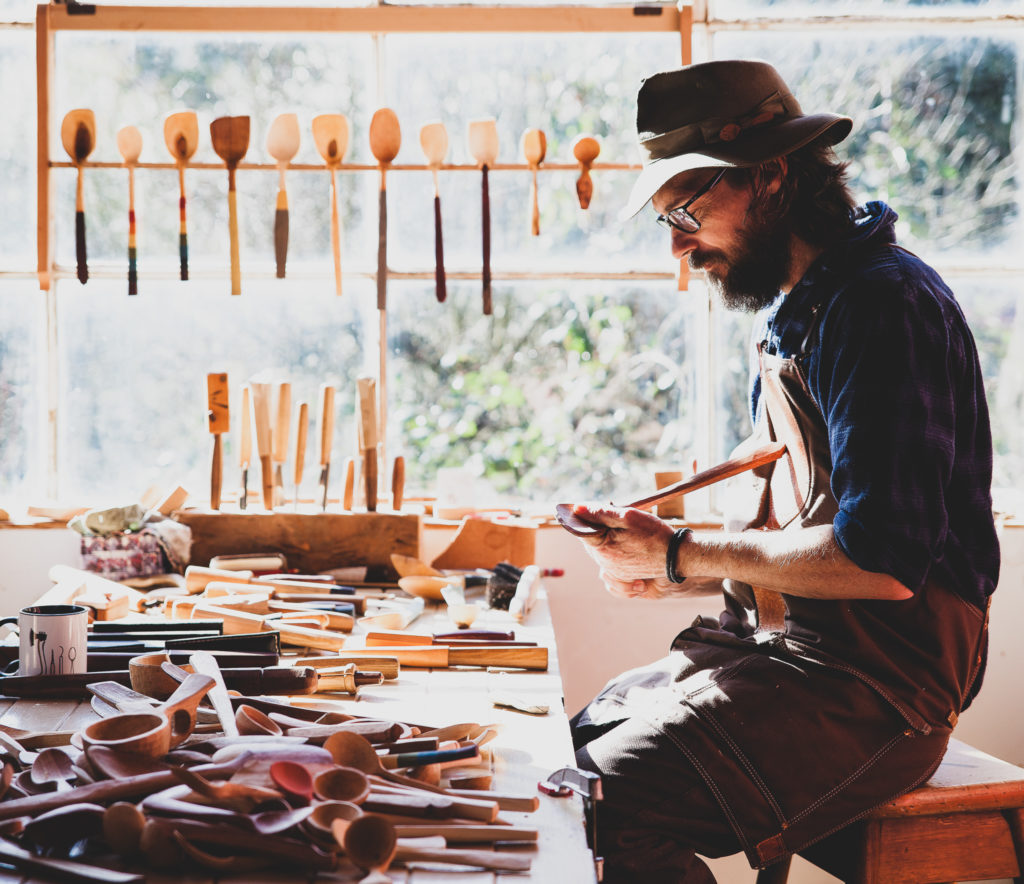 On a visit to Tasmania from the Central Coast of New South Wales in 2003, Michelle and David were told about an arty town named Cygnet. It sounded idyllic for David and wife Michelle, who has a background in education, including work with ABC's timeless Play School program. On their Cygnet expedition, they drove up Golden Valley Road, but turned around just before reaching the house that would become home. Days after returning interstate, 'Eagle House' came up, complete with five acres, a 1901-built home, a workshop and studio. In months, it swiftly became the Rauenbusch's forever home.
Settling with young children into Eagle House and the Cygnet community proved idyllic, the home studio well known for its succession of artists from weavers to painters. Recognised for its welcoming, connected feels, the town of Cygnet about 45 minutes south of Hobart in the Huon Valley, lived up to its reputation.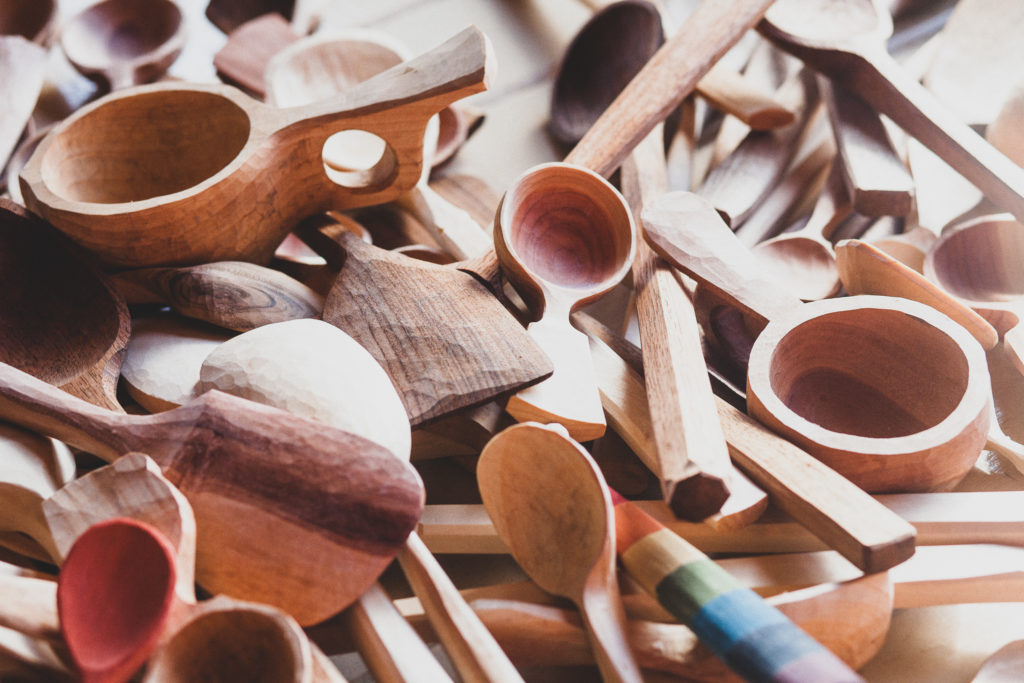 "When we had our second daughter we went along to a movie in the town hall," explains Michelle, "I was breastfeeding at the time. A lady rushed over and told me that I mustn't sit on one of the seats and next minute she brought out a mattress for me!"
In turn, the Rauenbusch's gave back to the small community, volunteering at the Cygnet Folk Festival, donating hand crafted prizes for fundraisers and helping out at the community hub. Setting up shop at Salamanca Market in 2004, complete with a toddler and a new born as 'stall staff,' David came to find most visitors required smaller items to travel home with. Gradually, his furniture making faded and momentum gathered around one-off hand carved spoons, ethically sourced from green wood and vintage Tasmanian timbers.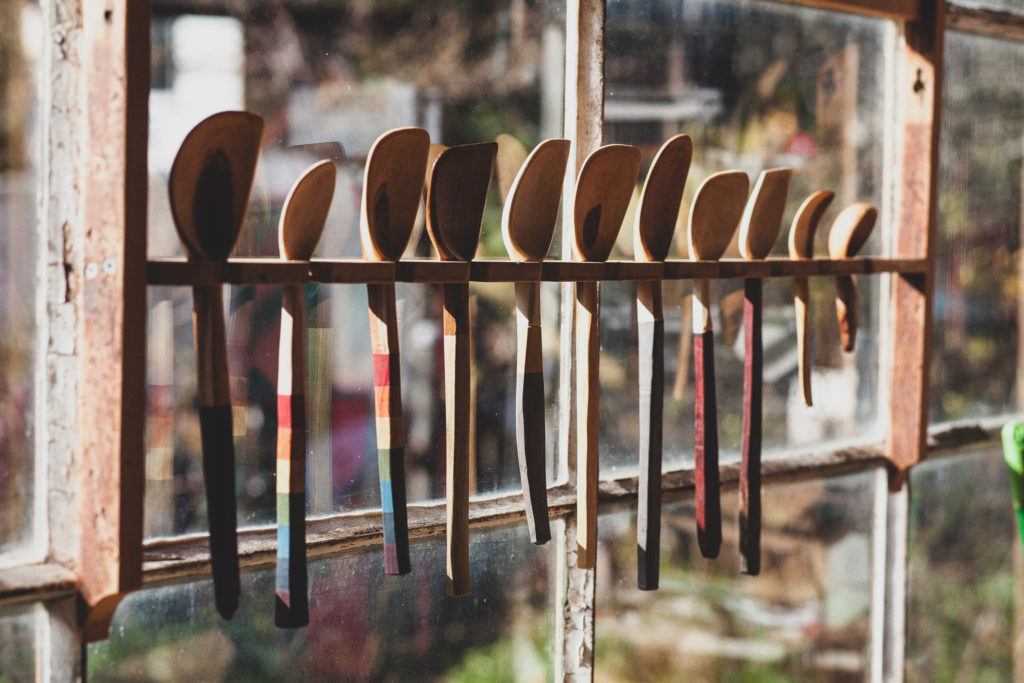 "After making that first spoon for Michelle, I made a few more and soon realised there was serious demand," says David who now has an Instagram following of more than 54,000 avid worldwide fans. "I didn't have the proper tools at the time so they took a good while. As soon as I'd make some, they'd sell out. So I'd make more and they'd go too."
David sources his timber in all manner of ways from a valley lush with orchards. Whether it's a local farmer with an unused old Huon pine trough in the paddock, or a fallen tree that has the entire family doing a U-turn on the wild outskirts of town, there's plenty of special timber about. Sometimes it's window sills at a garage sale or timber from a wooden boat past it's seafaring days. And now that David is well established in the community, mates will drop in with a trailer of fruit tree prunings that give rise to a suite of new creative spoons.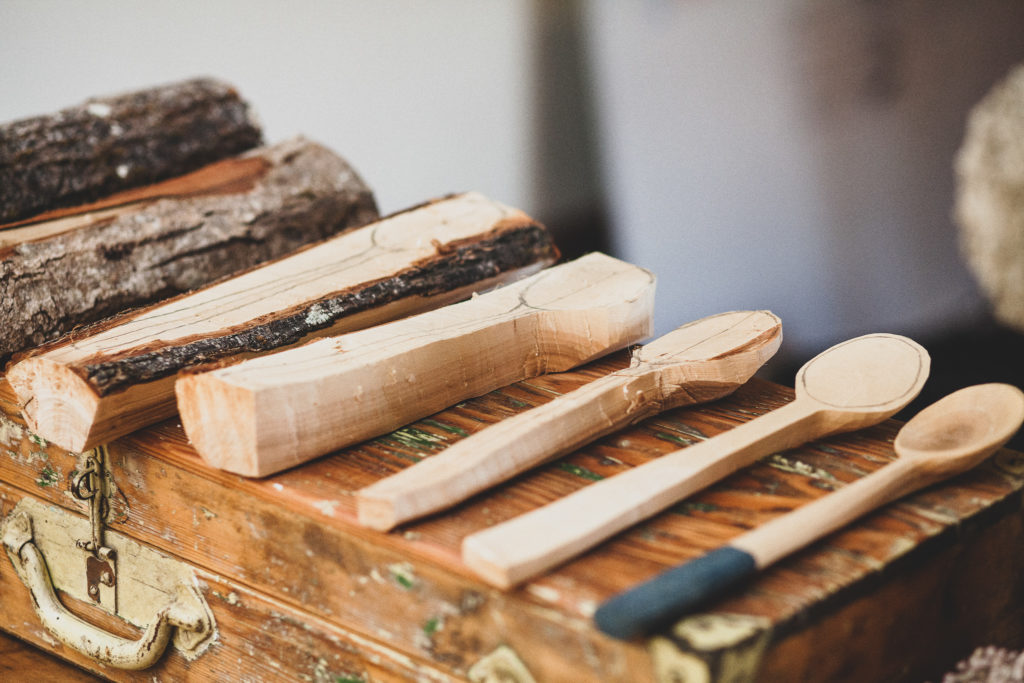 "Native cherry trees are my favourite to work with. They're my timber crush," smiles David. "They're a nice waxy timber and grow everywhere. They're beautiful to carve. Tasmania is blessed with some beautiful, unique timbers for carving. I was fortunate to get some salvaged timber from a logging coupe in the Tarkine via the Bob Brown Foundation – Horizontal scrub, Mountain pepper and Celery Top pine. Gorgeous to work with, saved from a burn pile"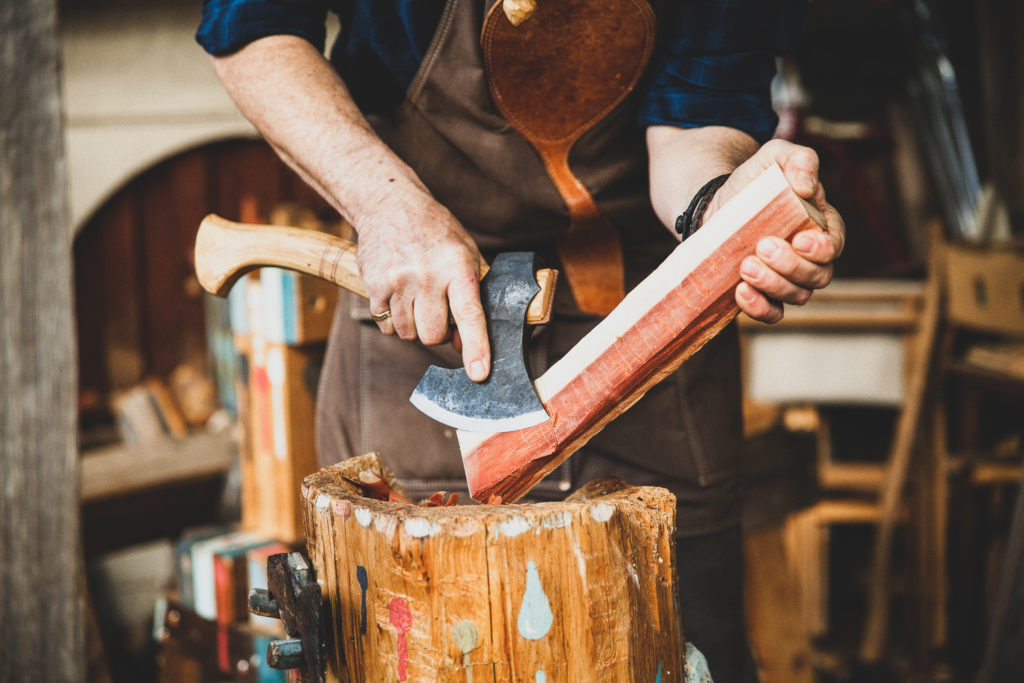 After about seven years at Salamanca Market, David and Michelle now focus on Phoenix Creation's online sales as well as local events and markets including Taste of the Huon, Cygnet Market and the Margate Makers Market at Brookfield Shed. But increasingly, they have visitors to their studio door as well as a swelling number of folk lining up for David's Spoon Carving Workshops.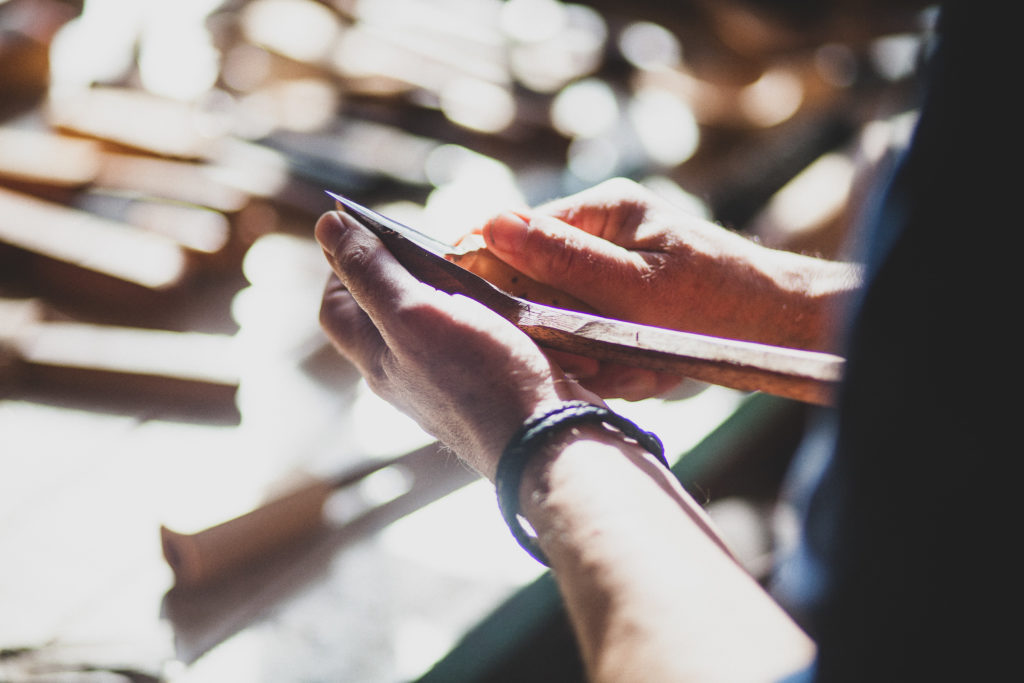 "We realised over time that people were curious about making spoons," explains former Primary School teacher Michelle, "We've had young children through to an 88-year old attend. It's a wonderful six hours for up to six, sometimes longer because David makes sure everyone leaves with their own spoon, where people can work with their hands and learn new skills."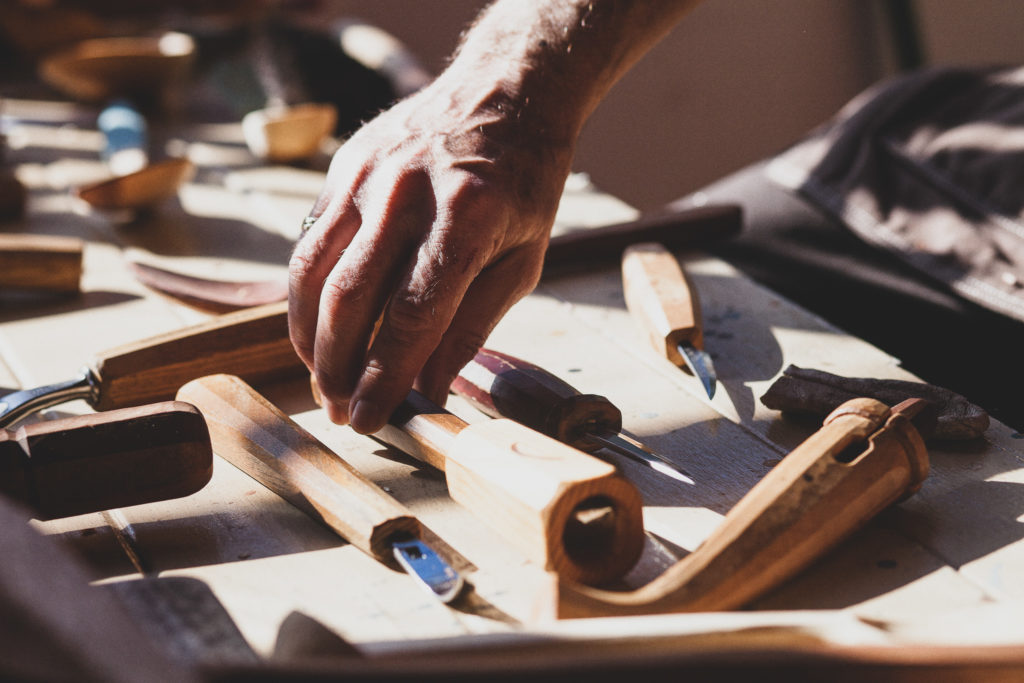 Many strings to her bow, Michelle helps out with the workshops and also dabbles in jewellery, mosaic and paper mache, in between raising three children with David. When she suffered a sudden heart attack in 2019, requiring heart surgery, the Rauenbusch family fell into turmoil.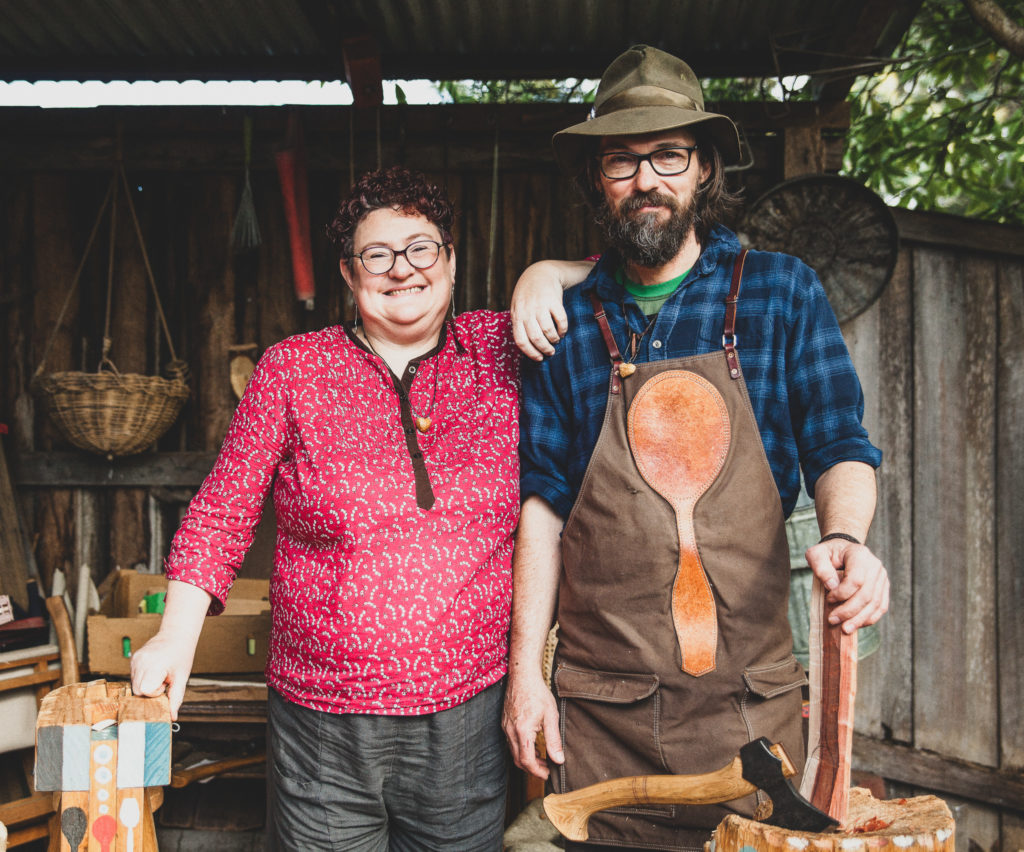 Yet again, the community stepped up. Hoards came to the studio door and bought spoons – enough to give David two months off to care for the family and his ill wife. Locals bought the family's groceries, others delivered meals and a spoon maker in the US started up a Go Fund Me page to get the family back on their feet.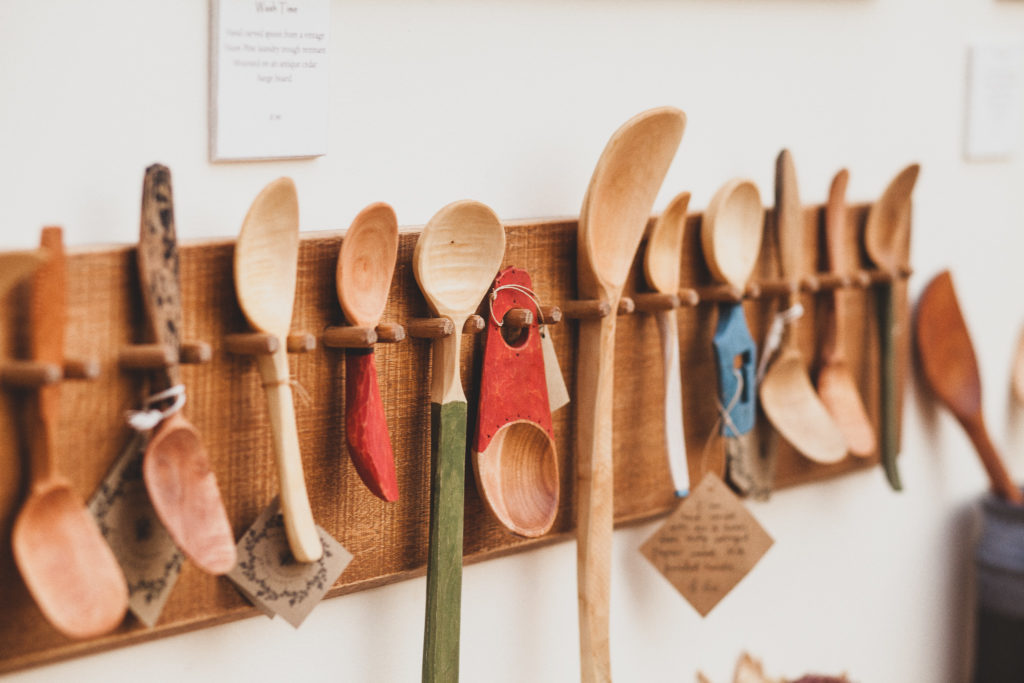 "We went from wondering how we'd feed the kids to being blown away by all the support," says Michelle, one year on. "Even now I go to the local IGA and I'm quickly told that I'm not allowed to carry my own groceries to the car. I made my first little wooden heart necklace in response to the outpouring of love – we've since sent several of these to front line workers during the Covid-19 pandemic."
While David's spoons continue to reach the far corners of the globe, including a town called North Pole in Alaska, the family most enjoy spending time together in their adopted Cygnet township. And though it's fun to ship spoons to Moscow, David gets an extra special buzz carving a spoon for a newborn round the corner from a pear tree in her backyard.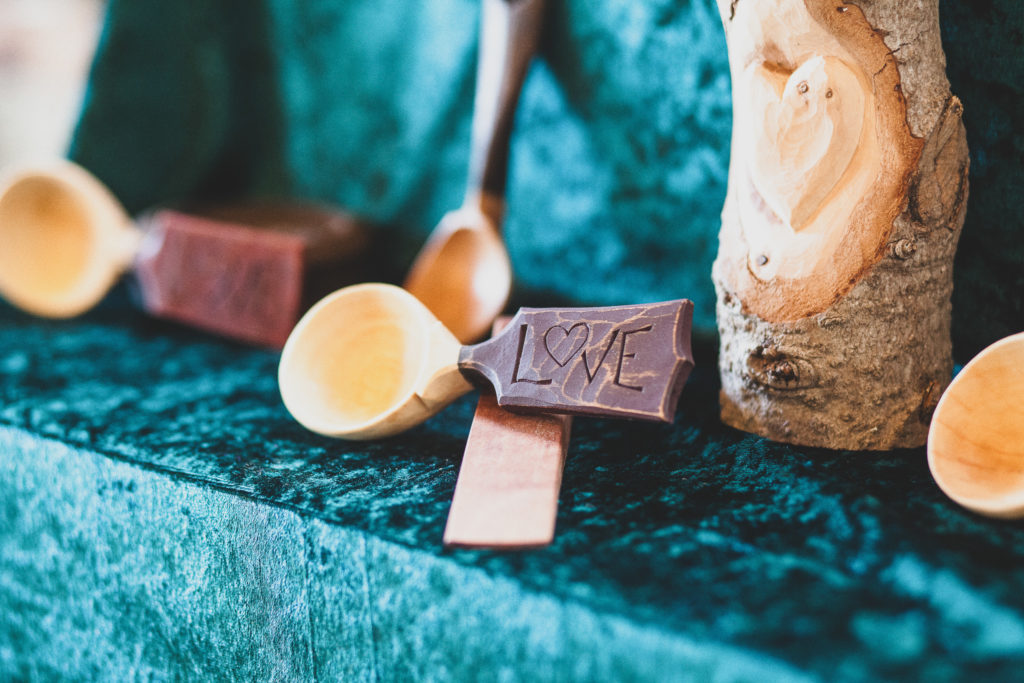 To buy their spoons, book a workshop or for more information about Phoenix Creations visit their website www.phoenixcreationstasmaniashop.bigcartel.com