Looking for local tips and suggestions on things to do when you're in the Huon Valley? Our list can be used by visitors and locals alike to help perfect your time in the beautiful Huon Valley.
Take a hike
There is a selection of walks, bush walks, and hikes for all ages and abilities in the Huon Valley. One of the most popular hiking challenges in the Huon is to climb Hartz Mountain. It's not hard to find snow up there and if you are into cold baths then stop by Lake Osbourne for a dip.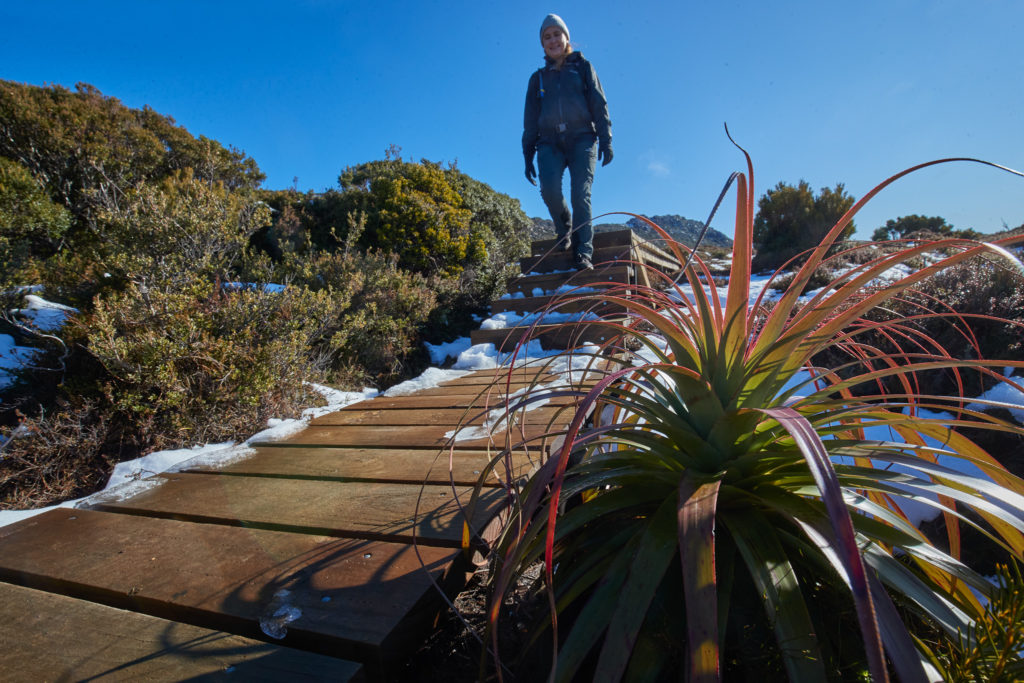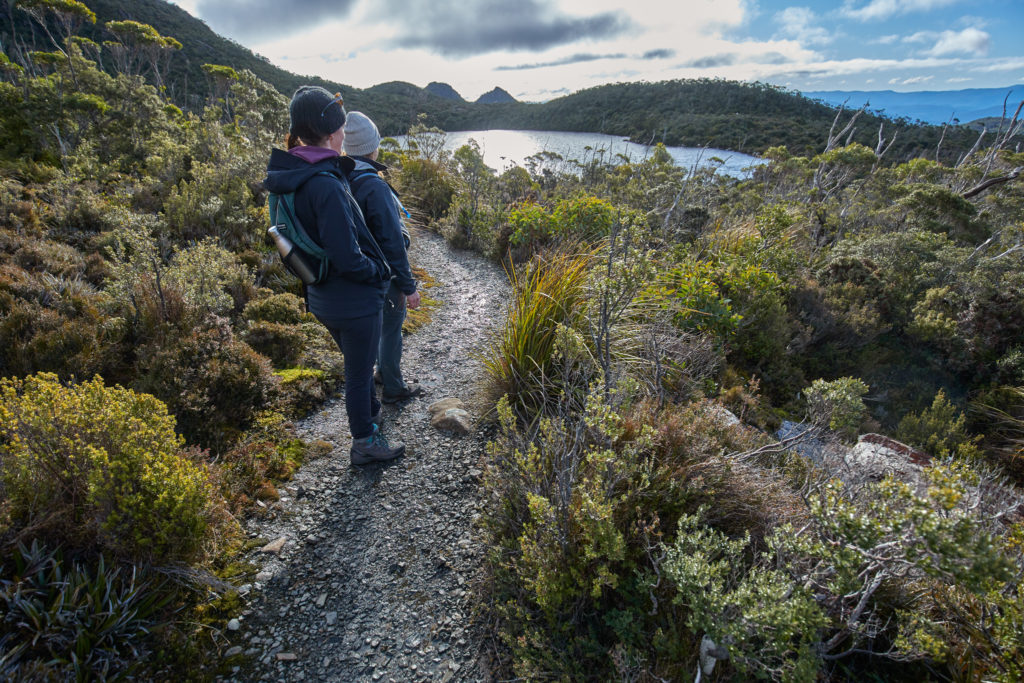 A favourite one for families is Duckhole Lake near Hastings Caves. It's a 4.2km track, most of which is a boardwalk out to a tranquil lake which is a flooded sinkhole. It's a peaceful place to sit and listen to the birds and frogs while you have a picnic.
Pelverata Falls is very popular at the moment, especially after some good rain. When you get there you will find there are two waterfalls to see, with a smaller Slippery Falls just opposite. It can be muddy and the track towards the end does require some rock scrambling. Good shoes are recommended.
Camp by the water
There are a few camping favourites with the locals in the Huon Valley with no surprises that are all situated all by the water.
Huon Valley Caravan Park is especially popular with young families as they provide some pretty amazing experiences along with a place to camp or pull up a caravan. They have their very own Tasmanian Devils which they feed at 4pm every day! And if that isn't enough they also have a range of farm activities such as watch the cows being milked, walking through the apple orchards, or tasting veges straight from the garden. And there are lots more things that you can do when you visit them. Check out their website for more information.
Rivers Edge Wilderness Camping is set in an idyllic Huon Valley setting on the banks of the Russell River, at Lonnovale, about an hour's drive from Hobart and 30 minutes from Huonville. It is a pet and family-friendly location with a bike and walking track.
Another new option in the Far South of the Huon Valley is River Run Lodge. They provide bunkhouse accommodation as well as RV and Camping sites with shared bathroom, kitchen, and outdoor kitchen facilities. It's situated in a bush setting by the water. Great location for a spot of fishing.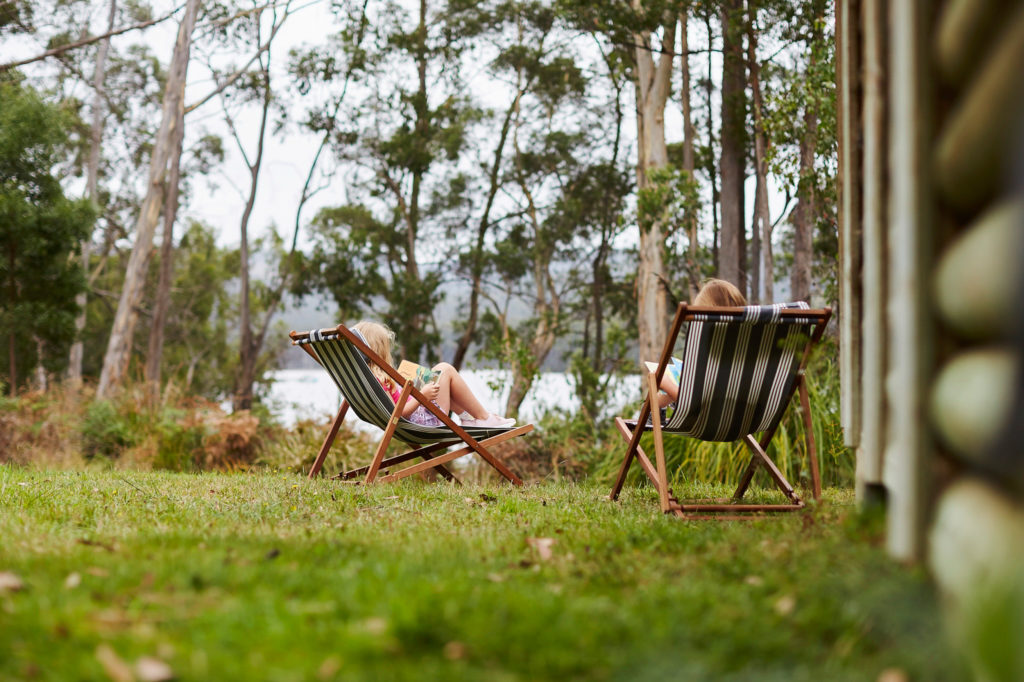 Cockle Creek is right at the southernmost point you can drive in Tasmania and Australia and happens to be one of the most stunning waterside camping spots you can find. It is free, however, note that the campsites have pit toilets, there is no drinking water or provided firewood. There are some Parks & Wildlife managed campsites on the other side of the bridge.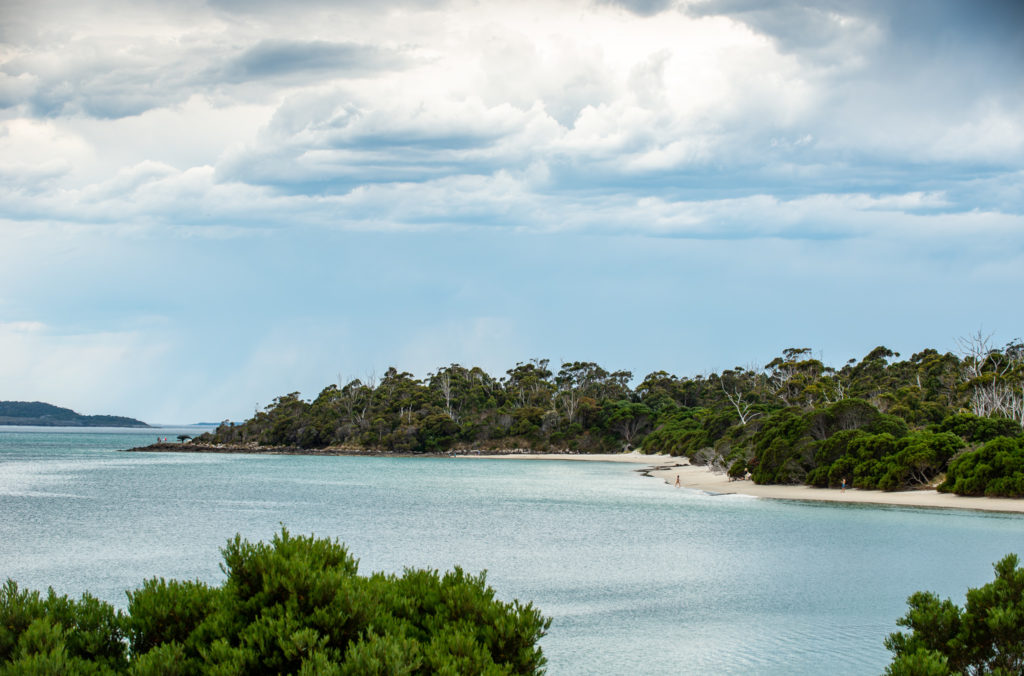 Get to Geeveston on the weekend for crumpets and sushi
A wierd combination we know! But it is no joke. Geeveston is hot right now on the weekend for picking up some of the best crumpets you can get from Huon Me Crumpet Co. These hand made, small batch sourdough crumpets are to die for and are available in Geeveston on a Saturday and Sunday between 10am and 3pm. They have the most amazing and creative flavours such as Saffron, Chocolate, original sourdough and Vegan!
Geeveston is also famous for its surfing sushi chef, Massaki who especially selects his fresh fish from local fishermen and prepares ready to sell from his Sushi Van behind the Geeveston Town Hall on a Saturday and Sunday between 12 pm and 2 pm until all sold out. It is recommended that you preorder on his website.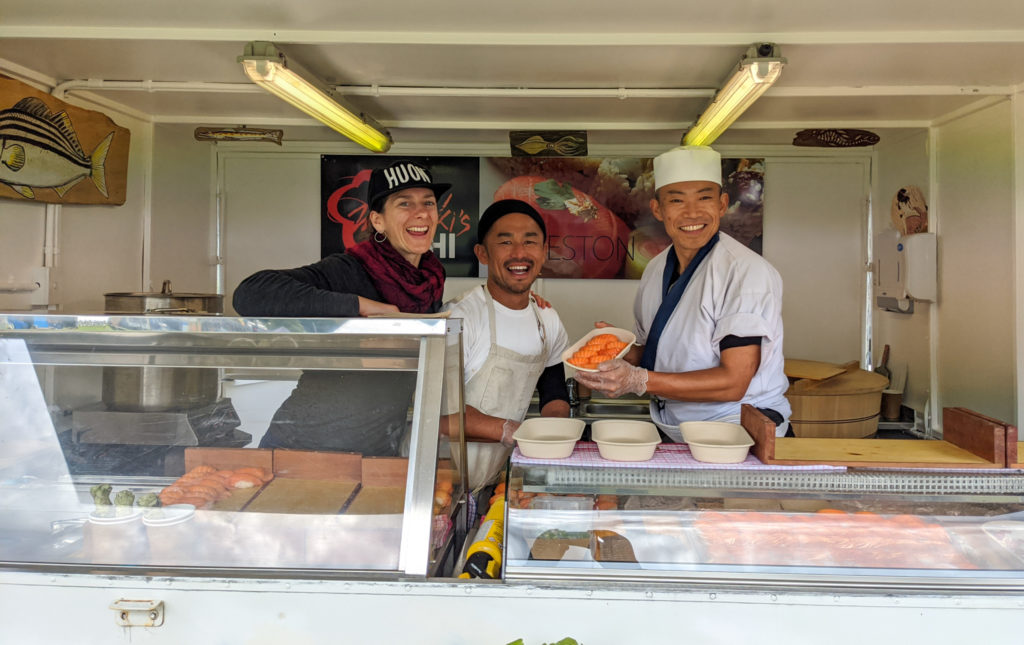 Huon Valley family picnic spots
Ruth Dawkins has written a great blog on this very topic titled 'Picnic in the Huon Valley. This features some pretty great spots that include BBQ facilities and picnic tables, right be the water at Huonville, Cygnet, Geeveston, Franklin, and Dover.
It's worth also mentioning that if you visit Heritage Park at Geeveston there is a pretty amazing Platypus walk that is one of the most reliable spots for seeing Platypus throughout the day!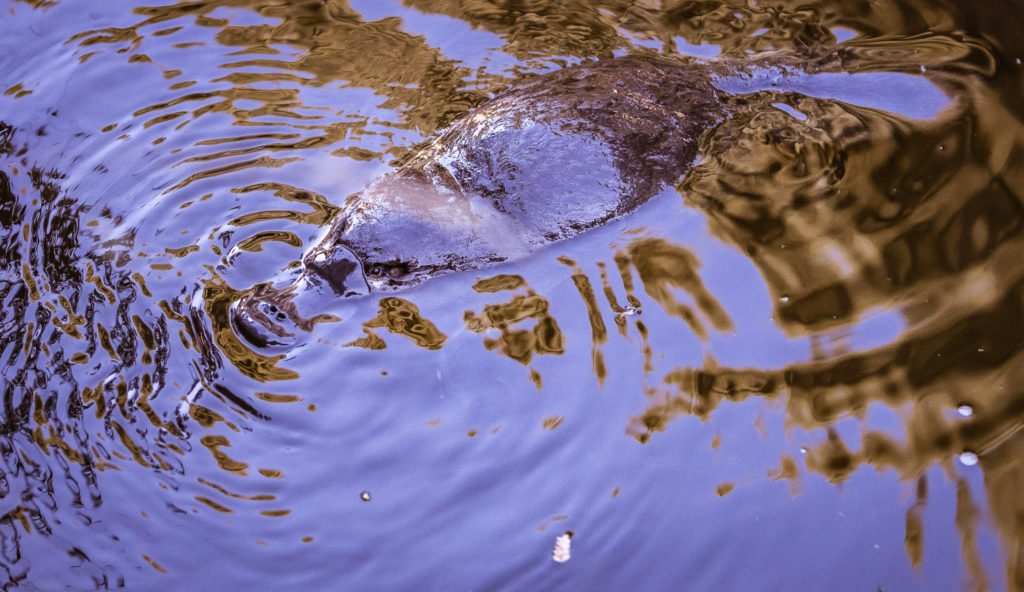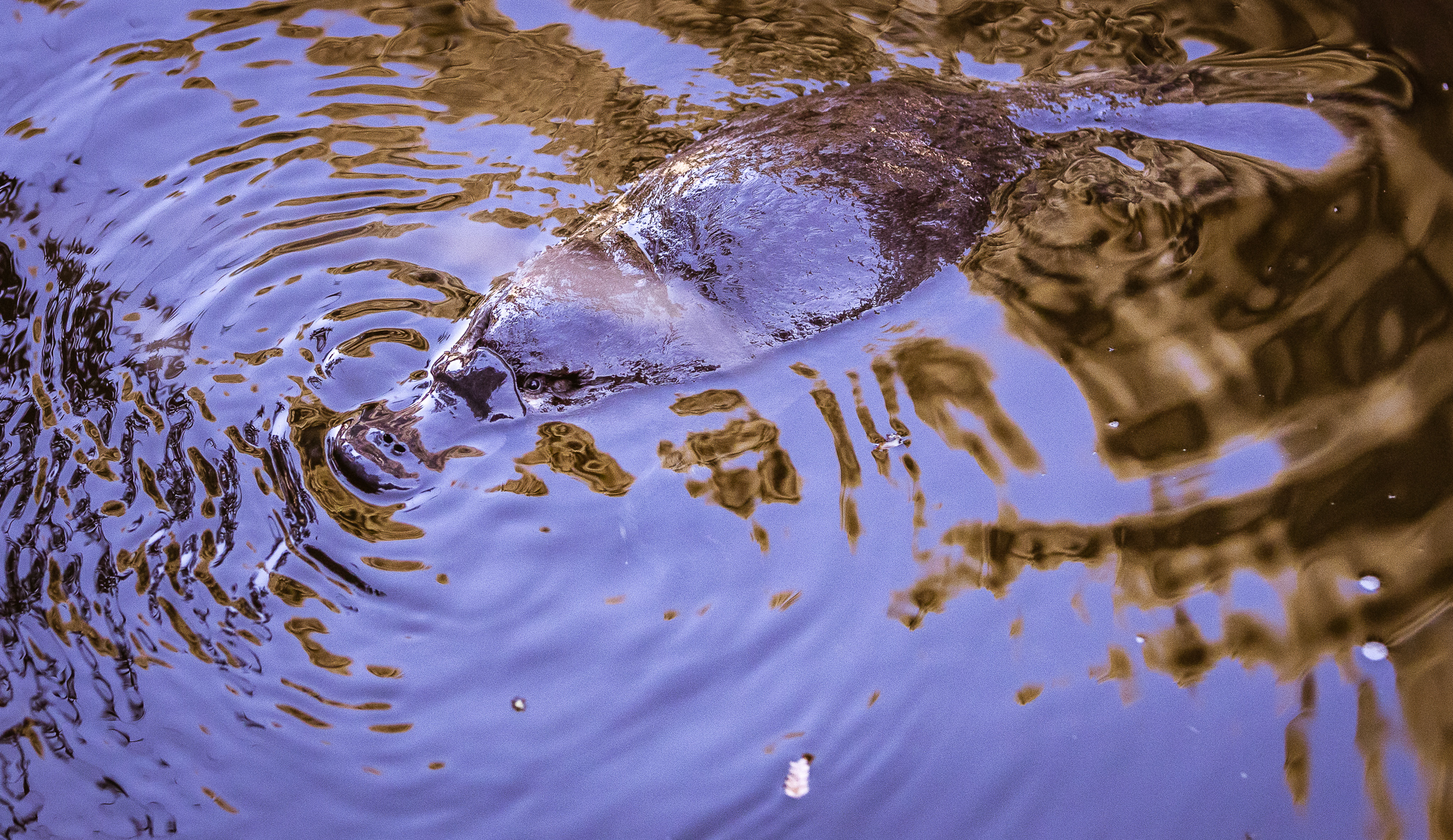 Local hangouts for good coffee, gourmet treats, and a meal
It's gold when visiting anywhere if you can find the cafe's, restaurants, and coffee shops that the locals swarm to. You know it has to be good!
In and around Huonville, one of the most popular is the Ranelagh General Store, especially for breakfast. Just next door you will find the Summer Kitchen Bakery for a few take-home treats. There is a cafe near the main street of Huonville that gives it away with its name, The Local guaranteed to serve good coffee. Another favourite in Huonville is DS Coffee House Cafe.
There are two new popular restaurants in Huonville, the Alternative Japanese Restaurant and Korean cuisine at Jin's Kitchen.
In Cygnet, you are certainly spoilt for choice! The Cygnet Woodfired Bakehouse is especially popular at the moment as is Cygnet Old Bank who also has a brilliant clothes shop called Three Twigs.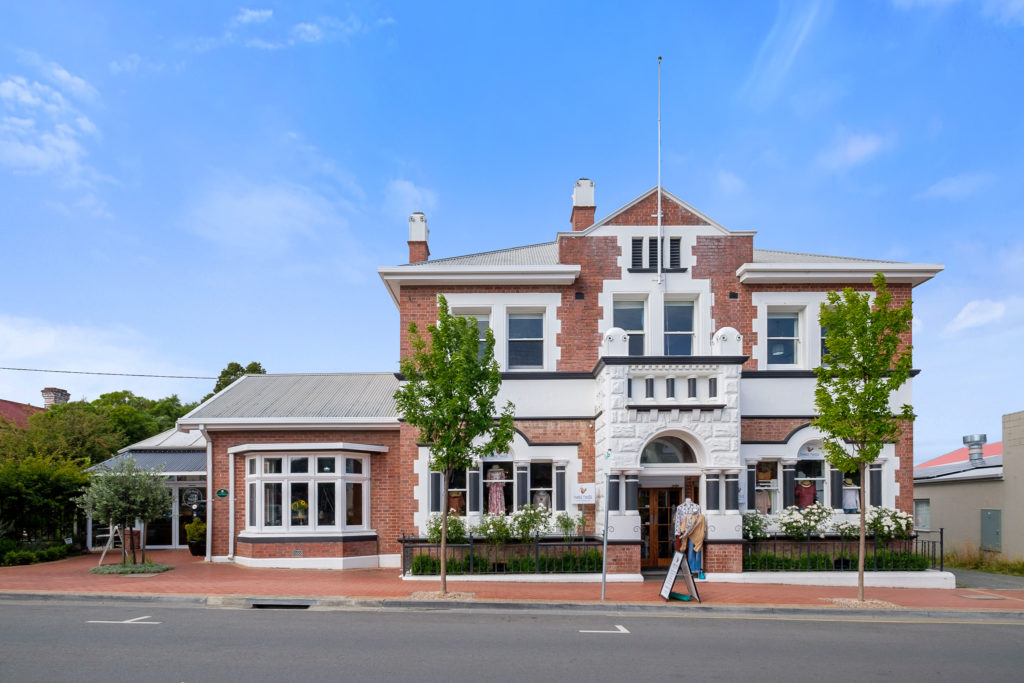 If you head south to Franklin the Franks Ciderhouse and Cafe serve a beautiful range of cakes, including Gluten Free, as well as some more popular farmhouse style meals. Cinnamon and Cherry are also very popular as is Osteria at Petty Sessions.
Further south to Geeveston and The Old Bank of Geeveston is a must as is Harvest and Light for some of their amazing pickles.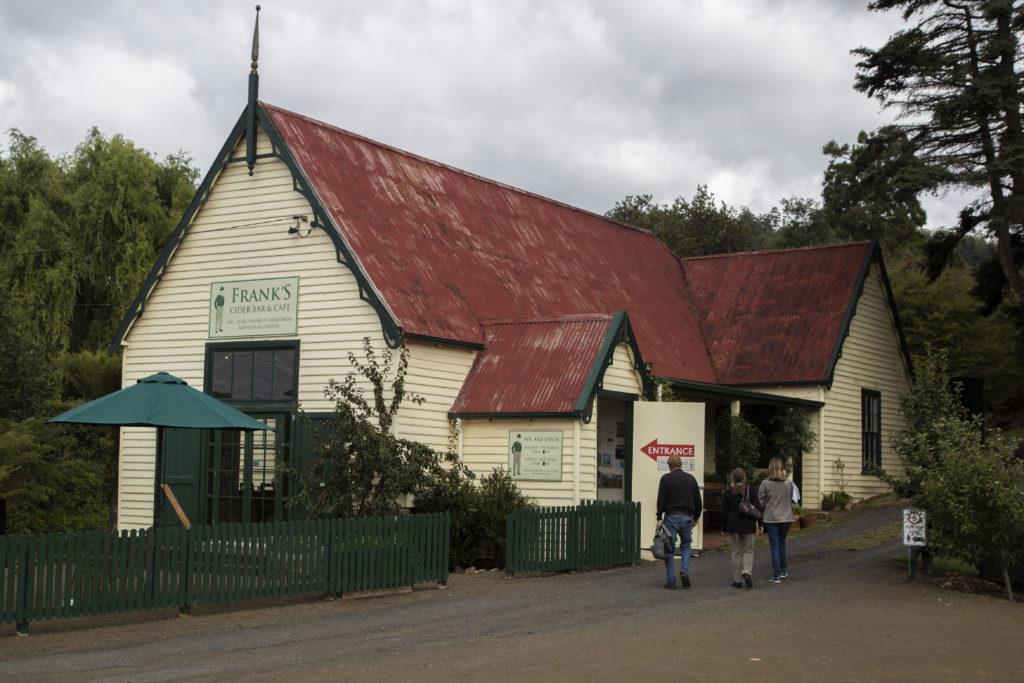 Have a laugh with Franks
Enjoy a good comedian? Well, keep an eye on the regular 'Funnies at Franks' events at Franks Ciderhouse and Cafe, Franklin. You can subscribe to the mailing list to be notified or follow the Franks Facebook page.
Enjoy some music and cider
Head on down to the Willie Smiths Apple Shed on a Friday night and you can enjoy a bit of local music with your cider and a meal. Once a month they also hold a 'Sunday Session'. Follow their Facebook page or check their website for the latest.
Hang out in Dover
Dover and the Far South of the Huon Valley is certainly a beautiful place to be! Right on the water with some pretty special mountain views which in the colder months have snow falling on their peaks.
Local Kristie Knight has an amazing photos which documents some of the stunning mornings, days and evenings for you. Check out her Instagram page @krillknight .
While you are in Dover see if you can visit Bakehouse Distillery and try the unique Evoke Spirit made with Tasmanian Sassafras.
Port Esperance is a beautiful area of water with some beautiful small islands called, Hope, Faith and Charity. If you like you can explore them on Kayak with Esperance Adventures.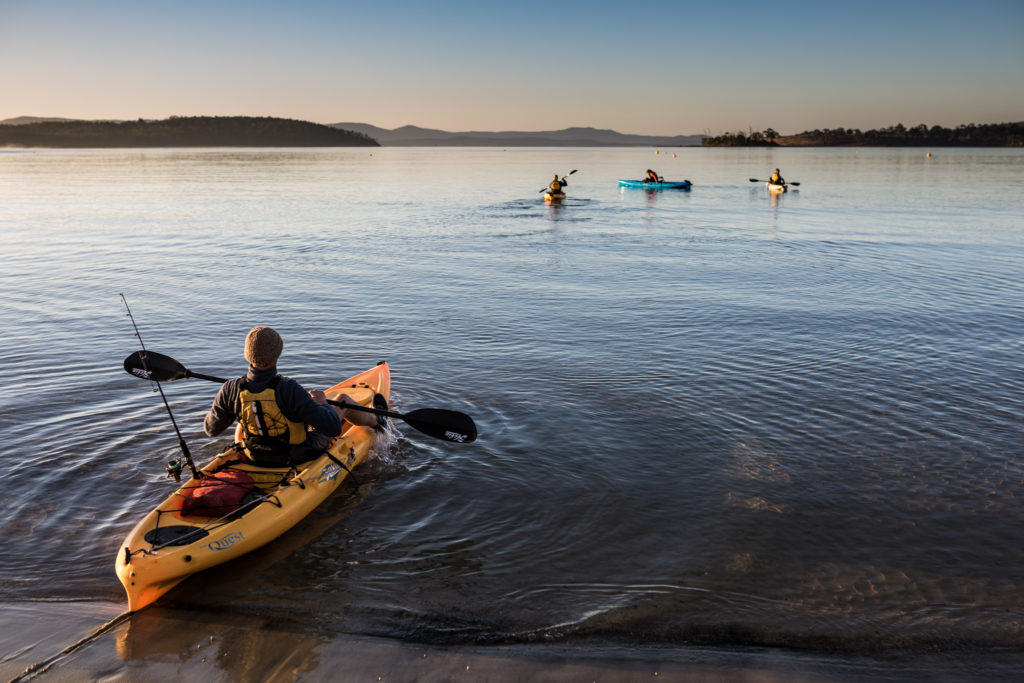 Comb a cow
Yep, you can do that thing that you really want to, comb a Highland Cow!
Julie at Highland Getaway Retreat provides Highland Cattle – ATV Farm Tours to the general public which allows you to get up close to her gorgeous Highland Cattle and their calves. While you are there you also get to meet her vast array of other farm animals. If you stay at her accommodation the tour is included!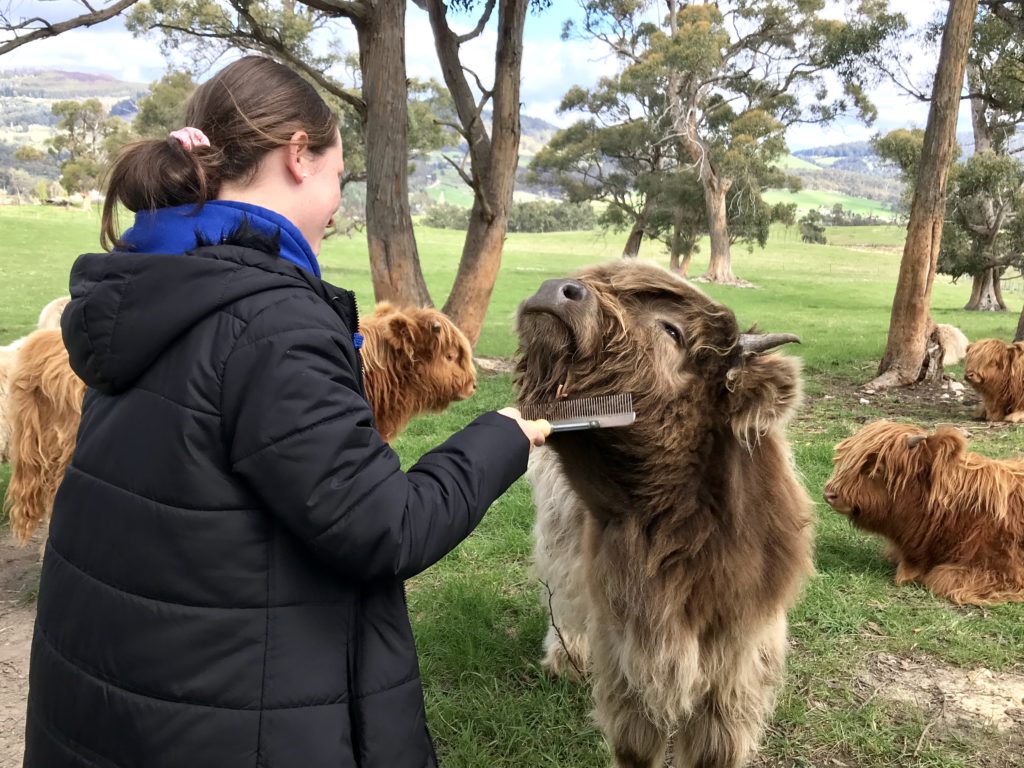 Spot Sleeping Beauty
The locals are totally besotted with their Huon Belle and for a very long time they have kept this sleeping beauty to themselves. But the word is out, we have a pretty amazing iconic mountain in the valley that everyone needs to look out for!
Sleeping Beauty is made up of two mountains Collins Bonnet andt Trestle Mountain. Collins Bonnet forms her lovely head while Trestle Mountain forms her bosom. For a full explanation of her form read Paul County's story 'Á Tale of Sleeping Beauty – Our Beloved Huon Belle'.
The best places to view her from are Grove and Huonville, although you can view her from Franklin and other areas around the Huon. If you are at Willie Smiths Apple Shed make sure to get a peek.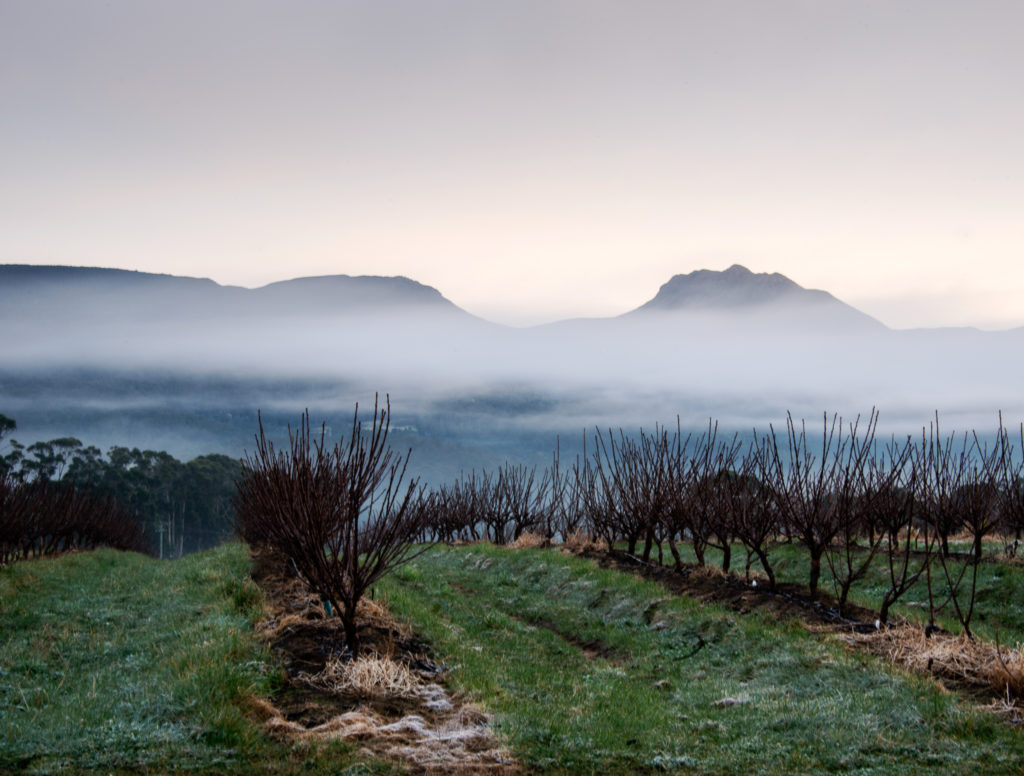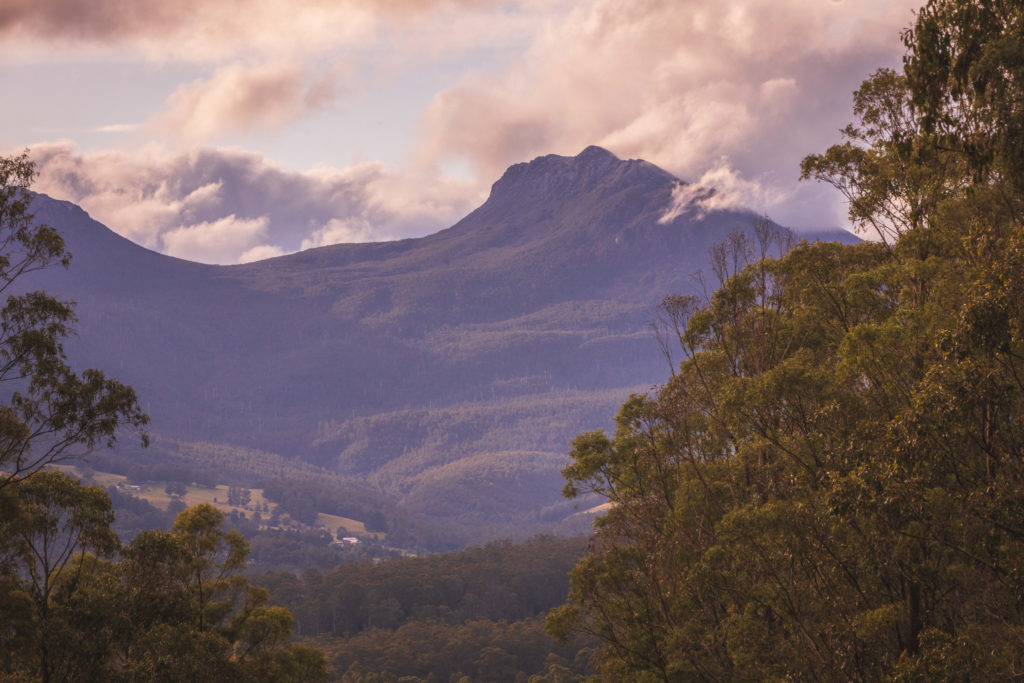 Get adventurous with a glide or raft
It's adventurous enough just walking out on the cantilever at Tahune Airwalk, but Tahune Adventures take it to the next level by also providing their Eagle Hang Gliding and Twin Rivers Rafting Adventure! For all the details visit their website www.tahuneadventures.com.au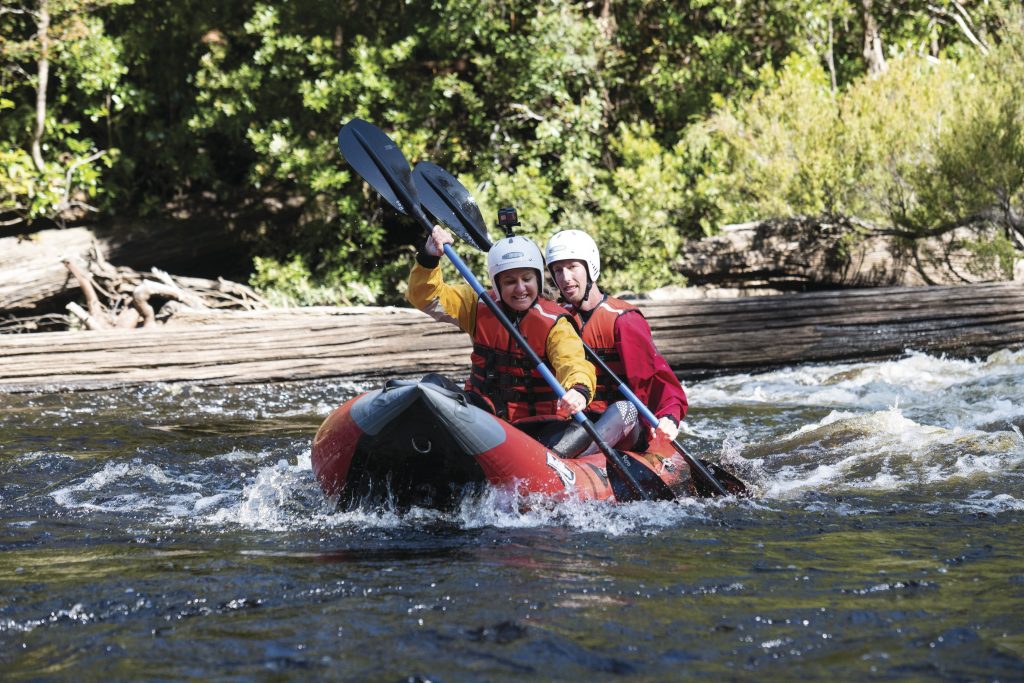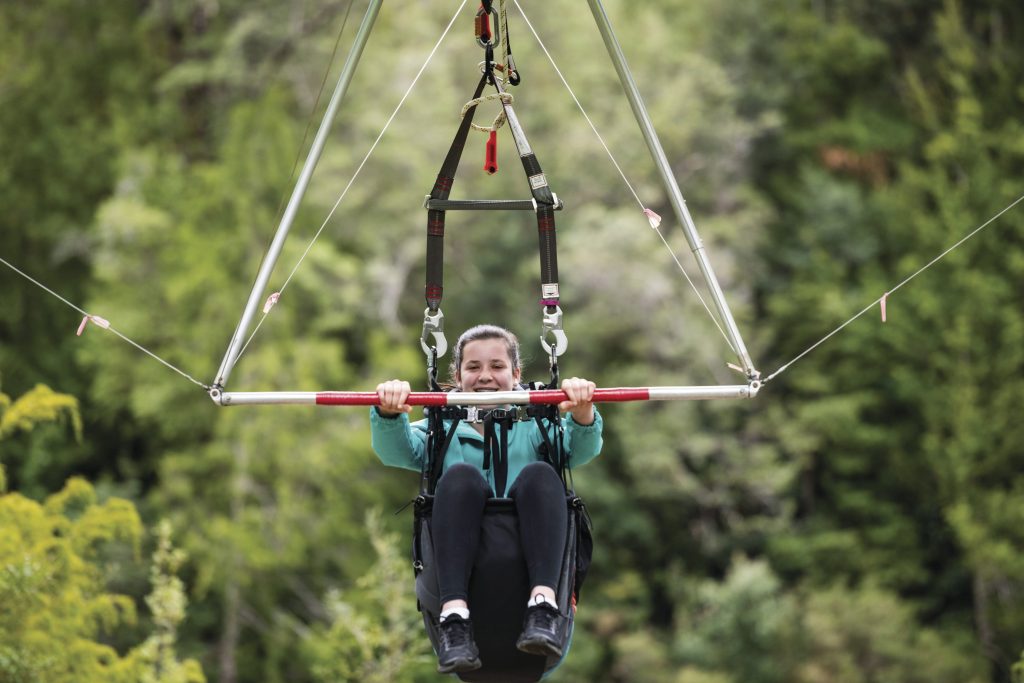 Take a bike ride
Serious about bike riding? Eudaimonia Tasmanian Cycling Tours do some pretty amazing cycle experiences in Tasmania, include a Southern Explorer Experience that takes you along some of Huon Valleys' beautiful countryside and forest roads. Visit www.tasmaniancyclingtours.com for more information.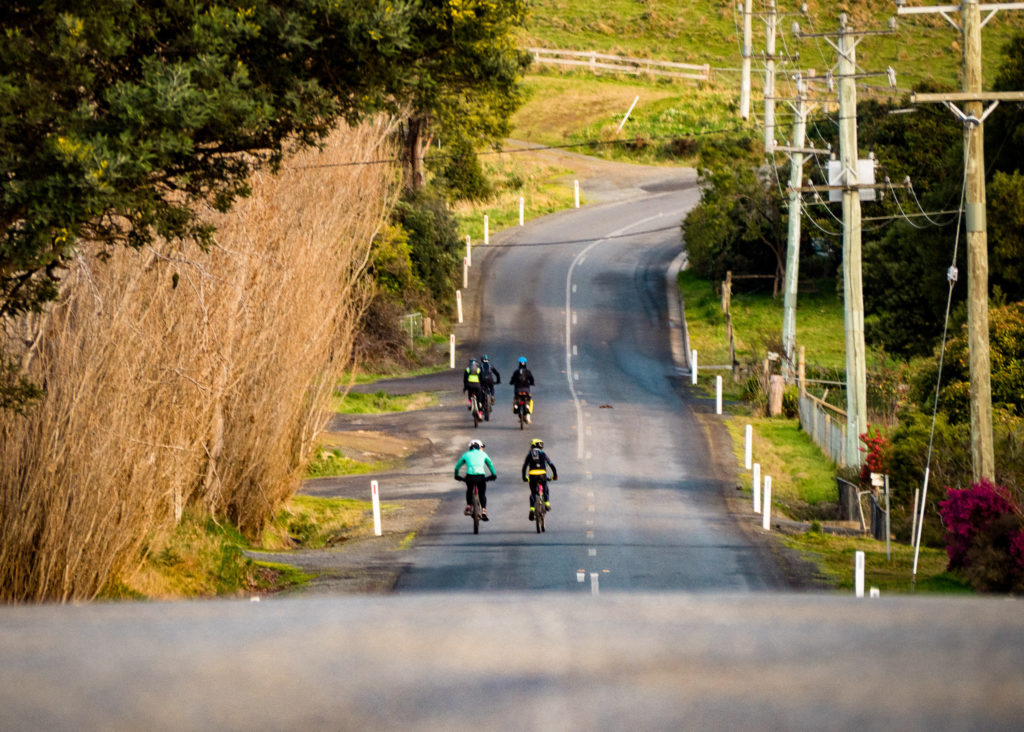 Watch out for an Aurora and do some stargazing
Our skies really are dark in the Huon. Why? Due to the lack of light pollution. That makes the Huon Valley one of the best locations in Tasmania to experience the Dark Sky and its displays of stars.
Further to that its the most southerly region in Australia making it the perfect location to catch an Aurora Australis (Southern Lights). Aurora's are hard to schedule in your diary closure than a couple of days out, but at the very least you can see some pretty amazing star displays.
How to see if there will be an Aurora? Download an Aurora App on your phone and join local Aurora tracking groups on Facebook.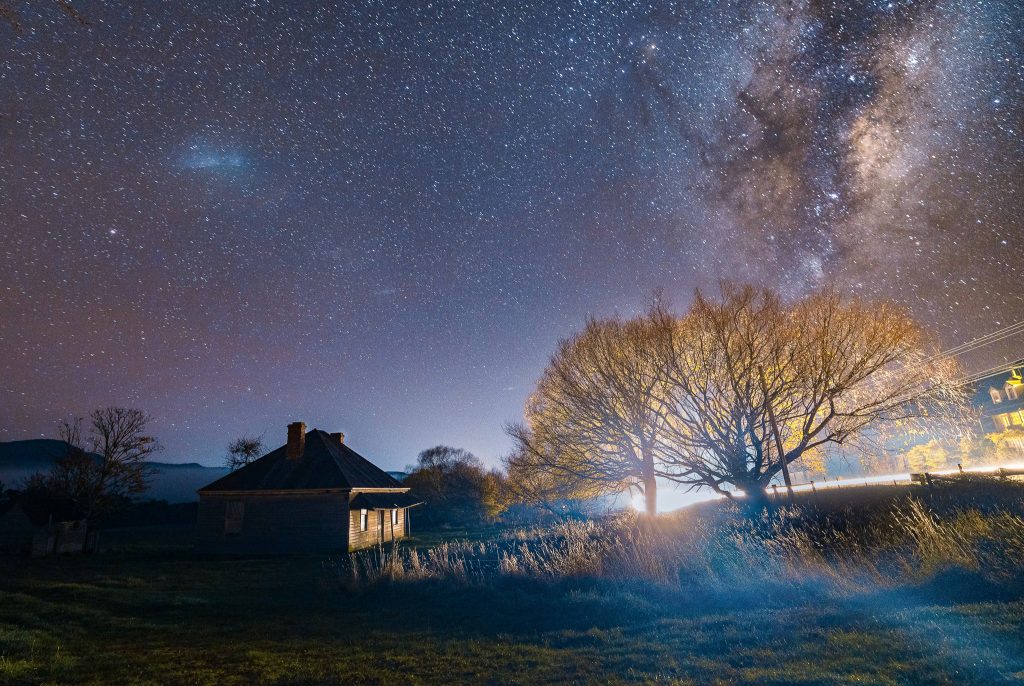 DRIVE TO THE END OF THE ROAD
If you follow the road through the Huon Valley, down to the most southern point it goes at Cockle Creek, which is pretty much the end of the road. Cockle Creek is the most southern point you can drive in Australia!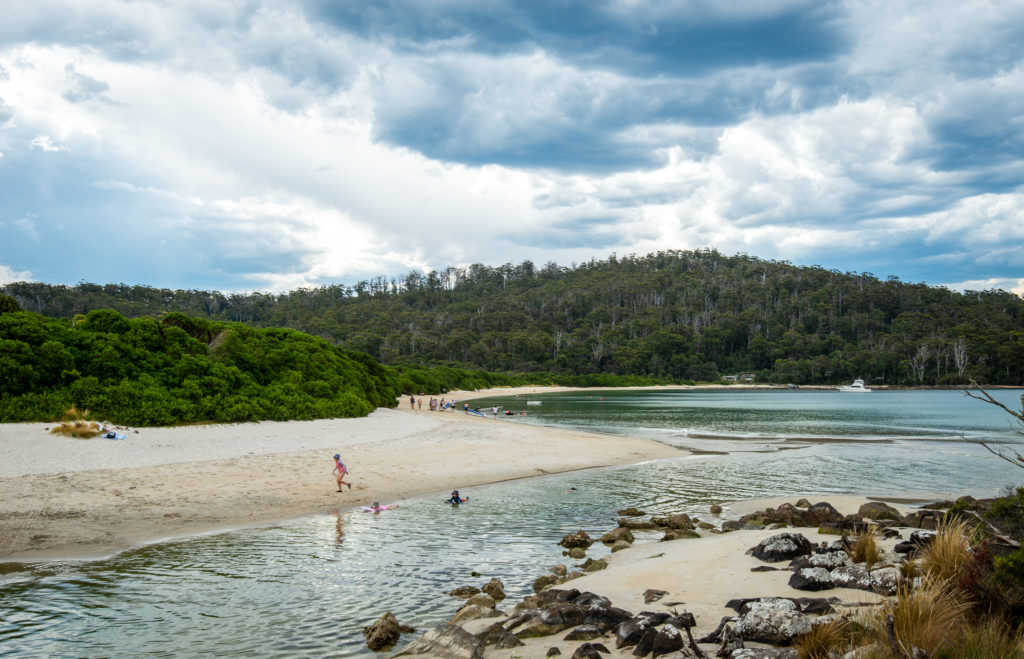 This stunning beachside paradise has no shops or petrol stations. Just clear blue waters, clear sands and peace and quiet.
You can:
pull up camp and take a walk into the South West Wilderness Area along the South Cape Track
kayak on the stunning water of Recherche Bay
fish
glance up at the dark sky
Walk along the beach where the forest meets the sand
relax and take in the serenity